REBECCA ST. JAMES: NEW BOOK PURE BY BEST-SELLING AUTHOR CHALLENGES READERS WITH 'RADICAL LIVING'

Launch Week Book Signing At Disneyworld This Friday!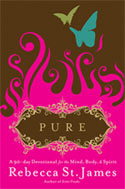 NEWS SOURCE: Provident Label Group
September 2, 2008
Nashville, Tennessee (September 2, 2008) -- More than becoming a Grammy award winning singer and best selling author-- Rebecca St. James has spearheaded an entire cultural movement. Her latest book, Pure—A 90 Day Devotional for the Mind, Body & Spirit, published by FaithWords, reaches book stores nationally this week.
Launch week will be highlighted this Friday (5th) with a special personal instore book signing by St. James at Disneyworld in Orlando, where she will be among the major headliners performing in concert at Disney's annual Night of Joy.
Pure represents a complete personal lifestyle—approaching purity of spirit, mind, and body in a refreshingly honest and deeply moving and revealing 90 day devotional format that digs deeper into real life issues. Pure takes readers on an intimate day-to-day walk, presenting St. James' own voice and personal insights, her challenges and victories --ultimately offering readers real wisdom and encouragement in living a lifestyle that's both counter-cultural and totally exhilarating in its' freshness of purpose.
A major national voice for the abstinence agenda, St. James' previous best-selling book, Wait For Me has sold in excess of 100,000 copies to date and was recently re-published in updated format by Thomas Nelson.
Rebecca is passionate in talking about her latest project, as witnessed in a recent interview in which she noted:
"My new book Pure exists to encourage purity from the inside out as a total lifestyle. Striving to live a pure life physically is itself a huge goal. But in addition, the way we turn over our fears and priorities to God, the way we forgive others, literally the way we approach every aspect of this life and our purpose—are also part of the total package of a pure lifestyle. I'm passionate about purity because it works!"
Relevant and edgy in her communication as a lifestyle advocate, the Australian born St. James tunes into the dynamics of today's culture with a challenge for readers of all ages to join her on the journey-- to "start with Day 1 and end with everyday radical living!"
In honor of release week, St, James will be signing her new book Pure at Disneyworld this Friday, September 5th where she will be performing on the headlining stage of Disney's annual Night of Joy concert Book signing will be at The Writer's Stop bookstore inside the park, 9:00-10:00 P.M. prior to her concert.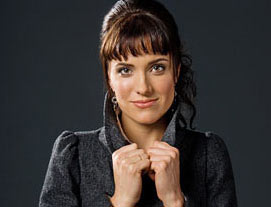 ABOUT: REBECCA ST. JAMES:
Australian born Rebecca St. James is both a Grammy Award winner and multiple Dove Award recipients, with international success that has driven her record sales into the multi-millions globally. In January 2008, she was for the 7th consecutive year named "Favorite Female Artist" in Contemporary Christian Music by readers of CCM Magazine. She has received RIAA certified gold album awards—for her ground-breaking album God and her Grammy Award winning project Pray, certified gold in 2006 A passionate spokesperson for the child relief work of Compassion International, more than 30,000 of the world's neediest children have found sponsorship through her worldwide concerts. Her annual schedule of international touring has made. Her best selling book, Wait For Me, has to date sold more than 100,000 copies. Rebecca's interests in acting have found her involved in several national film productions, touring in a lead role as Mary Magdalene in the national company of the rock opera musical, !Hero, and voicing the character of 'Hope The Angel' in VeggieTales' best selling DVD production, The Easter Carol, now approaching a million units in sale.. Rebecca is an in-demand national speaker and best selling author of six major books—with two new book releases set for '08. Resource Rebecca St. James online at: www.myspace.com/rebeccastjames
###

[2020]
Jan. | Feb. | March | April | May | June | July | Aug. | Sept. | Oct. | Nov. | Dec.
[2019]
Jan. | Feb. | March | April | May | June | July | Aug. | Sept. | Oct. | Nov. | Dec.
[2001 - 2018]
Visit our complete MUSIC NEWS ARCHIVE