BART MILLARD'S 6 YEAR OLD SON SAM WINS CONTEST SPONSORED BY FORD AND THE JUVENILE DIABETES RESARCH FOUNDATION
NEWS SOURCE: The M Collective
September 5, 2008
NASHVILLE, TN....9/5/08....Last week, MercyMe's Bart Millard was celebrating the debut of his second critically-acclaimed solo project, HYMNED AGAIN, but some of the most exciting news came later in the week, when his six year old son Sam, who was diagnosed with Juvenile Diabetes when he was two, won a contest sponsored by the Ford Customer Service Division (FCSD) and the Juvenile Diabetes Research Foundation (JDRF) to help raise awareness of the disease.
JDRF kids had three weeks to submit a design for the Motorcraft/Quick Lane/Custom Accessories Shelby Mustang Funny Car, driven by Bob Tasca III, which was featured on the car during the NHRA U.S. Nationals in Indianapolis over Labor Day weekend. To view designs, go to: http://www.jdrf.org/index.cfmfuseaction=home.viewPage&page_id=B607291E-110A-9BB5-F8AE5884A2F4FC4E
For the car design contest, each child's submitted design was featured on the www.JDRF.org/Ford website from June 23 to July 31, during which the public was invited to vote for their favorite car design by making a monetary donation vote to JDRF. The top five donation-earning designs were recently narrowed down to one, and therefore Sam's design was featured on Tasca's Shelby Mustang Funny Car during the U.S Nationals in Indianapolis Aug. 29 – Sept. 1. Millard, his wife Shannon and Sam were invited to Indianapolis for the official unveiling of his paint scheme, and a chance to see the car run during qualifications for the race.
"What a thrill for Sam to see his creation on a race car!," recalls Millard. "Of course we were the over the top proud parents, but I think the thing we are most proud of is the fact that the contest raised over $84,000 to help find a cure for juvenile diabetes. After making the MercyMe bloggers aware of the contest, they came through in a huge way! We are eternally grateful."
With a desire to create a lifelong legacy for all children suffering from Juvenile Diabetes, Millard, along with his bandmates created Imagine A Cure last year, a non profit organization to support research that will lead to a cure. For more information on Imagine A Cure, please visit http://www.imagineacureonline.com/.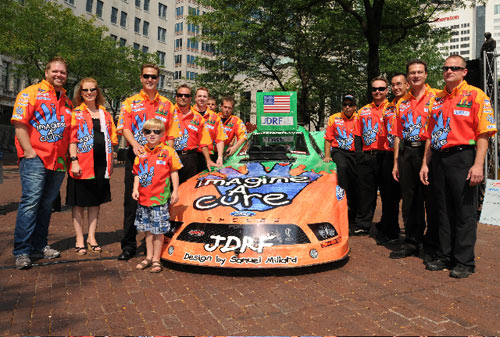 ###