GOSPEL DREAM 2008 WINNER MELINDA WATTS JOINS WOMEN OF FAITH TOUR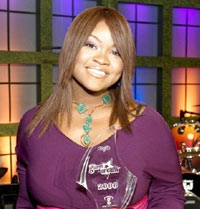 NEWS SOURCE: Spinhouse PR
September 8, 2008
ATLANTA, GA – Sept. 8, 2008 – Melinda Watts, the winner of Gospel Music Channel's American Idol®-inspired talent search series Gospel Dream 2008, has joined the Women of Faith 2008 Tour, debuting this past weekend in Anaheim, Calif.
Watts was crowned as the new Gospel Dream winner in June, winning the competition among thousands of contestants. She won a record and music video deal and a Royal Caribbean Cruise "Tis So Sweet" is Melinda's first single and can be heard at http://www.gospelmusicchannel.com/shows/gospeldream and its music video can be seen on GMC. A singer and songwriter, Watts hopes to write a substantial amount on her upcoming CD to be released through Gospel Music Channel in early 2009.
Watts will share the Women of Faith stage with Five-time Grammy winner Sandi Patty, eight-time GMA Dove Award-winner Nicole C. Mullen and many other top tour performers and speakers. 2008 marks the 13th year for Women of Faith conferences. As the nation's largest women's event, nearly 4 million women have attended the conferences since the organization began. Thousands of women gather for the events filled with inspiration, laughter and time to relate to other women. Featuring a fluid mix of contemporary music, comedy, drama and inspirational stories, the events provide an experience not easily forgotten by the women who attend. Thomas Nelson Live Events hosts the events and conference dates may be found at http://www.womenoffaith.com/.
Watts is a 29-year-old wife, mother of an eight-month old daughter and leader of two foundations that help support troubled young girls and their families in Fair Oaks, California. Her winning Gospel Dream 2008 journey began in Los Angeles when she tried out during the first round of auditions. She was chosen from among thousands of singing hopefuls all gospel/Christian styles including rock, pop, country and soul at auditions in Los Angeles, Chicago, Phoenix, Miami and Atlanta. 16 contestants were selected and invited to Nashville, Tenn. to perform in five rounds of televised competitions, culminating with Watts taking the 2008 crown. The Gospel Dream series was created by Executive Producer Elvin Ross who is also the series' executive producer and musical director
Gospel Music Channel (http://www.gospelmusicchannel.com) is the nation's first and only 24/7 television network devoted to the uplifting, inspiring and diverse music that is Gospel/Christian music. Gospel Music Channel is the fastest-growing network in television today and can be seen in nearly 40 million homes on various cable systems around the country and on DIRECTV channel 338.
###