STEVEN CURTIS CHAPMAN PERFORMS "CINDERELLA" LIVE FOR THE FIRST TIME ON NATIONAL TELEVISION ON CBS' THE EARLY SHOW, WEDNESDAY, SEPT. 10
ALSO APPEARING ON FOX AND FRIENDS ON SEPT. 22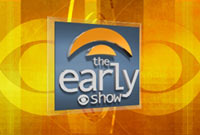 NEWS SOURCE: The M Collective
September 9, 2008
NASHVILLE, TN....SEPT. 9, 2008.... Steven Curtis Chapman performs his hit single "Cinderella" LIVE for the first time on national television since the loss of his five-year-old daughter, Maria. Chapman will appear on The Early Show on CBS on Wednesday, Sept.10 at 7AM (EST). The five-time GRAMMY Award winner will also be appearing and performing on Fox and Friends on Sept. 22.
A tribute to Maria will be made on The Early Show along with the debut performance of the new rendition of "Cinderella," Chapman's second single from his sixteenth studio album This Moment. Chapman was originally scheduled to appear on The Early Show for a Father's Day Special, but due to the accident the appearance was postponed.
The song was inspired by Maria and her sisters and is a message to all parents encouraging them to cherish every moment with their children. The singer/songwriter is also changing the poignant last line in live performances to "Cause all too soon the clock will strike midnight/But the truth is... The dance goes on." "Cinderella" carries a whole new meaning since the death of his daughter, and it is one that remains close to his heart.
The Chapman family testimony has had such a huge impact on America. The latest example being People magazine's fifth mention of the family in recent months, this time a family update in the "Mail Bag" section of their Sept.15 issue on newsstands now.
Fans and supporters have also been tuning into The House Mix blog (http://chapmanchannel.typepad.com/jim/) written by Chapman's manager, Jim Houser. Since it's public launch in June 2007, there have been 6 million page views on the blog. Over 5.7 million of those views coming since May 21, 2008 and the tragic loss of Maria Sue Chapman. The blog has become the inadvertent line of connection for friends and fans to the Chapmans through this difficult time, and the traffic statistics highlight the amazing devotion and care to Steven and his family. Houser keeps readers updated with the latest Chapman information and photos, giving an inside look at the Chapman family.
www.stevencurtischapman.com
###
About Steven Curtis Chapman:
With his release of THIS MOMENT, Chapman has sold over ten million records including two RIAA certified platinum albums and eight RIAA certified gold albums. Along with his Dove and GRAMMY © awards, Chapman has won an American Music Award, has recorded 44 No. 1 US radio hits and been awarded 54 Dove Awards, more than any other artist to date. Since his recording career began in 1987, Chapman has recorded sixteen projects with Sparrow Records. He has performed at the White House and has appeared on multiple national programs via CBS, NBC, ABC, CNN, MSNBC, CMT, FOX News, the Hallmark Channel and E!, including Good Morning America, Larry King Live, CBS Sunday Morning, The Tonight Show with Jay Leno, and more. More than five years ago, Chapman and his wife Mary Beth created The Shaohannah's Hope Ministry after bringing their first adopted daughter, Shaohannah, home from China. The ministry's goal is to help families reduce the financial barrier of adoption, and has provided grants to over 1700 families wishing to adopt orphans from around the world.
About The Early Show:
The daily morning show brings in over 3 million viewers and provides a fresh twist on the traditional morning daily news programs, with reports of the top stories of the day, mixed with interviews and soft features, in a flexible and spontaneous format. Topical features cover everything from food, health, home and family, to business, politics, consumer features, sports and entertainment.
About Fox and Friends:
With a viewership over 1.2 million, Fox and Friends highlights news, weather, sports, entertainment and health. They feature an ensemble cast of hosts who talk with a mixture of celebrities, authors, medical experts, fitness gurus and journalists. It airs Monday through Friday from 7AM-9AM (EST).
About People Magazine:
With a circulation between 3 to 4 million people each week, PEOPLE Magazine was established in 1974 and designed as a forum for personality journalism through the use of short articles on contemporary news events and people. Content focuses on celebrities in the arts, sciences, business, politics, entertainment and sports.