BUILDING 429 HEADLINES 30-CITY
TRUTH, HOPE & LOVE TOUR THIS FALL
Tour Kicks Off Oct. 2, With Special Guests Addison Road & After Edmund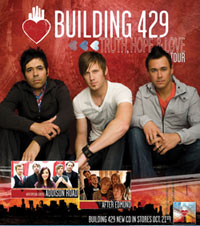 NEWS SOURCE: The M Collective
September 17, 2008
NASHVILLE, Tenn. – September 17, 2008 – Dove Award-winning trio Building 429 will headline the 30-city "Truth, Hope & Love Tour" this fall in support of their brand new self-titled album releasing Oct. 21, on INO Records. The Truth, Hope & Love Tour features special guests Addison Road and After Edmund.
Kicking off Oct. 2, in Ft. Smith, Ark., the Truth, Hope & Love Tour will hit 30 markets across the country including Minneapolis, Minn.; College Station, Texas; Springfield, Ill.; and Cincinnati, Ohio, to name a few. The tour, which takes its name from the track "Your Love Goes On" from the band's new album, also gives Building 429 a chance to partner in ministry with World Vision, an international Christian humanitarian organization.
"We are totally amped about the Truth, Hope & Love Tour," says Building 429 frontman Jason Roy. "All of the artists we have chosen to join us are amazing talents and have incredible hearts, which gives us great hope for the ministry and music on this tour. It is an honor for us to headline this show and we're looking forward, with great anticipation, to unveiling the music and media surrounding our new record. We can't wait to share the stage with these extremely talented new bands!"
"I'm really excited about the Truth, Hope & Love Tour with Building 429," adds concert promoter Dan Fife of Awakening Events. "We have worked with Jason, Michael and Jesse since we first met them back in 2005, and this particular tour is exciting because we are now seeing more families share the music of Building 429. The band has worked with us so that we could provide a ticket price the entire family can afford. I feel like the more opportunities we have to bring the family together as a unit and share together in the live concert/worship experience, the stronger the family. We know that every time we work with these guys we are fulfilling our mission."
About Building 429
Building 429 has had a history of success with the release of three albums and now the rock band is joining forces with INO Records for their fourth studio record. The self-titled project, produced by Chris Stevens (TobyMac, Sanctus Real) will hit stores on Oct. 21. The album's first single, "End of Me," is impacting Christian CHR and AC radio stations now. In 2005 "Glory Defined" was named BMI's Christian Song of the Year, they were named the Gospel Music Association's 2005 New Artist of the Year and nominated that same year for Rock/Contemporary Album of the Year and Song of the Year. They have toured with artists such as TobyMac, Family Force 5, Casting Crowns and Thousand Foot Krutch. Jason, Michael and Jesse are excited for their fans to hear a record that reflects where they are as individuals and artists.
About Addison Road
Together for six years before signing with INO Records, the female-fronted pop/rock band from Dallas, TX, Addison Road is making waves with their self-titled debut release. The first radio single "All That Matters", made the top ten on the Christian CHR chart within weeks and was featured as an iTunes discovery download, receiving over 165,000 downloads in one week. Produced by Chris Stevens (TobyMac, Sanctus Real), this self-titled release is the culmination of the band's mission to inspire people from all walks of life to find their hope and identity in God, to be changed by His grace and to extend that grace to a world in need. Lead singer Jenny Simmons, husband and guitarist Ryan Simmons, Jeff Sutton, Ryan Gregg and Travis Lawrence all came together in 2001 when some of the members were attending Baylor University and since then have been accumulating fans in all genres.
About After Edmund
Named after the Edmund character in C.S. Lewis' best-selling book series The Chronicles of Narnia, Slanted Records recording artists After Edmund has been making a name for themselves in the Atlanta region and beyond since 2001. A modern pop/rock outfit from LaGrange, Ga., After Edmund's debut release, Hello, hit shelves in February garnering acclaim by various industry insiders. Known for their high-energy live set and their distinct modern rock style, the band recently performed alongside rock icons Linkin Park, Chris Cornell, The Bravery and others at Atlanta's Lakewood Theater as one of three winners of MTV2's "Rock the Revolution" contest in the Atlanta area.
TRUTH, HOPE & LOVE TOUR
10/2/2008 Ft. Smith, AR Theatre at Ft. Smith Convention Center
10/4/2008 Conway, AR Second Baptist Church
10/5/2008 Muscle Shoals, AL Muscle Shoals City Hall
10/9/2008 Mt. Pleasant, TX First Baptist Church Mt. Pleasant
10/10/2008 Sugar Land, TX Sugar Creek Baptist Church
10/11/2008 College Station, TX Christ United Methodist Church
10/12/2008 Bastrop, TX Bastrop Christian Outreach
10/17/2008 Springfield, IL Momentum Youth Conference
10/18/2008 Lebanon, MO Boswell Auditorium
10/19/2008 Florissant, MO First Christian Church
10/20/2008 Derby, KS Pleasantview Baptist Church
10/21/2008 Warrensburg, MO Hendricks Hall - Univ of UCM
10/23/2008 Mt. Vernon, IL Central Christian Church
10/24/2008 Elmhurst, IL Elmhurst CRC Church
10/25/2008 Minneapolis, MN Club 3 Degrees
10/26/2008 Quincy, IL Madison Park Christian Church
10/29/2008 Cumming, GA First Redeemer Church
10/30/2008 Graniteville, SC Christian Heritage Church
10/31/2008 Shallotte, NC Highest Praise Worship Center
11/1/2008 Gastonia, NC Flint-Groves Baptist Church
11/2/2008 Jacksonville, NC Jacksonville High Auditorium
11/6/2008 Vincennes, IN Red Skelton Performing Arts
11/8/2008 Cincinnati, OH The Underground
11/9/2008 Lima, OH Elisa HS Field House
11/13/2008 Pippa Passes, KY The Campbell Arts Center - Alice Lloyd College
11/15/2008 Willoughby Hills, OH Youth Explosion 08 - Willoughby Hills Friends Church
11/20/2008 Live Oak, FL First Baptist Church
11/21/2008 Vero Beach, FL Vero Beach High School
11/22/2008 Orange Park, FL Orange Park UMC
11/23/2008 Brunswick, GA North Glynn United Methodist Church
*All dates subject to change.
For more information on the Truth Hope & Love Tour or Building 429, go to: www.building429.com.
###