SUPERCHICK HEADLINES FALL 2008 "ROCK WHAT YOU GOT" TOUR
Band to Be Joined by Stellar Kart, Article One, and Starlit Platoon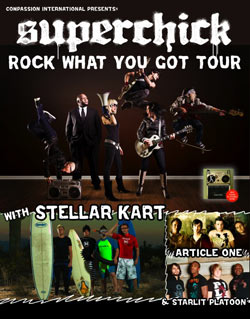 NEWS SOURCE: Savvy Media
September 17, 2008
(NASHVILLE, Tenn.) Sept. 17, 2008—Superchick heads out this week on its fall 2008 "Rock What You Got" headlining tour, visiting nearly 30 cities through mid-November. Accompanying the group will be Stellar Kart, Article One and Starlit Platoon.
Kicking off Thursday, Sept. 18 at Paramount Baptist Church in Amarillo, Texas, the "Rock What You Got" tour is named after Superchick's fifth and highly anticipated studio release, which spurred the band's best-selling debut week to date. The group will play music from its history-making album nationwide with stops in major markets including Dallas, Minneapolis, and Atlanta. A complete tour itinerary follows this release.
"We have received such a positive response from fans who love the new record, and we can't wait to perform for them live," says Tricia Brock of Superchick. "Given the dynamic of our new set list in addition to a talented, high-energy artist line-up, the 'Rock What You Got' tour is going to be among the most talked about tickets this fall."
Superchick's Matt Dally adds, "It will be the biggest tour the world has ever seen. Like Tony the Tiger said, it's going to be grrrreat!"
Chicago-based Superchick comprises sisters Tricia Brock (vocals) and Melissa Brock (vocals, guitar), Matt Dally (bass, vocals), Dave Ghazarian (lead guitar, vocals), Brandon Estelle (drums, vocals), and Max Hsu (keyboards/DJ). With five projects to date, Superchick has sold upwards of 700,000 albums, and the group's music has been heard in more than 70 different films and television shows. With literally hundreds of live performances on its resume, Superchick has developed a well-deserved reputation as an incandescent and charismatic pop/rock phenomenon. On June 24, 2008, Superchick released its first album in three years, Rock What You Got. The project, produced by the band's own Max Hsu (tobyMac, newsboys), finds the band honing a "rock-o-tronic" sound, an electro-punk mash-up of slashing guitars, pulsing keyboards and grit-pop vocals. While Superchick's last album, Beauty From Pain, sought to empathize with listeners' pain, band members have since walked their own dark, lonely roads with relationship splits and cancer touching four of their families. Rather than expound upon these personal hardships, Superchick turned Rock What You Got, into a battle cry to charge onward. The disc resulted in Superchick's highest ever first week sales numbers, and its current single "Hold" is climbing up the CHR charts at No. 5 this week, according to Radio & Records. For more information, visit www.superchickonline.com.
Word Records' punk pop rock band Stellar Kart launched onto the music scene with its 2005 release, All Gas. No Brake. The national debut landed Stellar Kart a Gospel Music Association Dove Award nomination for Best New Artist, and the band was honored as New Artist of the Year by readers of Ignite Your Faith magazine. In 2006, Stellar Kart debuted at No. 1 on SoundScan's Christian retail chart with its sophomore release, We Can't Stand Sitting Down. Furthermore, the band's single, "Me And Jesus," held the No. 1 spot at Christian Hit Radio for seven consecutive weeks. The group also received a 2007 Dove Award for Rock/Contemporary Recorded Song of the Year ("Me And Jesus") as well as three other nominations in the categories Artist of the Year, Rock Recorded Song ("Activate"), and Rock/Contemporary Album (We Can't Stand Sitting Down). Additionally, Stellar Kart was recognized by SESAC with four 2007 National Performance Activity Awards. The band released its third album, Expect The Impossible, in February 2008. Produced by Ian Eskelin (Krystal Meyers, All Star United), who additionally co-wrote alongside lead singer Adam Agee on eight of the album's 11 tracks, the album is more sonically diverse than the band's previous projects, intended to connect with a wider audience. For additional information, visit www.stellarkart.com or www.myspace.com/stellarkart .
Founded by brothers Nathan and Matthew Piché, Article One formed five years ago in Ontario, Canada. Winner of the 2005 Kingdom Bound International Talent Search, Article One was additionally honored in 2006 with a Covenant Award nomination for New Artist of the Year. Having appeared on the 2007 SHOUTfest tour as well as newsboys' spring 2008 "GO" Tour, the band performs an average of 150 dates annually. Article One released its sophomore project, Colors & Sounds, last May. Produced by Tedd T. (Mute Math, newsboys), Colors and Sounds is a departure from Article One's conventional style, stretching the band artistically. For more information, visit: www.articleonemusic.com or www.myspace.com/articleonemusic
When Brandon Estelle isn't on the road playing sold out shows with mega-group Superchick, he can be found in the studio and behind a keyboard with his latest project Starlit Platoon. Formed in the summer of 2005 with long time friends Chase Lovelace (drums), Caleb George (bass), and Ray Darter (guitar), Starlit Platoon became an outlet of Estelle's songwriting and soulful vocals. Today, Starlit Platoon is opening for other major acts, including Superchick, and headlining their own shows throughout the Midwest. For more information, visit: http://www.myspace.com/starlitplatoon.
For ticket information, visit www.itickets.com. The most up-to-date tour itinerary can be found at: www.myspace.com/superchick.
"Rock What You Got" Tour
DATE CITY
9/18 Amarillo,TX
9/19 Dallas, TX
9/20 Angelo,TX
9/21 New Braunfels,TX
9/25 Olathe, KS
9/26 South Bend, IN
9/27 Elnora, IN
9/28 Dayton, OH
10/2 Davenport, IA
10/3 Baxter, MN
10/4 Bemidji, MN
10/5 Mayville, ND
10/11 Oswego, NY
10/13 Brookville, NY
10/16 Lancaster, PA
10/18 Johnson City, TN
10/19 Arlington, VA
10/25 Jonesboro, AR
10/30 Ellettsville, IN
10/31 Forest Park, OH
11/1 Kankakee, IL
11/3 Ypsilanti, MI
11/7 Minneapolis, MN
11/8 Peoria, IL
11/9 Elgin, IL
11/12 Dalton, GA
11/13 Snellville, GA
11/14 Brunswick, GA
11/15 West Palm Beach, FL
###