Facedown Records Present: The MINOTOUR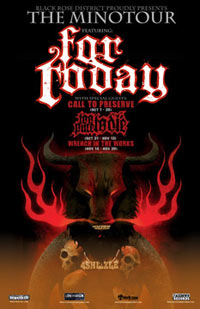 NEWS SOURCE: Facedown Records
September 22, 2008
The MINOTOUR is For Today's triumphant return to the United States after a unique ministry tour opportunity in Mexico. For Today has been touring relentlessly all across the US, and will have played 275 shows this year alone once they complete the MINOTOUR. FT has both headlined and supported larger acts like Showbread, Life In Your Way (final tour) and Liferuiner.
The MINOTOUR dates are For Today's last scheduled tour dates for the rest of 2008 before the band takes some time off to write/record their new record due out in mid 2009.
Check out the MINOTOUR with Call To Preserve, Too Pure To Die (Trustkill) and Wrench In The Works.
Directly after headlining The Minotour For Today will be direct support to SWORN ENEMY in Canada. Also on the Canadian tour is our very own Wrench In The Works along with Better Left Unsaid. See dates below.
OCT 7 - 30 WITH CALL TO PRESERVE
Oct 7 - Fort Worth, TX @ TBA
Oct 8 - Houston, TX @ Java Jazz
Oct 9 - Wade, MS @ New Hope A/G
Oct 10 - Clinton, MS @ The Vault
Oct 11 - Pensacola, FL @ Red Door
Oct 12 - Panama City, FL @ The Harbor
Oct 13 - Orlando, FL @ TBA
Oct 14 - New Port Richey, FL @ Beacon Community Church
Oct 16 - Jacksonville, FL @ Fuel Coffeehouse
Oct 17 - McCalla, AL @ The Fish
Oct 18 - Rainbow CIty, AL @ Mercy Hill Church
Oct 19 - West Columbia, SC - Hood Fest @ Hope In Christ Church
Oct 20 - Pilot Mountain, NC @ Livin Lattes
Oct 21 - Fredericksburg, VA @ The Refuge
Oct 22 - Wilmington, NC @ Lucky's Pub
Oct 23 - Annapolis, MD @ Knights of Columbus
Oct 24 - Clinton, NJ @ Aquifer
Oct 25 - CT - TBA
Oct 26 - Yonkers, NY @ Yonkers YMCA
Oct 27 - Rockville Centre, NY @ Vibe Lounge
Oct 29 - Charleroi, PA @ Club Octane
Oct 30 - Edinboro, PA @ The Hangout
OCT 31 - NOV 13th WITH TOO PURE TO DIE
Oct 31 - Mansfield, OH @ The Phoenix
Nov 1 - Corbin, KY @ The Corbin Center
Nov 2 - Evansville, IN @ Boney Junes
Nov 3 - LaPorte, IN @ National Guard Armory
Nov 4 - Howell, MI @ Howell Opera House
Nov 5 - Champaign, IL @ TBA
Nov 6 - Mount Vernon, IL @ The Living Room
Nov 7 - Camdenton, MO @ The Warehouse
Nov 8 - Tulsa, OK @ The Otherside
Nov 9 - Lawrence, KS @ Jackpot Saloon
Nov 10 - Wichita, KS @ Oz Cafe
Nov 11 - Columbus, NE @ KC Hall
Nov 12 - Sioux Falls, SD @ Nutty's North
Nov 13 - Spencer, IA @ TBA
NOV 14TH - NOV 19TH WITH WRENCH IN THE WORKS
Nov 14 - Buffalo, MN @ The Vault
Nov 15 - Willmar, MN @ The Warehouse
Nov 16 - St. Cloud, MN @ The Revival
Nov 17 - Fargo, ND @ The Aquarium
Nov 19 - Bismarck, ND @ New Song Church
Nov 20 - 30 CANADA TOUR WITH SWORN ENEMY, BETTER LEFT UNSAID, WRENCH IN THE WORKS
20 in Sudbury @ TBA
21 in Thunder Bay @ TBA
23 in Hamilton @ The Cashbah
24 in Windsor @ The Chubby Pickle
26 in Toronto @ The Reverb
27 in Ottawa @ The Mavericks
28 in Montreal @ Underworld
29 in Granby @ La Ruche
30 in Quebec @ L'anti
###