- PROVIDENT'S FRIDAY BUZZ -
FOR THE WEEK ENDING SEPTEMBER 26, 2008
BRANDON HEATH TAKES NO. 1 SPOT AT AC RADIO WITH FIRST SINGLE

"GIVE ME YOUR EYES" OFF SOPHOMORE ALBUM WHAT IF WE

MATT MAHER STOPS BY EMF BROADCASTING;
NEW ON FAITH POSTING

KRYSTAL MEYERS' SONG "TOGETHER" USED IN NBC'S
"HEROES" SEASON 3 PREMIERE RED CARPET SHOW

NEVERTHELESS PLAYS PACKED OUT

CD RELEASE SHOW IN HOMETOWN

PILLAR FILLS IN FOR DECYFER DOWN

CASTING CROWNS VISITS K-LOVE'S JON AND SHERRY RIVERS' RANCH

LEELAND UPDATES ON HURRICANE IKE

THIRD DAY HONORS TROOPS
NEWS SOURCE: Provident Label Group
September 26, 2008
Brandon Heath Takes No. 1 Spot at AC Radio with First Single "Give Me Your Eyes" off Sophomore Album What If We: Singer/songwriter and New Artist of the Year Brandon Heath garners his second career radio No. 1 this week on R&R's AC-Monitored chart with the breakout first single "Give Me Your Eyes," off the new sophomore album What If We. With a No.1 at AC, the project's smash song proves to be a multi-format success story spending a fifth week at No. 1 on R&R's CHR chart, with multiple weeks atop CRW's CHR format and 153 million cumulative radio impressions to date. Heath first topped radio charts in 2007 with his Song of the Year nominated hit "I'm Not Who I Was." In addition to radio achievements, "Give Me Your Eyes" is quickly becoming one of the most successful digital Christian tracks of 2008, currently holding the No. 1 spot on iTunes Christian chart for its tenth consecutive week. The track has sold more than 70,000 total downloads across all digital providers to date. For more information on Brandon, please visit www.brandonheath.net.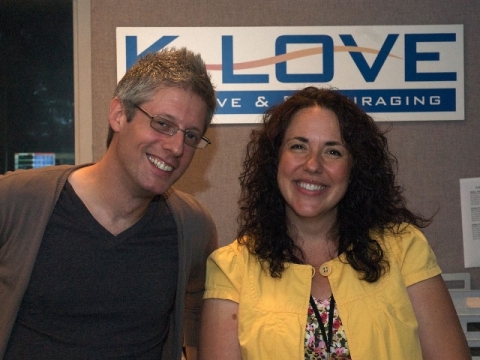 Matt Maher Stops by EMF Broadcasting; New On Faith Posting: Essential recording artist Matt Maher recently visited with Lisa Williams (pictured above) on-air during a stop by EMF Broadcasting (KLOVE/AIR-1) this week where he also led a staff devotional. Maher, who is a contributing writer for the On Faith panel, recently had a post titled "Accountability and Stewardship" featured on the site, which is an interactive conversation on religion moderated by Newsweek Editor Jon Meacham and Sally Quinn of The Washington Post. To read his post, please click here. For more information on Maher, please visit www.mattmahermusic.com.
Krystal Meyers' Song "Together" Used in NBC's "Heroes" Season 3 Premiere Red Carpet Show: Pop rock artist Krystal Meyers' song "Together" was used in the hour-long red carpet countdown special that aired in the hour before the season premiere of NBC's hit drama, "Heroes." "Together," which has played an important role throughout the show's history, will be used during an overview of the first two seasons of "Heroes." Krystal's latest album, Make Some Noise, released September 9, and she can currently be seen on the Revolve Tour. For additional information on Meyers, visit www.krystalmeyers.com.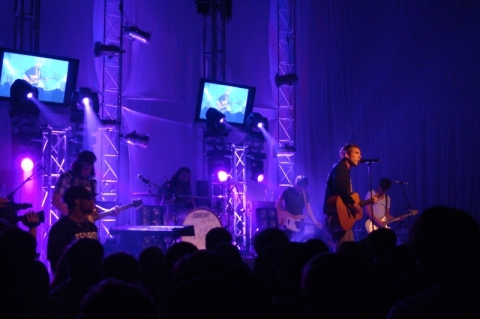 Nevertheless Plays Packed Out CD Release Show in Hometown: Chattanooga, Tenn.-based rock quintet, Nevertheless, played its official album release show in the band's hometown of Chattanooga, to over 1000 fans on Wednesday, September 24. The show was to celebrate the release of the band's sophomore album, In the Making…, which released on September 16. The band will be playing almost the entire Acquire the Fire fall schedule of events starting October 3, in Hoffman Estates, Il. Acquire the Fire is a national tour that has reached thousands of young people & youth leaders throughout America for over 20 years. Held in over 30 cities nation-wide, ATF brings a cutting edge production filled with top name bands, relevant speakers and drama. For more information, check out www.acquirethefire.com or call 1.800.329.FIRE. Upcoming ATF dates with Nevertheless include the following:
10/3 – Hoffman Estates, IL 10/11 – St. Louis, MO 10/25 – Hamilton, ON (Canada) 11/1 – Cleveland, OH 11/21 – Phoenix, AZ 12/6 – Billings, MT
For more information on Nevertheless, please visit www.neverthelessmusic.com.
Pillar Fills in for Decyfer Down: This past Friday, September 19, Decyfer Down was supposed to be playing a show at an event called The Fix Quarter, put on by a local radio station called The Fix, in Muscle Shoals, AL. They had to cancel at the last minute, due to a last-minute emergency. Luckily, Pillar had the night off, and was going to go to the Braves/Mets game in Atlanta, when they received the call. The band gladly filled in. The fans FREAKED out. For more information on Pillar, please visit www.pillarmusic.com.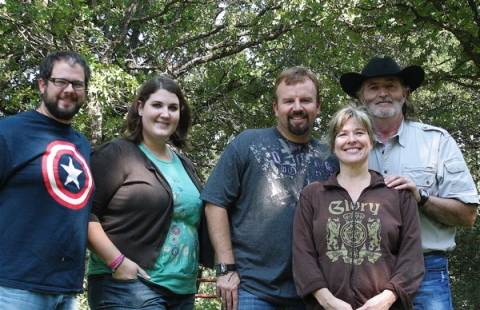 Photo caption: (L-R) Juan Devevo, Megan Garrett, Mark Hall, Sherry Rivers, Jon Rivers
Casting Crowns Visits K-Love's Jon and Sherry Rivers' Ranch: Grammy winning, multi-platinum recording artist Casting Crowns recently visited K-Love's Jon and Sherry Rivers' ranch in Dallas, Texas, and shared a preview of Christmas songs off the band's first Christmas album Peace On Earth, releasing Oct. 7. K-Love is an Adult Contemporary Christian music radio network in the United States, operated by the non-profit EMF Broadcasting. For more information on Casting Crowns, please visit www.castingcrowns.com.
Leeland Updates on Hurricane Ike: Dove Award-nominated, progressive rock band Leeland has kept an updated account of the damage and clean-up in the wake of Hurricane Ike on its blog. To find out what the band will be doing next, please visit www.leelandonline.com.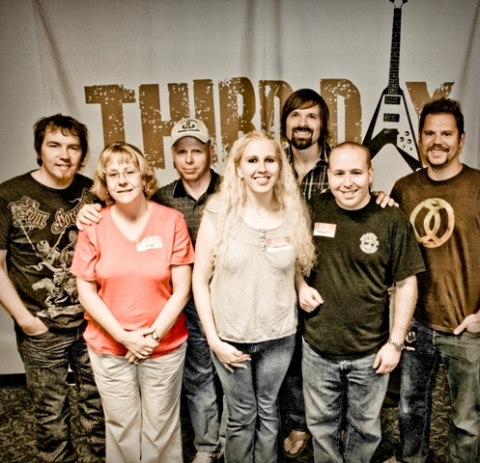 Photo Caption: (L-R) Mark Lee, Connie Trogdon, Chaplain (CPT) David Trogdon, Chaplain Trogdon's daughter in law, Mac Powell, Captain Trogdon's son, Tai Anderson
Third Day Honors Troops: Multi-platinum and GRAMMY winning Third Day has been known for its support of US Troops world wide, having even taken several weeks to do a USO Tour in Iraq earlier this year. Honoring soldiers is important to the band so it was no surprise that at a recent Music Builds Tour date in Nashville, the band took time to welcome, and personally thank Chaplain (CPT) David Trogdon and and his wife Connie, along with his son and daughter-in-law. For more information on Third Day, please visit www.thirdday.com.
###