STARFIELD HEADLINES FIRST U.S. TOUR THIS FALL
Canadian Modern Rock Band Brings "I Will Go" Stateside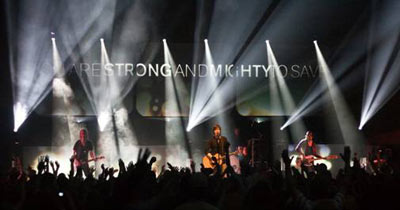 NEWS SOURCE: Savvy Media
September 29, 2008
(NASHVILLE, Tenn.) Sept. 29, 2008—Sparrow Records award-winning Canadian modern rock band Starfield brings its highly successful "I Will Go" Tour to the U.S. this fall. The tour that has already played successfully in Canada, the U.K. and Europe now marks Starfield's first-ever headlining slot in the U.S. The "I Will Go" Tour will feature new Sparrow Records artist Above The Golden State as the opening act.
"We've taken this tour out in Canada twice, once with Shane and Shane and a second time with Will Graham, the grandson of the great Billy Graham. It will be great to finally bring this show to our friends in the U.S.," says guitarist Jon Neufeld. This will be the band's second U.S. tour in 2008, after joining Shane and Shane on its "Vision of You" Tour earlier this year.
The "I Will Go" Tour centers around the title track of Starfield's latest Sparrow Records release I Will Go. The song "I Will Go" commissions people to give time and energy, and not just money, to help those in need. "This is a media-influenced generation, so for this tour we invested a lot of time and energy into the video, lighting and those kinds of elements," says lead singer Tim Neufeld. "But our real hope is that at the end of the night, people are left with a tug on their hearts to find new ways to love and serve the world around them."
Joining the tour is Starfield's newest label mate, Above The Golden State. Hailing from Portland, Ore., the band signed with Sparrow Records earlier this year and released its self-titled label debut on July 22, 2008. In addition to garnering critical acclaim, the album's first single, "Sound of Your Name," is on the verge of breaking into the Christian AC Top 10. For more information on Above The Golden State, visit: www.abovethegoldenstate.com.
Starfield gained strong momentum, achieving its best radio success, album sales and touring season in the band's six-year history with its last project Beauty in the Broken. Then inspired by its home congregation, Starfield began to write new songs of substance and style. The substance became the theme and title of the album, I Will Go. The project has made Starfield's musical mission very clear. The band now brings an intentional message that encourages the listeners to help a hurting world.
The "I Will Go" Tour will feature a low-ticket price and a focus on worship with the aim of creating a family-friendly show. The "I Will Go" Tour itinerary is below (subject to change):
10/9 - Corvallis, OR - Calvary Chapel Corvallis
10/11- Sacramento, CA - Youth Specialties
10/15 - Bakersfield, CA - Valley Bible Fellowship
10/16 - Las Vegas, NV - Valley Bible Fellowship
10/17 - Westminster, CA - Korean Christian Reformed Church
10/18 - Phoenix, AZ - Cornerstone Chandler
10/23 - Colorado Springs, CO - Woodmens Valley Church
10/24 - Denver, CO - Denver First Church
10/26 - Kansas City, MO - First Church of Nazarene
10/27 - St Louis - Salem in Ladue United Methodist Church
10/29 - Nashville, TN - Trevecca Nazarene University
10/30 - Massillon, OH - Jackson Friends Church
10/31 – Pittsburgh, PA - Youth Specialties
11/2 - Englewood, NJ - Dwight Morrow High School
11/5 - Dayton, OH - Beaver Creek Church
11/6 - Anderson, IN - First Church of the Nazarene
11/7 - Des Moines, IA - Valley Church
11/8 - Minneapolis, MN - New Hope Church
11/9 - Davenport, IA - Harvest Bible Chapel
11/10 - Omaha, NE - The Rock/Nebraska Christian College
11/12 - Missoula, MT - SHEC Community Center
11/14 - Longview, WA - Columbia Theatre
For more information and the most up-to-date tour listing, visit: www.starfieldonline.com
###