MEDIA ACCLAIM FOLLOW BEBO NORMAN'S SELF-TITLED RELEASE

"...feels like the beginning of a vibrant new chapter in an already distinguished career."
--Billboard

NEWS SOURCE: Overture Media
September 30, 2008
SEATTLE, WA...September 30, 2008...After the recent release of Bebo Norman, the media has been a buzz about his best work to date. In addition to media praise, digital buyers clamored to iTunes to purchase the album as Bebo Norman peaked at No.1 on the Overall Christian Album Chart during his street week (September 16). Bebo Norman is rooted in the tuneful sensibilities of comparable artists like James Taylor and John Mayer; all the while, he is confidently stretching the musical arrangements to his worshipful melodies.
In addition to releasing his new project, Bebo has been touring spot dates throughout the summer and early fall. He also made time to stop by FamilyNet's "EveryDay with Marcus & Lisa" to sing his two radio singles "Pull Me Out" and "Britney" (see photos).
Fans will soon be able to get a taste of the new music, as Bebo will head out on the MercyMe fall tour as a special guest beginning October 16, 2008 in Virginia Beach, VA. For a complete list of tour dates and posters, click here. Following the fall tour with MercyMe, Bebo will head out on a special Christmas tour, dates can be found on his MySpace.
Here is what the media have to say about Bebo Norman:
"Brutal honesty, delivered beautifully. Bebo Norman's self-titled release offers up a lot of great music and more highlights than should be legal. Like all of Bebo's music so far, the bottom line is that Bebo Norman outdid himself with this release."
-About.com
"Bebo Norman has built a reputation as one of the Christian community's most insightful singer/songwriters, one likely to increase with this self-titled effort. This collection marks Norman's debut for Seattle-based BEC Recordings, and it feels like the beginning of a vibrant new chapter in an already distinguished career."
--Billboard
"Self-titled gem personalizes new chapter for Norman. Bebo Norman the singer/songwriter takes the next step in a career that is sure to be celebrated for many years."
--ChristanMusicPlanet.com
"Some of Bebo Norman's best songs to date can be found on his generally excellent self-titled effort."
--ChristianMusicToday.com
About Bebo Norman:
The beginning of Bebo Norman kicked off when he took a year between college and medical school to try his hand as a performing artist and had soon enough sold fifty thousand self-made copies of The Fabric of Verse (1996) at coffeehouse shows, out of the trunk, and online. Norman's 1999's national debut, Ten Thousand Days, landed Norman on the cover of CCM--a rare honor for a new artist. The follow-up, Big Blue Sky, was voted No. 1 Christian album of 2001 by the editors at Amazon.com. Myself When I Am Real (2002) earned seven Dove Award nods and charted the defining hit, "Great Light of the World." Recent projects Try (2004) and Between the Dreaming and the Coming True (2006) continued the steady climb, the latter gaining a near-perfect score at ChristianMusicToday.com, which called it "his best." In 2007, Norman partnered with Seattle's BEC Recordings to release his first Christmas project that garnered another Dove nomination. Norman resides in Tennessee with his wife and one-year-old son.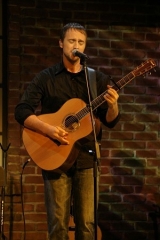 Bebo Performing on "EveryDay with Marcus & Lisa" (FamilyNet)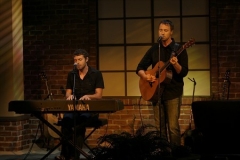 All photo credits: Christopher Korbel - Korbel Photography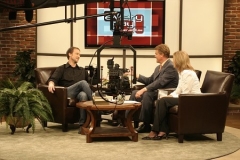 Chatting with Marcus & Lisa on "EveryDay"
###

[2020]
Jan. | Feb. | March | April | May | June | July | Aug. | Sept. | Oct. | Nov. | Dec.
[2019]
Jan. | Feb. | March | April | May | June | July | Aug. | Sept. | Oct. | Nov. | Dec.
[2001 - 2018]
Visit our complete MUSIC NEWS ARCHIVE