Braille Scores Big with NBA Live 2009
"The IV Edition" Heats Up the Game and the New Trailer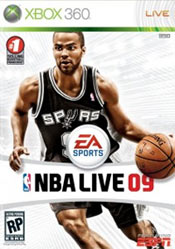 NEWS SOURCE: Syntax Records
October 1, 2008
This October, one of the hottest names in indie hip-hop is lighting up the most anticipated game of the fall. Syntax Recording artist Braille lends his lyrical skills to EA Sports' NBA Live 2009, due in stores this Tuesday (October 7th 2008).
Fans were excited over the summer when the title track from Braille's latest album, The IV Edition, played over highlights from NBA Live '09 in a trailer that also served as an announcement that San Antonio Spurs point guard Tony Parker was the cover of NBA Live 2009. With the game being only a week away from releasing we are also excited to announce that "The IV" has been selected as a song to be featured as a free download on the official NBA Live website. As expected the song is also prominently featured throughout the game.
"I've always loved NBA Live. I can remember playing NBA Live '95 with my friends during school. The game brings back instant memories of my teenage years and having my song in the game is definitely one of the highlights in my career so far," Braille says. "Moments like this inspire me to keep giving 100 percent and further increase my passion and a purpose for music."
The IV Edition dropped April 15th on Syntax Records to critical acclaim, earning rave reviews from All Music Guide's JoAnne Greene – which called Braille's rhymes "eloquent" and "a powerful foundation of advice, self-observance, and self-awareness, with a sharp eye for the larger picture."
To see the minute-long trailer featuring "The IV", visit http://www.youtube.com/watch?v=YlXG5Ic8n7c
For more information on Braille, visit his Web site at: www.braillehiphop.com
For more on Syntax Records, visit www.syntaxrecords.com
###