TOOTH&NAIL RECORDS, BEC RECORDINGS, & SOLID STATE RECORDS CONGRATULATE CANADIAN COVENANT AWARD NOMINEES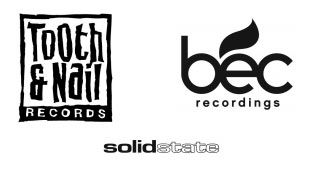 NEWS SOURCE: Overture Media
October 1, 2008
SEATTLE, WA... October 1, 2008... Hailing from the West Coast, Tooth&Nail Records, BEC Recordings & Solid State Records were represented among the nominees for the 2008 Covenant Awards announced at the Calgary location of Blessings Christian Marketplace. Among those nominated, Thousand Foot Krutch led the pack with three nominations followed by multiple nominated Hawk Nelson, Manafest, Secret & Whisper and Cry of the Afflicted.
The 30th Annual Covenant Awards will take place October 24, 2008 at First Alliance Church in Calgary, AB. The Covenant Awards are produced by the Gospel Music Association Canada and occur during GMA Canada Week from October 21-25th.
Category and nominees are:
HARD MUSIC SONG OF THE YEAR "Falls Apart" Thousand Foot Krutch
"A Scar Filled Sky" Cry of the Afflicted
"XOXOXO" Secret & Whisper
RAP / HIP HOP SONG OF THE YEAR "Good Day" Manafest
HARD MUSIC ALBUM OF THE YEAR The Flame In All of Us Thousand Foot Krutch
Great White Whale Secret & Whisper
The Unveiling Cry of the Afflicted
MODERN ROCK / ALTERNATIVE ALBUM OF THE YEAR Hawk Nelson Is My Friend Hawk Nelson
RAP / HIP HOP ALBUM OF THE YEAR Citizens Activ Manafest
GROUP OF THE YEAR Hawk Nelson
Thousand Foot Krutch
About Thousand Foot Krutch:
Thousand Foot Krutch is comprised of Trevor McNevan, his childhood friend Joel Bruyere on bass guitar and Steve Augustine on drums. The Toronto, Canada natives have sold over a half-million copies to date of their albums Set It Off, Phenomenon, The Art Of Breaking, and The Flame In All Of Us. The band hit the musical scene with their 2003 Phenomenon album, which landed them six stellar No. 1 songs on rock radio and branched into mainstream radio with songs "Rawkfist" (Phenomenon) and "Move" (The Art of Breaking). It was "Rawkfist" that became the first great sports anthem of the 21st century being heard everywhere from sports stadiums to commercials (NHL, NFL and major league baseball, ESPN) to the WB's Smallville. In 2007, Thousand Foot Krutch released their newest Tooth&Nail Records' studio project, The Flame in All of Us, which has received media acclaim saying the project "marks a bright new chapter for Thousand Foot Krutch." TFK has previously won four Covenant Awards: 2006 "Video of the Year" Move; 2005 Artist and Group of the Year, Modern Rock Album of the Year: "Art of the Breaking."
About Hawk Nelson:
This powerhouse, punk foursome hailing from Canada has won the hearts of fans and media nationwide since their debut release in June 2004 with "Letters to the President." Hawk Nelson has appeared on NBC's "American Dreams", had a cameo appearance in the hit Nickelodeon film "Yours, Mine, & Ours," where they played their original song "Bring Em Out," as well as had their songs featured on NBC's 2006 Stanley Cup promo spots, WB's Smallville, Summerland, & Laguna Beach. Their most recent release Hawk Nelson Is My Friend debuted at #34 on the Billboard Top 200 selling more than 18k units. Hawk Nelson Is My Friend was also the top selling new release on the Christian album chart in addition to the comprehensive chart. The album also successfully debuted on the digital store iTunes with a No. 13 debut on the Top 100 albums chart on street day and remains on that chart one week later. Also the debut single "Friend Like That" sold 25,000 digital copies up to street week on iTunes. Hawk Nelson has previously won a Covenant Award in 2006 for Modern Rock / Alternative Album of the Year Smile It's the End of the World.
About Manafest:
Chris Greenwood has learned in his seven years under the moniker "Manafest" is that small sparks can ignite wildfires. Following on the heels of the internationally acclaimed Glory, Manafest returned in June 2008 with a new mindset, refreshed style and a powerful arsenal of songs aptly titled, Citizens Activ. Manafest has shared the stage with a very respectable handful of artists including Stellar Kart, Thousand Foot Krutch, Seventh Day Slumber, LA Symphony, Grits, DJ Maj. Previous winner of four Covenant Awards: 2005 Rap / Hip Hop Album of the Year "Ephiphany" and Rap / Hip Hop Song of the Year "Let it Go"; 2007 Rap / Hip Hop Album of the Year "Glory" and Rap / Hip Hop Song of the Year "Bounce."
About Secret & Whisper:
Kelowna, British Columbia's Secret and Whisper, they will not tell you they are icons. They will not tell you they are in their own elite category either. But what they will tell you is what motivates them: not hair, jeans, girls, belts, lifestyle, or sales. But making unique music that they love, for no other reason than the music itself. As a second chance can breathe life into cold hearts, so has the second journey into pop culture breathed motivation into Secret and Whisper. They recently completed their first U.S. tour with Tooth and Nail stalwarts Far-Less, and many more tours are to follow, according to the band. Their debut Tooth&Nail project, "Great White Whale" released in 2008.
About Cry of the Afflicted:
A young band from Kelowna, B.C. called Cry of the Afflicted released last August their world-wide Solid State debut "The Unveiling". Formed in the winter of 2003, Cry of the Afflicted began unassumingly as a group of friends growing up together in their hometown, about three hours northeast of Vancouver B.C. "The Unveiling" took Cry of the Afflicted all over North America and beyond, as the band opened audience's eyes to one of the talented treasures of the Great White North.
###