JOURNEY FEST 2008
RETURNS TO BROOKSVILLE, FL
Multi-Day Christian Music Festival Benefits Sertoma Youth Ranch
NEWS SOURCE: Journey Fest 2008
October 5, 2008

BROOKSVILLE, FL -- Journey Fest 2008, a contemporary Christian youth and music event, will be held October 31 through November 2, 2008 at the Sertoma Youth Ranch near Brooksville.
The Newsboys, the Grammy-nominated Christian contemporary band, are the event's headliners. Other groups include Story Side B, Manic Drive, The Glorious Unseen, Urban D, Since October, Code of Ethics, Burden of a Day, This Day On, Among the Thirsty and Regret and Forgive Again, along with many other local and regional bands; over 35 bands will be showcased on multiple stages throughout the three-day festival.
Journey Fest 2008 kicks off on October 31 with "Hardcore Halloween" featuring hard rock and rock-oriented acts. Gates open at 2:00 pm, with music starting at 5:00 pm. On November 1, the Newsboys will perform along with other family-oriented bands. Gates open at 10:00 am, and music starts at 11:00 am. Sunday, November 2, will be a day of praise and worship with times to be announced. (All times subject to change.) The event will also feature Christian-oriented vendors, and concessions available for purchase. The complete schedule and artist line-up is at www.JourneyFest.org.
Ticket prices to Journey Fest are $15 advance/$20 door (Friday, Oct. 31); $25 advance/$30 door (Saturday, Nov. 1) and $35 for admission to both Friday and Saturday nights. Sunday's performances are free. Tickets can be purchased at www.clicknprint.com or 800-370-2364.
In addition to providing a warm, friendly and fun environment for youth and their families to come together to enjoy great music, the event, now in its second year, generates funds for the Sertoma Youth Ranch, an 88-acre multi-use, multi-functional park and campgrounds located on Meyers Road between Brooksville and Dade City. Founded in 1974, the ranch is a non-profit organization whose mission is to provide and maintain a clean and safe outdoor recreational area for Florida's children. The ranch is available for sponsored youth groups to use at no charge to them. The Sertoma Youth Ranch receives no major outside funding except for private donations and monies generated through various on-site events throughout the year. All net proceeds from Journey Fest will be used to help preserve the camp. For more information about the Sertoma Youth Ranch, visit www.SertomaYouthRanch.com.
Journey Fest is presented by MoJoe Productions, Inc., Faith Tampa Bay, Rev Music and Prodigal Media. Other sponsors include The Joy FM and Spirit 90.5 FM.
Sponsorship packages, as well as vendor spots, are still available. Artist applications are still being received. Go to www.journeyfest.org and/or www.myspace.com/journeyfest for more information.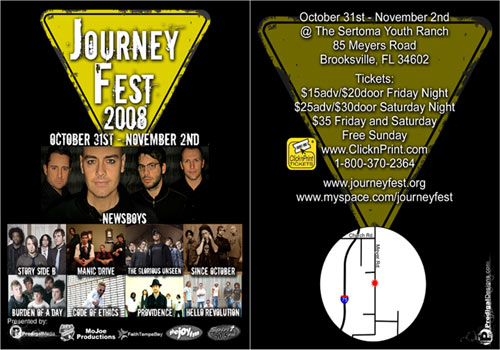 ###