- PROVIDENT'S FRIDAY BUZZ -
FOR THE WEEK ENDING OCTOBER 3, 2008
THIRD DAY PERFORMS AT THE "MUSIC RE-BUILDS TOUR"
BENEFITTING THE GULF COAST IKE RELIEF FUND

MICHAEL W. SMITH PREMIERES "A NEW HALLELUJAH"
MUSIC VIDEO ON YAHOO & THE GOSPEL MUSIC CHANNEL

BRANDON HEATH ON THE RED CARPET AT NASHVILLE
PREMIERE OF BILLY GRAHAM FILM

JOHN WALLER'S "WHILE I'M WAITING" HITS NO. 3
ON iTUNES WITH "FIREPROOF" OPENING

PILLAR'S "FOR THE LOVE OF THE GAME" MUSIC VIDEO
USED BY MLB.COM

NEVERTHELESS HITS THE ROAD FOR ACQUIRE THE FIRE

MATT MAHER VISITS CHRISTIAN SUPPLY IN PORTLAND
NEWS SOURCE: Provident Label Group
October 3, 2008
Third Day Performs at the "Music Re-Builds Tour" Benefitting the Gulf Coast Ike Relief Fund: Multi-platinum and GRAMMY winning Third Day performs tonight at the "Music Re-Builds Tour" benefitting the Gulf Coast Ike Relief Fund. KSBJ Special Events sponsored this concert event that will raise necessary funds to ignite healing for the region. The concert will feature Christian bands Third Day, Switchfoot and Robert Randolph & the Family Band on Friday, October 3rd at 6:20 p.m. CST at the Berry Center in Houston, Texas. Those not attending the sold out concert can view the televised broadcast on HTV Houston and HCCTV (check your local listing) and via live web stream available by visiting www.ksbj.org. For more information on Third Day, please visit www.thirdday.com.
Michael W. Smith Premieres "A New Hallelujah" Music Video on Yahoo & the Gospel Music Channel: Christian music superstar Michael W. Smith gives fans an exciting glimpse into his upcoming 21st album, A New Hallelujah, (October 28) with the featured debut of the short-form music video of the title track, a hit song already scaling the heights of Christian radio charts. The video received its Internet debut October 1 as one of Yahoo Music's exclusive Video Premieres followed by its television broadcast premiere on the Gospel Music Channel on October 2, in the "It's All Gospel" video block. The video premieres add to the existing momentum Smith is experiencing this week. His "A New Hallelujah" single was added to iTunes late yesterday and has already skyrocketed into the Top 10 on the iTunes Christian Songs Chart and "The Unity Tour," featuring Smith and longtime friend Steven Curtis Chapman, launches October 9 in Columbus, Ohio. For more information on Smith, please visit www.michaelwsmith.com.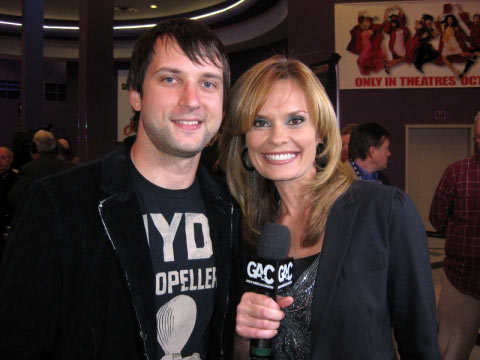 Photo Caption: Brandon Heath pictured on the red carpet with GAC.
Brandon Heath on the Red Carpet at Nashville Premiere of Billy Graham film: New Artist of the Year Brandon Heath was back in his hometown last night as an honored guest at Nashville's movie premiere of "Billy: The Early Years." Heath is featured on the film's soundtrack, which releases on October 7, with his recording of the Patty Griffin cut "Heavenly Day." Heath interviewed with local and national media on the Red Carpet including GAC, ABC radio, and the Tennessean. For more information on Heath, please visit www.brandonheath.net.
John Waller's "While I'm Waiting" Hits No. 3 on iTunes with "Fireproof" Opening: As audiences are now experiencing the new film "Fireproof," the music of John Waller is also skyrocketing in popularity. Waller's song "While I'm Waiting," from his 2007 debut album The Blessing, hit No. 3 this week on iTunes Christian Song chart. Waller's song is prominently featured in a powerful scene in "Fireproof," and is winning over movie goers as indicated on the charts this week. To watch the scene from "Fireproof" featuring the song click here. For more information on Waller, please visit www.johnwallermusic.com.
Pillar's "For The Love of the Game" Music Video Used by MLB.com: MLB.com is currently using GRAMMY-nominated hard rock band Pillar's "For the Love of the Game" music video as an apt vehicle to showcase some of baseball's biggest and best highlights. The video can be viewed here. "For the Love of the Game" is the title-track from Pillar's most recent studio album, its fifth, which released February 26, 2008. Pillar's hard-rocking, anthemic music has often been used in the sports world. During its career, its music has played on numerous ESPN sports programs, including SportsCenter, Baseball Tonight and College Gameday, as well as CBS and FOX Sports. For more information on Pillar, please visit www.pillarmusic.com.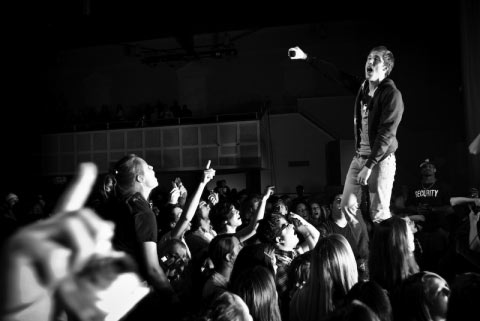 Photo Caption: Nevertheless performing at CD release show in
hometown of Chattanooga, Tenn.
Photo Credit: Jamie Pearson.
Nevertheless Hits the Road for Acquire the Fire: Chattanooga, Tenn.-based rock quintet, Nevertheless, who released its sophomore album In The Making… on September 16, hits the road tonight to play at almost the entire Acquire the Fire fall schedule of events starting with tonight's event, in Hoffman Estates, Il. Acquire the Fire is a national tour that has reached thousands of young people & youth leaders throughout America for over 20 years. Held in over 30 cities nation-wide, ATF brings a cutting edge production filled with top name bands, relevant speakers and drama. For more information, check out www.acquirethefire.com or call 1.800.329.FIRE. Upcoming ATF dates with Nevertheless include the following:
10/3 – Hoffman Estates, IL
10/11 – St. Louis, MO
10/25 – Hamilton, ON (Canada)
11/1 – Cleveland, OH
11/21 – Phoenix, AZ
12/6 – Billings, MT

For more information on Nevertheless, please visit www.neverthelessmusic.com.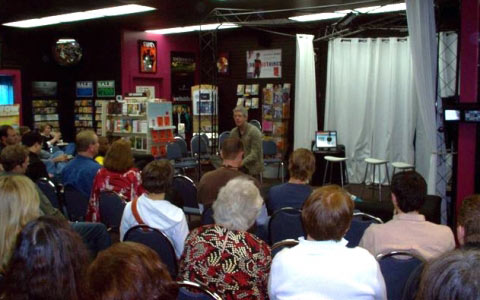 Photo Caption: Matt Maher Q&A with local worship and ministry leaders at Christian Supply.
Matt Maher Visits Christian Supply in Portland: Essential recording artist Matt Maher visited Christian Supply in Portland, Ore., recently in an effort to create local partnerships between radio, retail, churches, colleges and worshiptogether.com. Matt played a concert at St. Joseph the Worker Parish where friends and colleagues from Christian Supply, the Oregon Catholic Press, George Fox University and The FISH were all present. The day following, Christian Supply held a question & answer session with Matt and local ministry leaders, aided by worshiptogether.com and Matt lead the Chapel services alongside JD Walt at George Fox University. For more information, please visit www.mattmahermusic.com.
###