BEC RECORDINGS / UNIVERSAL MUSIC GROUP PUBLISHING'S NEWCOMER JAYMES REUNION PERFORMS FOR T.J.MARTELL FOUNDATION WALK-A-THON
"THE FINE" EP AVAILABLE ON iTUNES;
DEBUT, EVERYTHING YOU'VE BEEN LOOKING FOR, SET FOR 2009

NEWS SOURCE: Overture Media
October 7, 2008
Seattle, WA...October 7, 2008...California-based band Jaymes Reunion, recently signed to BEC Recordings and Universal Music Group Publishing, performed Sunday (October 5th) in Madison, New Jersey for the 14th Annual T.J. Martell Foundation Walk-A-Thon. The quickly rising band was thrilled to support the foundation that raises essential funds for innovative leukemia, cancer, and AIDS research in loving memory of T.J. Martell, the son of legendary music executive Tony Martell of Madison. Jaymes Reunion performed music from their EP The Fine, which is now available on iTunes as well as from the upcoming 2009 label debut Everything You've Been Looking For.
Fronted by Cameron Jaymes, Jaymes Reunion formed the band name from the fact that whenever these musicians get together, it feels like a family reunion. The band is composed of guitar player Braydon Nelson, who went to the Berklee School of Music, Eric Watson, on bass, went to Jaymes' church, Jeremy Taylor and Jared Byers, taking turns on percussion, met Jaymes out on the tour circuit.
Together, the members of Jaymes Reunion want to encourage people. Jaymes shares, "I'm driven by the idea of connecting people with songs. My greatest inspirations stem from everyday life, so I want to give people songs that warm them and help them feel alive."
The T.J. Martell Walk-A-Thon was a perfect avenue for the band to connect with people and inspire them during the 3-mile scenic walk through Madison and the Drew University campuses. The foundation honored David Epstein, CEO and President of Novartis Oncology for his leadership and accomplishments as well as the memory of Jack Crane, friend of the T.J. Martell Foundation and Walk-A-Thon volunteer. For more information on the foundation and walk-a-thon, visit www.tjmfwalkathon.org .
About Cameron Jaymes:
Born in August 1984 in Bakersfield, Calif., Jaymes started singing while in elementary school. His mother enrolled him and his brother in an after-school choir program, but it wasn't until he was 15 that Jaymes focused seriously on singing and songwriting, penning his first piece for a girl he wanted to impress. By age 18 he'd already done a national tour and was spending time figuring out his own sound. He shared it, poolside, with some music executives in West Hollywood during Grammy Week 2006, which led him to BEC Recordings.
About Jaymes Reunion's Sound:
Jaymes Reunion's debut features soaring, solid vocals backed by marching drums, pop-rock keyboards and strumming guitar influenced by U2, Coldplay, Switchfoot and The Bee Gees. Jaymes' favorite sound -- the piano -- features prominently. For more information on Jaymes Reunion, click here.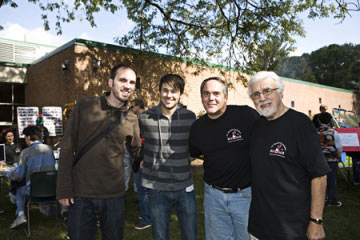 Photo Caption: Left to Right Braydon Nelson (guitar), Cameron Jaymes, Chris Mattioli, Chairman 2008 T.J. Martell Foundation Walk-A-Thon, Tony Martell, T.J. Martell Foundation Founder and Chairman


Jaymes Reunion playing at the Walk-A-Thon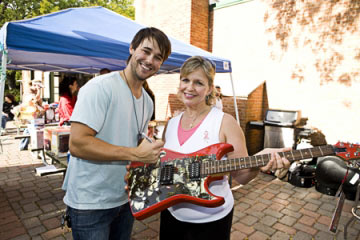 Photo Credit, photographer: Michael Marmora (www.michaelmarmora.com)
###