JEREMY CAMP PARTICIPATES IN THIRD ANNUAL DIERKS BENTLEY'S
"MILES & MUSIC FOR KIDS" BENEFIT FOR VANDERBILT CHILDREN'S HOSPITAL
Camp Shares Stage with Bentley, Tim McGraw and Other Country Artists;
Debut single "There Will Be A Day" Continues to Climb the Charts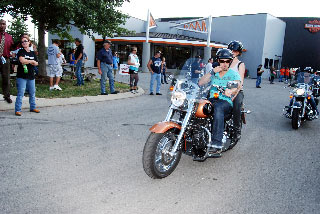 NEWS SOURCE: Overture Media
October 9, 2008
SEATTLE, WA...October 9, 2008...Thrilled to bike and perform for a cause, three-time RIAA Gold selling recording artist Jeremy Camp recently participated in the third annual Dierks Bentley "Miles & Music for Kids." The proceeds were raised for the Vanderbilt Children's Hospital in Nashville, TN.
The celebrity motorcycle ride and concert was held this past Sunday, October 5th. The participants biked from scenic Williamson County through downtown Nashville, ending at Riverfront Park with jam session, which featured event founder Dierks Bentley in addition to Camp, Tim McGraw and other country artists. In the two previous years, "Miles & Music for Kids" raised more than $250,000 for Vanderbilt Children's Hospital.
With less than two months until the release of Speaking Louder Than Before, Jeremy Camp's new single "There Will Be A Day" is shooting up the radio charts on all formats. The single has been the most added at AC Monitored, CHR, and Inspo every week since its release. In the last two weeks, the single has picked up 26 new markets and has gained more than 1.2 million new audience impressions.
The song is also available on iTunes and debuted at No.1 on the overall Christian song chart and the only Christian song in the iTunes Top 100 on release week. The upcoming release was produced by Grammy-winning producer Brown Bannister (Amy Grant, Michael W. Smith, Third Day, Rich Mullins).
For more up-to-date information and daily blogs from Camp and his band, visit the newly launched website: www.jeremycamp.com. Also see below for the remaining fall dates for Jeremy Camp.
About Vanderbilt Children's Hospital:
Vanderbilt Children's Hospital is the most comprehensive Children's Hospital in the state, providing services from cancer treatments, organ and bone marrow transplants to broken legs and everything in between. Vanderbilt Children's is a non-profit teaching and research hospital, and relies on the support of individuals and others to help children get well and on their way.
About the Speak Up, Speak Now, Speak Loud Campaign:
"It's an agenda without an agenda. The Speak Up comes from Paul saying, 'I didn't come to you with persuasive words, the Holy Spirit did the work.' It's not about what you can do on your own power. God just wants us to spend time with Him and have a willing heart. Speak Now comes from the urgency of the scary times we live in. Lastly, Speak Loud challenges us to hear loud this declaration from out across the nations where people are crying out. It's not about volume, it's about the substance behind what we're saying."
About Jeremy Camp:
Since his debut BEC Recordings' project in 2002 (Stay), Jeremy Camp has made a definitive mark in the industry with his ability to compose hit songs and capture audiences of all ages selling more than two million records. Following his Gold-selling debut, Camp has released three additional studio projects (Carried Me: The Worship Project, Restored, and Beyond Measure), which have garnered a total of three RIAA Gold-Selling albums and an amazing 16 No. 1 radio hits under his belt. Honored with multiple Dove-nominations and five awards, a 2007 American Music Award nomination, and from the ASCAP Christian Music Awards three-time "Songwriter of the Year" (2008, 2006, 2005) winner including "Song of the Year" (2006). Camp continues to reach the masses with his music. Radio remains a strong supporter of Camp's music as his recent project Beyond Measure produced six back-to-back No. 1 hits, "Tonight" (CHR), "What It Means" (AC) and "Give You Glory," which was named the No. 2 AC Song of the Year on the R&R charts. In 2007, Camp was also voted Best Male Artist in the ChristianMusicToday.com Reader's Poll as well as named the No. 2 Artist of the Year on the R&R charts in addition to his first American Music Award nominee for Favorite Inspirational Artist.
Jeremy Camp Fall 2008 Dates: (all subject to change)
10.10.08 Perris, CA
10.11.08 St. Louis, MO
10.17.08 Columbia, SC
10.25.08 Hamilton, ON Canada
11.01.08 Cleveland, OH
11.14.08 Fayetteville, AR
11.15.08 Tulsa, OK
11.18.08 Johnson City, TN
11.22.08 Phoenix, AZ
12.28.08 Sevierville, TN
12.29.08 Sevierville, TN
12.31.08 Lynchburg, VA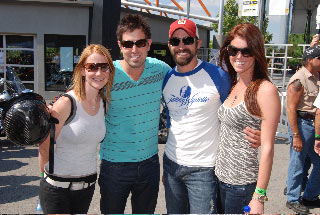 Photos Credit: Aaron Crisler / The Judy Nelon Group
Photo 1 Caption: Jeremy Camp and wife Adie take off from the Cool Springs Harley Davidson
Photo 2 Caption: Adie & Jeremy Camp with fellow biker Austin Petty & girlfriend Nikki
###