- PROVIDENT'S FRIDAY BUZZ -
FOR THE WEEK ENDING OCTOBER 10, 2008
"RALLY FOR ROCKETOWN" HELD ON OCTOBER 7

CASTING CROWNS RELEASES PEACE ON EARTH THIS WEEK

NEVERTHELESS HEADS OUT ON TOUR IN SUPPORT OF TWLOHA

MATT MAHER PLAYS CHURCHES, PUBS AND FESTIVALS IN CANADA

BRANDON HEATH IMPACTS STUDENTS IN ARKANSAS

FIREFLIGHT WRAPS UNBREAKABLE TOUR; KICKS OFF
CREATION TOUR; BAND FEATURED ON BEBO SAMPLER
NEWS SOURCE: Provident Label Group
October 10, 2008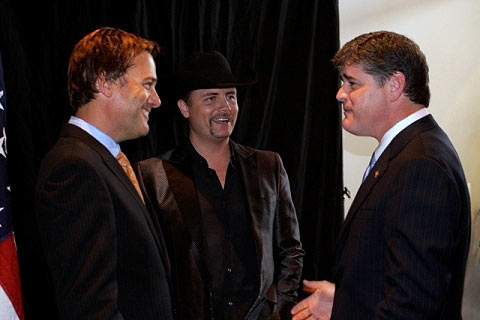 Photo Caption: Michael W. Smith pictured with country star John Rich and Fox News'
Sean Hannity at the "Rally for Rocketown" luncheon held Tuesday before the debate.
"Rally for Rocketown" Held on October 7: FOX News' "Hannity & Colmes" co-host Sean Hannity came to Nashville to speak at an October 7 luncheon fundraiser for Rocketown, the nonprofit youth entertainment venue and skatepark. "Rally for Rocketown" took place at Lipscomb University's Allen Arena, prior to the 2008 Town Hall Presidential Debate at Belmont University. The event also featured a musical performance by Grammy award-winning Christian artist and Rocketown founder, Michael W. Smith. For more information on Michael, please visit www.michaelwsmith.com.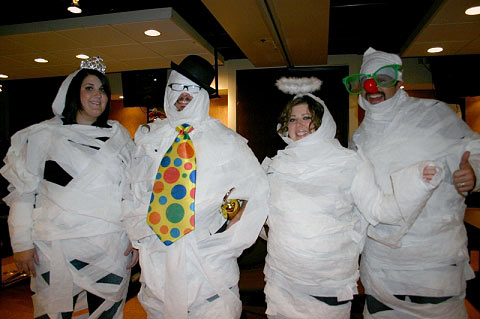 Photo Caption: Casting Crowns' band members pictured above for PLG's staff party during street week to
celebrate the release of Peace On Earth. (L-R) Megan Garrett, Juan Devevo, Melodee Devevo, Mark Hall.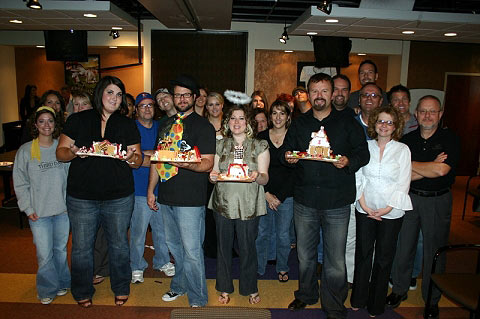 Photo Caption: Casting Crowns' band members pictured with label staff during a party for street
week of Peace On Earth. (L-R) Megan Garrett, Juan Devevo, Melodee Devevo, Mark Hall.
Casting Crowns Releases "Peace On Earth" This Week: Christian music's four-time Group of the Year Casting Crowns ushers in the holiday season this week with its first Christmas album release Peace On Earth, which hit stores nationwide on Tuesday (10/7). The band celebrated this career first with a host of street-week activities, consisting of Christmas performances for TV on the TBN network and "The 700 Club," airing later this year, plus a chapel service led by the band at LifeWay's corporate offices in Nashville, and capped off with a staff party at Provident Label Group. PLG staffers joined the band in contests including the "Wrap your best Casting Crowns Snowman" and a "Casting Crowns Gingerbread House-build." (Photos above) In the midst of the fun this week, lead singer Mark Hall says his main hope for Peace On Earth is for audiences to "rediscover the worship that Christmas songs have in them." He explains, "A lot of times, when we sing carols, we sort of shift into Christmas carol mode—singing songs that we've been singing for so long, we might not be hearing what they're really saying." For more information on Casting Crowns, please visit www.castingcrowns.com.
Nevertheless Heads out on Tour in Support of TWLOHA: Chattanooga, Tenn.-based rock quintet, Nevertheless, who released its sophomore album In The Making… on September 16, hits the road tonight for the To Write Love On Her Arms (TWLOHA) Tour, where the band will be playing in markets like Cincinnati, Ohio, Washington, D.C. and Virginia Beach, Va. To learn more about TWLOHA, please visit www.twloha.com. For more information on Nevertheless, please visit www.neverthelessmusic.com.
Matt Maher Plays Churches, Pubs and Festivals in Canada: Essential records artist Matt Maher played a gig at a church in his hometown of St. John's in Newfoundland, Canada this week for hundreds of local ministry partners, friends and family where his aunt and cousin were the promoters of the show. Matt played a popular local pub in St. John's called The Bull & Barrel, before heading up to Gander, Newfoundland for the YC Festival, which is one of Canada's largest Christian festival events. There he will be joined by other artists such as Paul Baloche and Leeland. Being up in his hometown, Matt says, "...is really wonderful. Getting to connect with friends from my childhood and family members who have known me all of my life has been great for my heart. I instantly picked up the northeastern Canadian accent spending time with my family - so for at least a little while, I'm going to sound like a foreigner once I'm back in the US." Next week Matt is back stateside where he will be spending some time songwriting and conducting radio interviews nationwide in markets like Dallas, Tulsa, St. Louis, New York and many more. Check www.mattmahermusic.com for more details about when Matt will be on-air.
Brandon Heath Impacts Students in Arkansas: New Artist of the Year Brandon Heath has had a specific impact on high school students in Springdale, Ark., recently when a group of seniors all wore t-shirts with the title of Brandon's 2006 No. 1 song "I'm Not Who I Was" written across the front and the phrase "Ask Me Why" on the back. The seniors said in an interview with the school paper they wanted to make a statement to their peers on how their lives were changed by their Christian faith (Photo and news story in image below). This week, Brandon's second hit song "Give Me Your Eyes" remains the No. 1 song at Christian radio for a third week on the AC-Monitored chart, and No. 1 on iTunes Top Christian Songs for an eleventh week with 88,000 downloads of the first single from his sophomore album, What If We. The new album is also the lead entertainment feature on CBN.com this week with a "5-SPINS" review claiming - "Buy Two Copies (You'll wear out one in a month!)." For more information on Brandon, please visit www.brandonheath.net.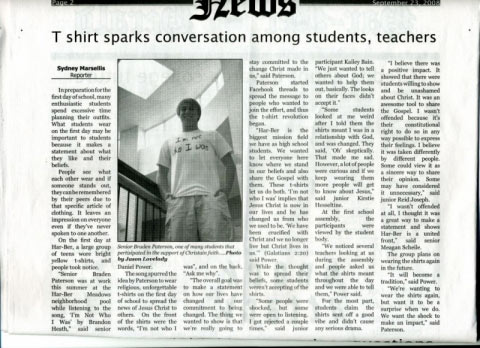 Photo Caption: News article clipping from Arkansas student paper.
Fireflight Wraps Unbreakable Tour; Kicks off Creation Tour; Band Featured on Bebo Sampler: Orlando-based rock band Fireflight recently wrapped its Unbreakable Tour, where the band played venues like the legendary Knitting Factory in New York City, and sold out nearly half the dates on the tour. Last night, Fireflight kicked off The Creation Tour, which runs through November, in Cincinnati, Ohio, with Kutless, Pillar and Thousand Foot Crutch. The band's hit song "Unbreakable" was selected for Bebo's October iTunes Free Sampler. In addition to being selected for the sampler going out to 50,000 people on the Bebo network, the album is being featured for sale on the iTunes redemption page. Bebo (www.bebo.com) has over 40 million registered members viewing billions of pages monthly, it is the largest social networking site in the UK, Ireland, and New Zealand, and the third largest behind MySpace and Facebook in the US. Officially launched in July 2005, received the 2006 Webby Award People's Vote as the best social networking site in the world. For more information on Fireflight, please visit www.fireflightrock.com.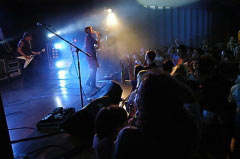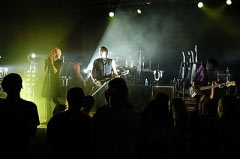 Photo Caption: Fireflight pictured live during the Unbreakable Tour.
###