SANCTUS REAL AND "EXTREME MAKEOVER: HOME EDITION" RAISE $50,000 FOR FAMILY IN NEED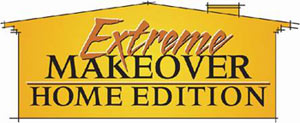 NEWS SOURCE: Savvy Media
October 10, 2008
(NASHVILLE, Tenn.) Oct. 10, 2008—Sparrow Records' Sanctus Real connected with award-winning ABC reality program "Extreme Makeover: Home Edition" to host a benefit concert in the band's native Toledo, Ohio. The more than $50,000 raised will be given to the Frisch family, also from Toledo, whose house was selected for an "extreme makeover."
Held last month at Centennial Terrace in Sylvania, Ohio, the ticket-only show drew more than 5,000 people who rallied in support of the building project to take place that week. Among those in attendance was the cast of "Extreme Makeover: Home Edition," who joined Sanctus Real on-stage during the band's more than hour-long set.
"The beautiful thing about being a part of the 'Extreme Makeover: Home Edition' benefit concert was that we saw OUR community, OUR town, OUR home brought together like never before," says Sanctus Real frontman Matt Hammitt. "There's power when people are unified, and there's a righteousness that's unbridled when that force is molded to serve, love and sacrifice for the 'greater good.'"
The Toledo episode is scheduled to air in November. For more information and show times, visit http://abc.go.com/primetime/xtremehome/index?pn=index
"Extreme Makeover: Home Edition," which has won back-to-back Emmy Awards as Best Reality Program (non-competitive), is entering its 6th season on ABC. The program is produced by Endemol USA, a division of Endemol Holding. Anthony Dominici is the executive producer, and David Goldberg is the president of Endemol USA.
One of the top Christian rock bands today, five-member Sanctus Real's breakthrough album, The Face of Love, released in April 2006, landing at No 2 on the Billboard Top Heetseekers chart and amassing a string of radio hits including No. 1 songs "I'm Not Alright" and "Don't Give Up." While The Face of Love was inspired by real-life heartache and rediscovered joy, the band's fourth studio release, We Need Each Other, marks a completion of that healing process and is a call for unity. Described by multiple media outlets as Sanctus Real's best project to date, the record's title track was a No. 1 hit on Christian Hit Radio. Popularly known for its captivating live performance, the group toured with Third Day last spring and is currently headlining the "We Need Each Other" tour with special music guests Tenth Avenue North and VOTA. For a complete tour itinerary and all the latest Sanctus Real news, go to www.sanctusreal.com, www.myspace.com/sanctusreal, and www.emicmg.com.
###