BELLAMY BROTHERS NAMED AS VOCAL DUO OF THE YEAR BY THE ICM AWARDS
Country/Christian Popular Duo Book Another Performance At Palin Rally in Pennsylvania
NEWS SOURCE: Bozeman Media
October 21, 2008
Nashville, TN (October 21, 2008) ---- The accolades keep coming for Country/Christian dynamic duo, Bellamy Brothers, who were honored late last week at the 14th Annual Inspirational Country Music Award Show (ICM) that was taped at the Trinity Music USA Auditorium in Nashville. The Bellamy Brothers were selected as Vocal Duo of the Year. The brother duo has been enjoying great success with their most recent project, Jesus Is Coming, and have plans for a new Country project and Christian album in the near future.
"We're so grateful to all our fans, radio, and retail in helping us to sustain such a long running career," says David Bellamy. "We love music, recording, and touring and love the opportunities it has provided to see so many cities and countries, while giving us a chance to connect with the fans. Howard and I are so honored with this recent ICM award and are thrilled with the response from the Christian and Country genres to our latest release."
Reviews have been very supportive of Jesus Is Coming with Billboard Magazine doing a feature story and review on the project. About.com gave a glowing review also saying, this is a one-of-a-kind gospel album that includes country, gospel and even blues sounds and will be a must for anyone who loves The Bellamy Brothers. Vintage Guitar Magazine raves, combing a finely honed musical instinct for catchy hooks and bridges with their exceptional wit The Bellamy Brothers have created a CD that should be in every church's musical library. Phantom Tollbooth exclaims, In case you haven't guessed, I have been trying to convince you that the CD Jesus Is Coming is a good investment. So what are you waiting for? Additional media coverage included, Country Weekly feature, American Profile review, Gospel Music Channel feature, appearance on the Grand Ole Opry, All Access 10-question feature, ChristianMusicToday.com review, CMCentral.com review, SoGospelNews.com feature and promotional contest, and an appearance on LeSea Broacasting's "Harvest Show, to name a few.
Howard and David Bellamy were unable to attend the ICM Awards show because of their heavy tour schedule, which included an appearance at a rally with Vice Presidential nominee, Governor Sarah Palin, in Ohio. The duo sang the national anthem and did a forty-five performance before an estimated crowd of ten-thousand people. They have another Palin rally on the books for Thursday, October 23, in Beaver Falls, Pennsylvania at 7:30 pm.
Howard and David Bellamy were raised in Florida and began their musical journey during their childhoods. Without any formal training, they mastered several instruments and in college started playing paid gigs. In 1973, David Bellamy's song, "Spiders and Snakes," became a top 5 hit for Jim Stafford and went on to sell three million copies. David and Howard signed with Curb/Warner Bros. in 1975 and became The Bellamy Brothers. Their first hit was "Let Your Love Flow," followed by the Grammy-winning "If I Said You Had A Beautiful Body (Would You Hold It Against Me), "You Ain't Just Whistlin' Dixie," "Kids of the Baby Boom," "For All the Wrong Reasons," and "Old Hippie," that has a new version on Jesus Is Coming, "Old Hippie III (Saved)." The Bellamy Brothers have garnered more nominations than any other artist in the Duo Category for the Country Music Association and Academy of Country Music Awards. The group also maintains a heavy tour schedule with dates in the states and in Europe.
For tour updates and more information on The Bellamy Brothers please visit, www.bellamybrothers.com.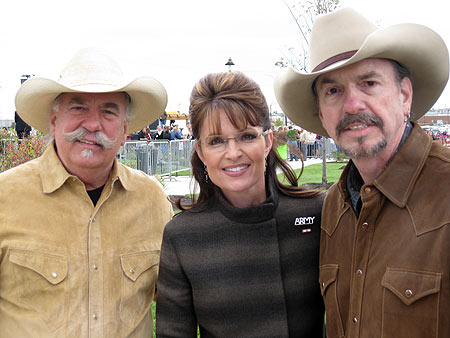 Photo (left to right): Howard Bellamy, Governor Sarah Palin, David Bellamy
###