Integrity Music Announces Signing of Worship Artist Freddy Rodriguez;
Light In The Darkness to Release February '09
NEWS SOURCE: Spinhouse PR
October 27, 2008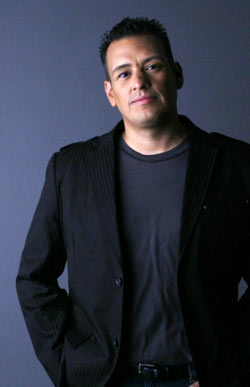 MOBILE, Ala. (October 27, 2008) - This time, what happens in Vegas, will not stay in Vegas. Integrity Music has signed worship artist and songwriter Freddy Rodriguez for the worldwide release of his debut CD, Light in the Darkness, due in stores February 10, 2009.
Rodriguez recorded Light in the Darkness at the Champions Center, a non-denominational church in the heart of Las Vegas. Rodriguez, much like his friend and label mate Israel Houghton, believes in creating music that blends styles and reflects the diversity of the Church and the community in which he ministers.
"The worship community is looking for something new… there's a need for more cross-cultural worship out there," Rodriguez said.
Recorded live before a packed house and produced by Rodriguez himself, Light in the Darkness is destined to become a church classic that's brimming with congregational value and a cross-cultural vibe for universal appeal. Gospel, Latin and pop influences converge to create a heavenly sound, one that transcends ethnicities and encourages worshippers to be united in praise.
"Champions is a great diversity of people," says Rodriguez. "They're probably 25 percent Hispanic, 25 percent black, 25 percent white and 25 percent Asian. So, you hear a lot of styles, which is great by me because that's where I'm at personally... I love that we have the ability to worship together – red, yellow, black and white."
Rodriguez has been involved in worship music for the past 11 years and served for the past three years at Champions. But, his path to music and ministry was rocky.
A native of Chicago, Rodriguez was born into a poor Puerto Rican household where his parents divorced when he was just three-years-old. Moving to Texas as a young, troubled teen, Rodriquez was a convicted felon before he was old enough to drive. Providentially, a desire to reconnect with his father back in Illinois and an internship at a recording studio opened the door for him to find Christ and sow the seeds of a promising career in music, which eventually brought him to the attention of Integrity Music.
"As a worship leader, my desire is for people to connect with God," Rodriguez says. "I've already made up my mind that I'm going to pursue Him with my whole heart. Nobody convinced me about it... It's my reasonable act of service. When we find ourselves in the secret place of the Most High God, we should be able to hear his voice."
Light in the Darkness will be available to Christian retail stores through Provident-Integrity Distribution and will be sold online at http://www.integritymusic.com/ and http://www.integritydirect.com/.
###