NEWSBOYS AND GLOBAL TRIBE LAUNCH REACH
Family Life Radio Partners with Global Tribe for Inaugural newsboys REACH Event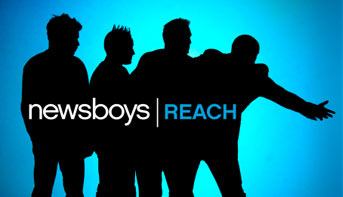 NEWS SOURCE: Newsboys
November 4, 2008
Tucson, AZ: Tucson based Family Life Radio and Nashville based Global Tribe have joined forces, along with more than twenty Tucson area churches to present REACH, a free concert event featuring Internationally renown pop/rock group newsboys. REACH in Tucson is the inaugural live event from Global Tribe. The extensive network of ministry partners, including more than twenty area churches, Gospel Rescue Mission, Teen Challenge, Fellowship of Christian Athletes, Chaplains from Davis-Monthan Air force Base, Good News Tucson, and area Chick-fil-A stores, each supporting the event in their community.
"Music is one of the most powerful forms of media; it crosses economic, social, racial, and denominational divides. We see music as a gift, much like a Trojan Horse being wheeled into a city. We come sharing the gift of music, and yet out of the music comes an even greater gift...the gift of the Gospel," says Peter Furler - lead singer of the newsboys. "Our goal for REACH is to provide an event where people can invite friends, neighbors, family members, and anyone in the community to come to a concert where they will hear a clear message of hope and peace. Young people can bring classmates, moms can bring the soccer team, and workers can bring their friends from work."
Global Tribe is an organization based in Nashville TN, focusing on International aid to impoverished areas, Reach concert events to support the ministry of local churches, and leadership development of young emerging leaders. Global Tribe is a mobilization relief ministry that partners with existing organizations in country, and currently has extensive work in Baja, Mexico, partnering with Baja Christian Ministries, as well as work in Fiji, Uganda, Haiti, and the Global Tribe Children's home and School in India. For more information please visit www.globaltribe.com.
DATE: November 8, 2008
TIME: GATES OPEN AT 5:00 P.M.
LOCATION: TUCSON ELECTRIC PARK
ADMISSION: FREE
ABOUT NEWSBOYS
With five gold albums, sales exceeding six million units, more than 20 No.1 radio hits, and a mantle of Dove Awards as well as Grammy nominations, newsboys has achieved phenomenal success in its near two decades together. Known for its amazing live performances and groundbreaking tours, the band continues to sellout festivals and concerts worldwide, satisfying diehard fans and winning new ones in the process. newsboys fourteenth record, GO, debuted at No. 51 on the Billboard Top 200 chart. For more information visit www.newsboys.com.
ABOUT GLOBAL TRIBE
GLOBAL TRIBE is dedicated to mobilizing resources to share the Gospel of Jesus and His call for each of us to GO and TRAIN EVERYONE YOU MEET, and to INSTRUCT THEM IN THE PRACTICE of all His Word. Moreover, Global Tribe is dedicated to a threefold ministry to address needs of the body, mind, and soul. To that end, we are dedicated to the following strategy for ministry:
RESCUE THOSE IN PHYSICAL AND SPIRITUAL POVERTY.
Global Tribe is a mobilization ministry, dedicated to identifying and supporting the work God is doing already through providing resources, volunteers, and financial partnership for existing ministries in country. As a mobilization ministry, our heart is to marshal resources to better enable ministries serving God's call to accomplish their goals. Through resources like funding, materials, equipment, and staffing, we work with ministries to identify pressing needs, and then, through your support, we provide for those needs. Much of our work is in Baja, Mexico, where Global Tribe provides aid for people living below the poverty level—often making less than $2.50 a day. Families have no homes. Parents cannot support their children. They starve physically and spiritually. We help provide food and shelter, and work with local ministries to make disciples.
REACH COMMUNITIES WITH THE GOSPEL
Through the platform of newsboys with exciting live concert events, in cities across America and beyond, we work with churches, local businessmen, Christian radio, and community leaders to bring in a free concert so you can invite friends, family, business associates, and people in the community to hear the Gospel in a fun, non-threatening environment—united we Go and make disciples. Reach unites the body—people, churches, local ministries, for a single purpose—to impact their city—TOGETHER.
RECRUIT AND EMPOWER YOUNG LEADERS.
With the resources at our disposal and the history of creative ministry of our leadership team, we work to mobilize, empower, inspire, and equip emerging Christian leaders to carry on with innovative ministry opportunities. We provide or nurture creative concepts for ministry, and mentor, equip, and inspire upcoming leaders for future generations.
WHERE IN THE WORLD IS GLOBAL TRIBE
We are in Baja Mexico, our primary focus—building homes, clinics, and schools; assisting with medical needs, reaching communities with the Gospel, and providing biblical foundations for new believers through Purple Book. We are helping parents meet the essential needs of food and shelter in this poverty stricken area. We are in India, meeting the needs of children in poverty through the Global Tribe Children's Home, meeting the physical and spiritual needs of those God sends to us. We are in Fiji, providing a generator to a medical clinic, and we are in Haiti feeding children. We are in Uganda working with local churches to equip widows to become self-sufficient through learning a trade to support themselves.
MORE ABOUT REACH
Reach is a dream of newsboys, Wes Campbell their longtime manager, and Anthony Walton, founder of Global Tribe and life long friend of the guys. It is a ministry of Global Tribe, created to provide a framework for friendship evangelism, a tool for local churches to impact their community, all wrapped in a newsboys concert that has, at the core, a clear Gospel presentation followed by a call for new believers to connect with a local church and grow in the knowledge of their Lord and His Word.
Reach unites, excites, invites, and ignites -
Unites the local body for a common goal—to REACH their community with the Gospel, and to provide a network of support in the Church family for those who come to Christ to have discipleship, support, and encouragement in their new walk.
Excites Christians providing a way to invite friends, neighbors, and co-workers to her the Gospel.
Invites the unchurched and all who will come for a FREE concert that will surprise them with the Gospel, with hope, grace, and joy!
Ignites revival in the community, inspires friend to friend evangelism, and fans the flame of the work of the churches throughout the city.
###