VEGGIETALES®: ABE AND THE AMAZING PROMISE
Available February 7, 2009
Featuring A Lesson On Patience – New DVD Is Worth The Wait!

Nationally Syndicated Radio Show Host, "Delilah," Voices VeggieTales Character

PLUS! Simultaneous Release Of The VeggieTales® Bible From Zonderkidz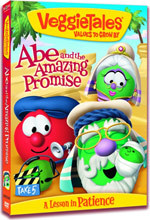 NEWS SOURCE: Hoganson Media
November 5, 2008
FRANKLIN, TN (November 5, 2008) – Good things come to those who wait! VeggieTales®: Abe and the Amazing Promise, the exciting new Bible-story-based adventure from Big Idea, Inc., an Entertainment Rights group company, releases on DVD February 7, 2009. The DVD launches amidst a comprehensive multi-product VeggieTales "Values To Grow By" marketing campaign.
Abe and the Amazing Promise is a Veggie-spun Bible classic that tells the story of Abraham and Sarah and their wait for a promised child. Featuring a lesson in patience, the DVD showcases nationally syndicated radio host "Delilah" as the voice of Sarah. Including a new Silly Song with Larry entitled "Sneeze If You Need To!," the musical "misadventures" of Blunders in Boo-Boo-Ville and lots of family-friendly bonus features, this highly anticipated title is available for $14.99 SRP in Christian stores Saturday, February 7, 2009 and everywhere Tuesday February 10, 2009. The product will be distributed in the CBA market through Word Distribution and in the general market through Genius Products.
Releasing simultaneously in February with the Abe and the Amazing Promise DVD will be The VeggieTales® Bible from ZonderkidzÔ. This full-text Bible, aimed at children 8-years old and under, will be offered at $24.99 SRP (Jacketed Hardcover) and available in the complete New International Version (NIV,) considered to be the most-read and most-trusted Bible translation. Highlights include 32 full-color pages with a Veggie-retelling of eight favorite Bible stories pictorially, as well as a "Veggie Values" feature where Bob and Larry show kids how to find themes such as forgiveness, trusting in God, being helpful and more. The VeggieTales Bible invites children to experience God's Word using the backdrop of much-loved VeggieTales characters, who remind them that "God made you special, and He loves you very much!"
"We are honored to bring these inspiring, entertaining and meaningful products to today's families," says Greg Fritz, SVP of Marketing and Licensing for Big Idea. "Abe teaches a wonderful lesson in patience, which is a welcome message for kids and parents alike! And we trust that The VeggieTales® Bible from Zonderkidz will be instrumental in getting kids engaged in God's Word and discovering that they are uniquely made and completely loved."
"There is so much buzz from consumers and retailers about the new VeggieTales® Bible," adds Annette Bourland, Zonderkidz Senior Vice President and Publisher. "Zonderkidz is proud to partner with Big Idea on a brand we know kids will love and parents will trust. This dynamic partnership allows us to publish a Bible that will inspire many children and their families.'"
VeggieTales "Values To Grow By" Campaign
As part of the strategic marketing initiatives for the new year, Big Idea will launch their "Values To Grow By" spring campaign beginning with the release of Abe and the Amazing Promise DVD February 7, plus three classic reissues of best selling Bible story-themed titles Rack, Shack and Benny, Josh and the Big Wall and Dave and the Giant Pickle. Each DVD will sport an exciting new look with a fresh cover design and a fun new VeggieTales logo. The catalog titles will be re-priced and re-promoted at $9.99 SRP.
In addition to a strong presence at retail, Big Idea will introduce the VeggieTales "Values To Grow By Companion Guide" with extensive teaching resources for parents and children's ministry leaders. The resource guide will consist of 12 Bible study sections with activities and lessons based on VeggieTales Bible-story-themed DVDs, including Abe and the Amazing Promise. The resource guide will be introduced at children's pastor's conferences and ministry events in early 2009 and available for purchase at bigidea.com and through Christian retailers.
MARKETING SUPPORT
Abe and the Amazing Promise is being supported by a massive marketing and promotions campaign delivering nearly 500 million impressions targeting both the Christian and general consumer markets. The far-reaching effort includes national print advertising, radio spot buys and promos, TV promos and contests, online media buys and PR, in restaurant advertising, in-theater promotions and screening events and extensive retail promotions.
Additional Marketing:
National Radio Promotions: Syndicated radio show, "Delilah," will deliver on-air interviews, on-line content, advertising spots and promotional giveaways.
Promotional Partners: Taco Bueno® and Nathan's Famous will support the DVD with kids meal toys, coupons and in-store signage. Long-time promotional partner Chuck E. Cheese's® will show the new Silly Song from the DVD, "Sneeze If You Need To" on in-store screens in over 500 stores nationwide.
Consumer Rebate Offer: Consumers who purchase both the Abe and the Amazing Promise DVD and The VeggieTales Bible can receive a $10 rebate by mail with proof of purchase. The offer will be promoted via point of purchase and on product.
Abe and the Amazing Promise Synopsis:
Bob the Tomato tries to bring the Bible story of Abraham and Sarah and their wait for a promised son to life, but when spitting camels and a film crew of zany French peas get involved, everyone's patience is tested! Will Bob pull everything together in time to teach a lesson? Whether they're waiting on a promise from God or cookies from mom, kids will learn that while being patient is never easy, the reward is always worth the wait!
The DVD also features the musical "misadventures" of Blunders in Boo-Boo-Ville where Jacques (Larry the Cucumber) attempts to invent a way to bring back the boo-boo birds and discovers that taking time to do things the right way is the best way!
Bonus Features

Music and Video: New Silly Song Sing-Along "Sneeze If You Need To"
Behind the Scenes: How Did We Make A Lesson In Patience? Art Gallery and Commentary
Video Trivia, Interactive Storybook, Discussion Guide
Interactive Game, How to Draw Abraham and a Boo-Boo Bird

About Big Idea, Inc.
Big Idea, Inc., an Entertainment Rights group company, is the leading faith-based studio and producer of children's and family programming, characters and brands. Since 1993, Big Idea's best-selling animated series VeggieTalesÒ has sold 52+ million videos, 13 million books and more than 7 million CDs. VeggieTalesÒ and Big Idea's newest property, 3-2-1 Penguins!Ò, are in their third season as top-rated series on NBC Saturday mornings, Telemundo and ION TV via the quboÒ children's programming block. The studio's two theatrical releases, Jonah-A VeggieTales MovieÒ (2002), and Universal Pictures' and Big Idea's The Pirates Who Don't Do AnythingÔ-A VeggieTales MovieÒ (2008), are distinguished among the top ten most successful faith-based films of all time. Big Idea also maintains an extensive presence in publishing, licensing and live entertainment arenas. For more information on Big Idea, visit: www.bigidea.com.

VeggieTales: Abe and the Amazing Promise
Not Rated, 55 minutes, Color, Stereo, Close-Captioned
Dolby 5.1 Surround Sound
English and Spanish subtitles
DVD UPC Code: 82041311309 4 $14.99 SRP

The VeggieTales Bible
ISBN 9780310718284
USD $24.99
Hardcover, Jacketed Printed
BIBLES, New International Version/Children

###