Hosted by pureNRG, Mayor Karl Dean Honored at First Dunkin' Donuts Family Fun Run
Participants Enjoy Family Fun While Raising Funds for Cancer Research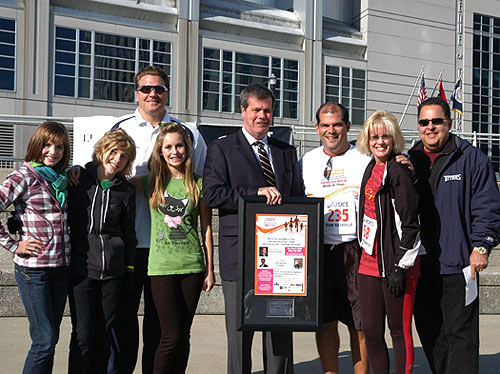 NEWS SOURCE: Bozeman Media
November 6, 2008
Nashville, TN (November 6, 2008) -- The first-ever Dunkin' Donuts Family Fun Run and Walk-a-thon in Nashville, Tenn. took place on Saturday to benefit the T.J. Martell Foundation. More than 400 people attended, including Mayor Karl Dean who was honored for his Healthy Nashville initiative and kicked off the day of fitness, fun, and food.
Hosted by Frank Wycheck and local Christian pop group, pureNRG, the run and walk-a-thon benefited the T.J. Martell Foundation's mission of supporting innovative cancer research. After the 5K fun run and walk, Applebee's sponsored a picnic lunch and participants enjoyed ice cream donated by Baskin-Robbins. Various games and activities were provided for the children and adults browsed the silent auction.
"We are so grateful for everyone that took part in making this event a success," said Laura Heatherly, Executive Director of the T.J. Martell Foundation. "It was a great success and we look forward to next year's event."
For more information about the T.J. Martell Foundation, call 615-256-2002 or visit www.tjmartellfoundation.org.
About the T.J. Martell Foundation
The T.J. Martell Foundation is a national non-profit organization that supports innovative research for leukemia, cancer and AIDS research through eight top research hospitals in the United States. In Nashville, the Foundation annually supports cancer research through the Frances Williams Preston Laboratories at the Vanderbilt-Ingram Cancer Center. The Frances Williams Preston Laboratories were established in 1993 in honor of Frances Williams Preston, national President of the T.J. Martell Foundation and former President and CEO of BMI.
Caption for above photo: Mayor Karl Dean is honored for his Healthy Nashville Initiative
Front Row from Left to Right:
PureNRG's Carolyne, Jordan and Caroline
Mayor Karl Dean
Joe Rando, event chairman
Laura Heatherly, Executive Director for the T.J. Martell Foundation
Tony Conway, President of the T.J. Martell Foundation
Second Row: Frank Wycheck, event host
Photo by Alan Mayor
###