- PROVIDENT'S FRIDAY BUZZ -
FOR THE WEEK ENDING NOVEMBER 14, 2008
MICHAEL W. SMITH WRAPS "THE UNITED TOUR"
WHILE A NEW HALLELUJAH JUMPS TO TOP 10 ON AC CHARTS

TENTH AVENUE NORTH CONTINUES TO GAIN MOMENTUM AT RADIO
WITH HIT SINGLE "BY YOUR SIDE"

KRYSTAL MEYERS HOSTS "KIWI RADIO" SHOW ON
TOP 40 STATION KVUU THIS WEEKEND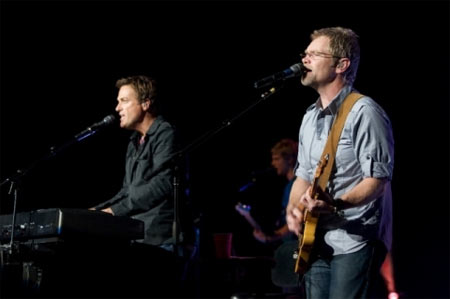 ©2008 John Price Photography
NEWS SOURCE: Provident Label Group
November 14, 2008
Michael W. Smith's A New Hallelujah Jumps to Top 10 on AC Charts: Michael W. Smith's 21st album A New Hallelujah (10/28) produced a top 10 radio single this week with "A New Hallelujah." The single jumped significantly on the CRW AC chart this week from No. 13 to No. 8 with weekly impressions growing by 36.9% to 13,913,700 million. On top of his radio success, Smitty also wrapped up "The United Tour" with Steven Curtis Chapman. Smith and Chapman performed together in 20 major markets with 14 completely sold out shows and a cumulative audience of more than 50,000. Smith's upcoming "It's A Wonderful Christmas" Tour, featuring Melinda Doolittle, will launch on November 29 in Youngstown, Ohio and will play 16 shows in 13 markets before wrapping up in Phoenix, Ariz. on December 19. Tickets for this tour are already on sale. For more information on Michael please visit: www.michaelwsmith.com.
Tenth Avenue North's "By Your Side" Continues to Gain Momentum at Radio: Tenth Avenue North broke into the Top 5 at R&R AC Monitored this week with seven new radio adds. Highlighting that list was K-Love network, WPOZ/Orlando and WFSH/Atlanta. "By Your Side" is the second single off the band's debut album Over and Underneath. Jeff Cruz, Assistant Program Director for WPOZ said, "There are several big songs on the record, but the one that just blew me away was "By Your Side". The passion expressed on that song is evidence of the true hearts of these amazingly talented young men." For more information about Tenth Avenue North please visit: www.tenthavenuenorth.com.
Krystal Meyers Hosts "Kiwi Radio" Show on Top 40 Station: Krystal Meyers will host a three hour block on Top 40 station KVUU out of Denver, CO this Sunday. KVUU's "Kiwi Radio" is a speciality show that airs Sunday nights. Krystal will introduce artists and singles including her own song, "Make Some Noise" from her 9/9/08 album Make Some Noise. Previous "Kiwi Radio" hosts include GRAMMY-nominated Jason Mraz and Hannah Montana star Emily Osment. The show will stream this Sunday from 6 p.m. to 12 a.m. Mountain Time. To listen to Krystal on "Kiwi Radio" please visit: http://kiwiradio.my999radio.com/.
###