FAMILY FORCE 5 DEBUTS "RADIATOR" MUSIC VIDEO @ MYSPACE TODAY
FAMILY FORCE 5'S DANCE OR DIE PRIMED FOR
INTERGALATIC CONQUEST

BAND PLAYING TO SOLD OUT CROWDS NOW ON STINT
OF CLUB DATES AND WINTER WONDER SLAM TREK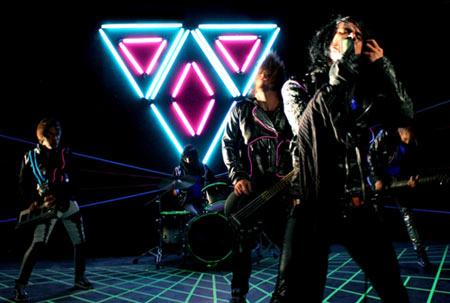 NEWS SOURCE: Overture Media / Independent Music Media
November 18, 2008
Seattle, WA...November 19, 2008...Dance-derived alternative rockers Family Force 5 debuts their music video for "Radiator" on MySpace music today. Fans can view and comment on the video by going to this link. This music video will also premiere on TVU this coming Friday, November 21st.
Family Force 5 is currently on the Winter Wonder Slam tour with TobyMac, Relient K and special guest B.Reith. The tour started this past weekend and continues until December 14th. Dates and information regarding the Toys for Tots drive can be found at the tour site.
The group's sophomore release, Dance Or Die, oozes with over-the-top illustrations, charging out of the gate with funky rhythms, percolating club grooves, undeniably infectious hooks and instantaneous sing-a-longs. This August release is a strategic partnership between the Transparent Media Group founded by the Olds brothers, manager Chris Woltman and producer Joe Baldridge with EMI Music Marketing and Tooth & Nail Records.
For more information visit Family Force 5's MySpace.
"'Dance or Die' is an unconventional arsenal of ultimate dance floor anthems,"
declares Family Force keyboardist Nathan Currin (Nadaddy).
"We're at war. Dancing is our weapon, and our party is ready to pull the trigger."
Family Force 5 is:
Solomon "Soul Glow Activator" Olds - vocals, guitar
Jacob "Crouton" Olds - drums, vocals
Joshua "Fatty" Olds - bass, vocals
Derek "Chap Stique" Mount – guitar
Nathan "Nadaddy" Currin - keyboards, turntables
See them live:
11/7 Springfield, IL Prairie Capitol Center w/Flyleaf
11/13 Greenville, CS Bi Lo Center Winter Wonder Slam
11/14 Jacksonville, FL Veterans Arena Winter Wonder Slam
11/15 Palm Beach, FL Cruzan Amphitheater Winter Wonder Slam
11/16 Ft Myers, FL Germain Arena Winter Wonder Slam
11/20 Lincoln, NE Pershing Auditorium Winter Wonder Slam
11/21 Denver, CO Coliseum Winter Wonder Slam
11/22 Kansas City, MO Municipal Auditorium Winter Wonder Slam
11/23 Oklahoma City, OK Cox Convention Center Winter Wonder Slam
11/29 Atlanta, GA Fox Theater Winter Wonder Slam
11/30 Knoxville, TN Knoxville Coliseum Winter Wonder Slam
12/1 Columbia, SC Headliners w/ Shiny Toy Guns
12/2 Birmingham, AL Workplay w/ Shiny Toy Gun
12/5 Nashville, TN Sommet Center Winter Wonder Slam
12/6 Huntsville, AL Von Braun Center Winter Wonder Slam
12/7 Mobile, AL Mobile Civic Center Winter Wonder Slam
12/11 Bossier City, LA CenturyTel Center Winter Wonder Slam
12/12 Houston, TX Toyota Center Winter Wonder Slam
12/13 Tulsa, OK Mabee Center Winter Wonder Slam
12/14 Dallas, TX Nokia Theater
###