- PROVIDENT'S THANKSGIVING BUZZ -
FOR THE WEEK ENDING NOVEMBER 28, 2008
THIRD DAY WINS ITS FIRST AMERICAN MUSIC AWARD

CASTING CROWNS' CHRISTMAS SPECIAL DEBUTS
THIS WEEK ON THE TBN NETWORK

MATT MAHER FEATURED ON TWO COVERS THIS MONTH: BREAKAWAY AND CHRISTIAN SINGLE

TENTH AVENUE NORTH GRACES COVER OF DEVOZINE

BRANDON HEATH PARTNERS WITH K-LOVE AND
THE DENVER RESCUE MISSION TO
BRING HOPE AND MUSIC TO 12,000 CHILDREN THIS HOLIDAY SEASON
NEWS SOURCE: Provident Label Group
November 25, 2008
Third Day Wins Its First AMA: Receiving its third AMA nomination early last month, Atlanta based rock band, Third Day, celebrated its first American Music Award win in the "Favorite Artist in the Contemporary Inspirational" category. Due to a non-stop touring schedule, band members were unable to attend the awards show which aired Sunday night on ABC, live from the NOKIA Theater in Los Angeles. Following a sold-out show in Clinton, MS lead singer Mac Powell shared from stage, "What an unbelievable honor to win an award in a category with such great friends. This is our first AMA win and it means so much to us because it's voted on by fans and we're certain we have the best fans anyone could ever ask for. Thank you for this tremendous honor." For more information about Third Day please visit: www.ThirdDay.com.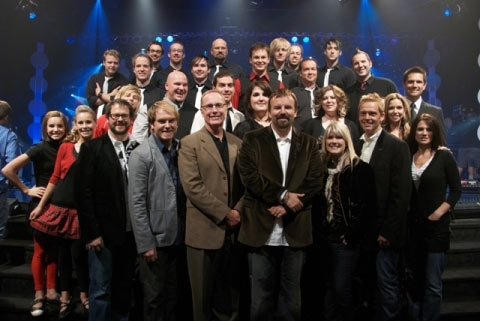 Pictured above: Casting Crowns and guests at the TBN taping of Casting Crowns' Christmas special
Casting Crowns' Christmas Special Debuts This Week on the TBN Network: New holiday music off Casting Crowns' first Christmas album Peace On Earth debuts Friday, November 28, at 10 p.m. (ET/PT) on the TBN network during a 1-hour TV special featuring a front-row seat to "Casting Crowns Christmas Celebration Tour." The program includes special guest, Max Lucado, and performances by Natalie Grant, Avalon, Denver and the Mile High Orchestra, Michael English and pureNRG. The network will re-air Casting Crowns' Christmas special through the end of the year. Check local listings for air times. Peace On Earth is currently the No.1 album on Billboard's Top Christian/Gospel albums chart. For more information on Casting Crowns please visit: www.castingcrowns.com.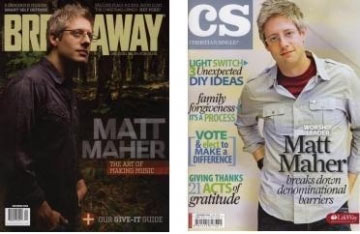 Matt Maher Featured on Two Covers This Month-Breakaway and Christian Single: Matt Maher, Essential recording artist, singer, songwriter and worship leader is featured on the cover of two magazines: Breakaway's December issue and Christian Single's November issue. In Breakaway Matt discusses the "Art of Making Music," while in Christian Single he talks about "Breaking Down Denominational Barriers." To learn more about Matt Maher please visit: www.mattmahermusic.com.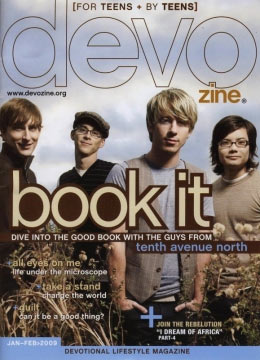 Tenth Avenue North Graces Cover of Devozine: Tenth Avenue North is featured in the Jan-Feb 2009 issue of Devozine, discussing why reading the Bible and being grounded in the word is so important. Mike Donehey told Devozine, "I try to incorporate scripture into my life, in every moment of every day. I want it to be something that's hidden in my heart, something that has tamed my heart and has taught my heart how to feel. We need to wrap our emotions around truth, not the other way around." Tenth Avenue North went on to explain the struggles that each of the band members personally have when dealing with scripture. For more information about Tenth Avenue North please visit: www.tenthavenuenorth.com.
Brandon Heath Partners with K-Love and the Denver Rescue Mission to bring Hope and Music to 12,000 Children This Holiday Season: Based off the title of his new album, What If We, K-Love and Brandon Heath partner to give K-Love listeners and Brandon Heath fans a "What If We" opportunity to give back. In an effort to bring community together and work toward helping those in need, K-Love, Brandon and the Denver Rescue Mission will host a toy drive and VIP free concert on Tuesday, December 2 to gather gifts for 12,000 children this Christmas. In order to be qualified for this event, K-Love listeners were prompted to call in and share ideas about how to serve others in need. Qualifiers received Brandon's sophomore album What If We. One caller and a guest won the grand prize drawing of a roundtrip flight to Denver for two nights to work with Brandon at the Mission and attend his concert later that evening. For more information about Brandon Heath please visit: www.brandonheath.net.
###