SARAH REEVES JOINS SPARROW RECORDS ROSTER OF NEW TALENT
Worship Artist to Release Spring Debut; Signs Exclusive Management, Booking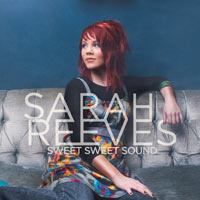 NEWS SOURCE: Sparrow Records
December 2, 2008
(NASHVILLE, Tenn.) Dec. 2, 2008—Worship artist Sarah Reeves will join Sparrow Record's all-star lineup of new talent releasing next year. The nineteen-year-old Alabama native, who will put forth her debut offering in May, has also signed exclusive management with Patton House Entertainment and booking through Jeff Roberts & Associates.
With zealous faith and a love of music early on, Reeves first exercised her songwriting/vocal abilities as a participant in her church's fine arts program. Consistently placing first at local as well as regional competitions, Reeves was moved by the receptiveness of young people to her message—one of power and freedom in the Holy Spirit. She has since made it her goal to serve God by leading young people into a lifestyle of worship and adoration to Him.
Brad O'Donnell, VP of A&R for EMI CMG was drawn to Sarah's music for this reason. "I first became aware of Sarah Reeves through the artist Plumb (Tiffany Lee) and her husband Jeremy. When Jeremy played Sarah's music for me, I was instantly impressed with the uniqueness of her voice and the strength of her writing. Then when I met with her I was struck by her authenticity as a person and her passion for her generation. You only meet a gifted artist like Sarah every once in a great while, and I am so excited that we are getting the chance to work with her."
The result is a label contract and release of Reeves' national debut, still to be titled, May 5, 2008. The project's first single "Sweet, Sweet Sound," however, will be available at iTunes beginning Dec. 23, 2008. The song can be heard at Christian radio shortly thereafter on Dec. 26, 2008.
Also new to Reeves is her partnership with Patton House Entertainment, a talent management firm based in Nashville, Tenn. The company also represents Rush Of Fools, The Michael Gungor Band, Jimmy Needham and Joy Lippard. Patton House Entertainment is led by Andrew Patton, an industry veteran with over 18 years of proven experience inside the Christian music community.
"Patton House is so proud to be able to represent Sarah," says Patton. "She brings such a fresh perspective on worship to the church at large, and we look forward to being able to carry out her dreams and calling with her. Sarah's heart for authentic worship, and her strength as a corporate worship leader is something that I've not seen in an artist this early in their career. She truly radiates Jesus to all she meets."
Reeves has signed another exclusive agreement, this one with booking agency Jeff Roberts & Associates. President Jeff Roberts comments, "JRA is extremely excited about working with Sarah Reeves. We see her making a huge impact in Christian music and becoming a major artist to the church. Her incredible music, unique voice and lyrical depth along with her passion for the Kingdom of God is that rare mix of great artistry and ministry we also saw in Casting Crowns and Leeland. We're expecting big things for Sarah!"
For more information on Sarah Reeves, visit www.sarahreeves.net
About EMI CMG Label Group:
Brentwood, Tennessee-based EMI CMG Label Group is comprised of Sparrow Records, Forefront Records, and Credential Recordings, in addition to providing A&R and marketing support for sixstepsrecords via a joint venture and licensing partnership. Balancing freedom, discipline, creativity, profitability and ministry, EMI CMG Label Group strives for excellence in artist development. The Label Group is a division of EMI Christian Music Group. For further information, please visit www.emicmg.com.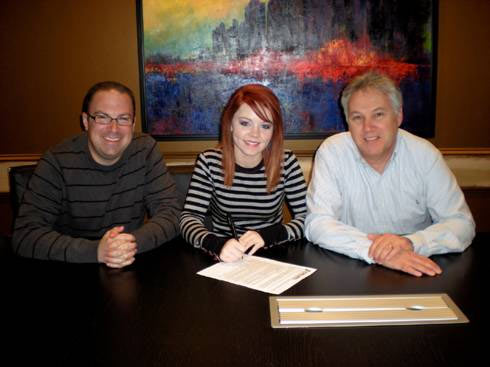 CAPTION: Reeves signs booking agreement with Jeff Roberts & Associates. Pictured (l-r) are Andrew Patton of Patton House Entertainment, Sarah Reeves, and Jeff Roberts of Jeff Roberts & Associates
###