Home For Christmas Featured in USA Today, New York Times;

"Carol of the Bells" One of Most Popular Songs of the Season

NEWS SOURCE: Vining Media
December 17, 2008
Nashville, TN -- (December 17, 2008) -- As recently reported, BarlowGirl has delivered the "must-have Christmas album" of the year with Home For Christmas (Fervent). With stellar reviews stating BarlowGirl's first holiday project as "timeless," "beautiful" and "classic," raving comments are continuing to pour in, most recently from USA Today as well as New York Times.
"...this Christian trio focuses on their harmonies with...delightful results." - USA Today
"...the sisters Barlow are crisp, especially on the stunning "Carol of the Bells/Sing We Now of Christmas" and a sharp version of "O Come, O Come, Emmanuel."- New York Times
Home For Christmas' singles are hitting high marks as well. "Carol of the Bells" is quickly becoming the most popular digital song of the season, claiming over 24,840 downloads since the project released in September, with 7,340 downloads this week alone. "Carol of the Bells" reached #18 on the Holiday Songs Chart at iTunes and is currently #4 on the Christian/Gospel Digital Tracks charts.
BarlowGirl is also the featured artist for the special "Heroes Of Rock!" Christmas episode from Ignite Your Faith, Christianity Today International's magazine for teens. Be sure to check out the Barlow sisters - Becca, Alyssa and Lauren - animated (see below) as this month's Heroes Of Rock! in "BarlowGirl's Excellent Adventure" at: www.igniteyourfaith.com/go/cartoons.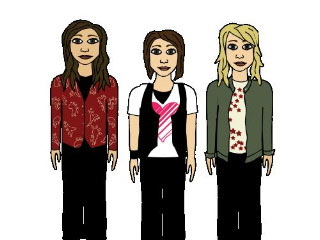 For more information about Barlowgirl, and for the most recent happenings and tour dates, please visit BarlowGirl.com and Myspace.com/barlowgirl. For further inquiries about their support of Mercy Ministries, visit MercyMinistries.org.
###