ALL NEW VEGGIETALES®: Here I Am To Worship Releases March 17, 2009
Top CCM Artists Natalie Grant and Aaron Shust Lend Voices to VeggieTales CD

VeggieTales®: An Easter Carol Returns to DVD February 28, 2009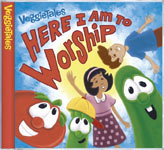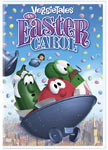 NEWS SOURCE: Hoganson Media
December 22, 2008
FRANKLIN, TN (December 22, 2008) – This Easter season marks the launch of the brand new VeggieTales®: Here I Am To Worship album in stores everywhere Tuesday, March 17, 2009 from Big Idea, Inc., an Entertainment Rights group company. Following the success of the 2006 Dove Award winning VeggieTales: Worship Songs with scans of more than 150,000 units, Here I Am To Worship presents twelve of today's most sung worship offerings from top recording artists. Perfect for kids of all ages, this fun-filled collection of easy-to-sing worship favorites is only $9.99 SRP and will be available in Christian stores through Word Distribution and in the GM through WEA Distribution.
All of the featured songs were chosen to provide families with a meaningful and memorable way to learn worship favorites. Bob, Larry and Junior Asparagus are joined by the Gospel Music Association's three-time "Female Vocalist of the Year" Dove Award winner Natalie Grant on the title cut, "Here I Am To Worship." The VeggieTales crew also welcomes "2007 Artist of the Year" Dove Award winner Aaron Shust, who joins his Veggie pals on his No. 1 hit, "My Savior My God."
"I was a VeggieTales fan before I was a mom, but now Bob and Larry are my best friends," says Natalie Grant. "I love this project because I believe children are never too young to be introduced to a lifestyle of worship."
"Worship at any age is about glorifying our Creator and becoming more like Christ," adds Aaron Shust. "What a wonderful way for children to experience the heart of worship than through music and God's Word. I look forward to sharing these songs with my own children!"
VeggieTales®: Here I Am To Worship Track Listing
1. How Great Is Our God
2. Here I Am To Worship (with Natalie Grant)
3. Open The Eyes Of My Heart
4. Holy Is The Lord
5. Shout To The Lord
6. Lord I Lift Your Name On High
7. Friend Of God
8. Hallelujah (Your Love Is Amazing)
9. I Can Only Imagine
10. Every Move I Make
11. My Savior My God (with Aaron Shust)
12. Made To Worship
The Easter holiday also marks the return of one of Big Idea's best-selling, beloved holiday classics with the re-issue of VeggieTales®: An Easter Carol on DVD. Having sold more than one million copies to date, this heartwarming tale as shared by Bob The Tomato and Larry The Cucumber boasts all-new packaging and a low sale price of only $9.99 SRP. Featuring contemporary Christian music superstar and GRAMMY winner, Rebecca St. James, as the voice of the music box angel "Hope," the DVD will be re-released in Christian stores Saturday, February 28, 2009 through Word Distribution and in the GM Tuesday, March 3, 2009 through Genius Products.
"Since its original release in 2004, An Easter Carol has truly become a holiday classic," notes Greg Fritz, SVP Marketing and Licensing, Big Idea. "This Easter rendition of the Charles Dickens classic novel presents the powerful retelling of the Easter story in a clever way that children can understand while providing parents with wholesome family-oriented entertainment that they can enjoy together."
An Easter Carol Synopsis:
Filling London with plastic Easter eggs, Uncle Nezzer is on a rampage to make Easter "bigger than ever!" But just how hard can his mechanical chickens work before they're…well, fried? In just one unforgettable day and night, Cavis and Millward (Bob and Larry) and a music box angel named Hope (voiced by Rebecca St. James) must convince Nezzer that Easter is about more than just candy and eggs.
Inspired by Dickens' Christmas classic, this very special VeggieTales film explains why millions of Christians around the world celebrate Easter past, present and future.
Marketing Support
Big Idea has partnered with the faith-based Gospel Music Channel network for the television broadcast premiere of An Easter Carol slated to air Saturday, April 11, 2009. Big Idea's extensive online media buys and radio promotions campaign will be coupled with promotional mentions on Gospel Music Channel during a two-week period that will feature various VeggieTales episodes, culminating with the premiere of An Easter Carol the evening before Easter Sunday. The programming can be viewed on numerous cable and satellite providers. Please visit http://www.gospelmusicchannel.com/ for availability and broadcast schedules in your area.
An Easter Carol Bonus Features

Easter Egg Hunt playable with DVD remote
Behind the Scenes video starring ForeFront Records recording artist Rebecca St. James as the voice of "Hope."
Interactive Storybooks
DVD-ROM links

About Big Idea, Inc.
Big Idea, Inc., an Entertainment Rights group company, is the leading faith-based studio and producer of children's and family programming, characters and brands. Since 1993, Big Idea's best-selling animated series VeggieTalesÒ has sold 52+ million videos, 13 million books and more than 7 million CDs. VeggieTalesÒ and Big Idea's newest property, 3-2-1 Penguins!Ò, are in their third season as top-rated series on NBC Saturday mornings, Telemundo and ION TV via the quboÒ children's programming block. The studio's two theatrical releases, Jonah-A VeggieTales MovieÒ (2002), and Universal Pictures' and Big Idea's The Pirates Who Don't Do AnythingÔ-A VeggieTales MovieÒ (2008), are distinguished among the top ten most successful faith-based films of all time. Big Idea also maintains an extensive presence in publishing, licensing and live entertainment arenas. For more information on Big Idea, visit: www.bigidea.com.

VeggieTales: Here I Am To Worship
Street Date: March 17, 2009
SRP: $9.99
CD UPC Code: 820413507022

VeggieTales: An Easter Carol
Not Rated, 49 minutes, Color, Stereo, Close-Captioned
Dolby 5.1 Surround Sound
English and Spanish subtitles
DVD UPC Code: 820413113490 $9.99 SRP

###