Christafari's World Tour Hits 20 Countries in 2008
Top-selling Reggae band celebrates 20th anniversary with new album and continued worldwide touring in the new year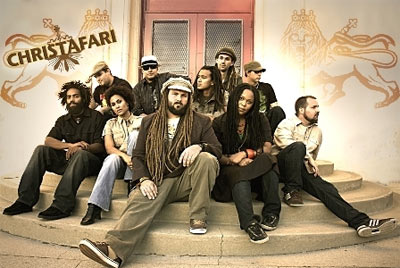 NEWS SOURCE: Nashville Publicity
January 6, 2009
(NASHVILLE, Tenn.) -- While many bands are struggling on the road in a slumping economy, gospel reggae band Christafari has maintained a relentless worldwide tour schedule. In the last eight months alone, the 10-piece band (recognized as one of the Top 10 Reggae Artists in the World by Billboard Magazine) has performed over 80 shows in 20 countries, including concerts in the USA, Iceland, Latvia, Estonia, Finland, Norway, Sweden, Poland, Germany, The Netherlands, England, Slovakia, Czech Republic, Hungary, Spain, Antigua, Trinidad and Brazil (where they performed to a crowd of 80,000 in February!).
In August, Lion of Zion Entertainment released Reggae Redemption Songs II, the second volume of Christafari's best selling compilation. Produced by Christafari founder and lead vocalist Mark Mohr and guitarist Solomon Jabby, Reggae Redemption Songs II is filled with new gospel reggae anthems from the top artists in the genre, including Christafari, Dominic Balli, 'Imisi, Avion Blackman, Sherwin Gardner, Solomon Jabby, Roge Abergel, Mr. Lynx, Monty G, Jennifer Howland and others.
With nearly 80 minutes of music, this ambitious recording reflects the broad spectrum of performers who represent the roots & culture movement in the gospel reggae arena. Reggae Redemption II contains a unique blend of impassioned vocals, uplifting lyrics and bass-throbbing roots reggae rhythms, while boldly proclaiming the gospel of Jesus Christ.
"These are true redemption songs written by artists whose lives have been permanently changed by Jesus Christ," states Mohr. "Song by song, it is a musical tract which leads the listener through God's plan of salvation, and into a newfound faith."
Christafari heads off to the Caribbean and South America later this month. The group will continue touring both in the USA and internationally in 2009, with Christafari member and fellow Lion of Zion artist Avion Blackman opening in support of her latest solo CD, Sweet Life.
For more information, please visit the official website at www.christafari.com.
###

[2022]
Jan. | Feb. | March | April | May | June | July | Aug. | Sept. | Oct. | Nov. | Dec.
[2021]
Jan. | Feb. | March | April | May | June | July | Aug. | Sept. | Oct. | Nov. | Dec.
[2001 - 2022]
Visit our complete MUSIC NEWS ARCHIVE