- PROVIDENT'S FRIDAY BUZZ -
FOR THE WEEK ENDING JANUARY 9, 2009
TENTH AVENUE NORTH BREAKOUT NEW ARTIST OF 2008:
BEST SELLING NEW ARTIST ACROSS PHYSICAL AND DIGITAL FORMATS AND ONLY NEW ARTIST TO GARNER TWO NO. 1 RADIO SINGLES

PROVIDENT ARTISTS LAUNCH INTO THE NEW YEAR CLAIMING 5 OF THE TOP 10 SPOTS ON NIELSEN CHRISTIAN SOUNDSCAN CHART WEEK ENDING JANUARY 4

BRANDON HEATH'S "GIVE ME YOUR EYES" REACHES 20TH WEEK AT
NO. 1 ON ITUNES WITH MORE THAN 200,000 DOWNLOADS

MICHAEL W. SMITH PERFORMS WITH THE JONAS BROTHERS
AT THE RYMAN AUDITORIUM

NEWS SOURCE: Provident Label Group
JANUARY 9, 2009
Tenth Avenue North Breakout New Artist of 2008: Tenth Avenue North, the sales and radio breakout new artist of 2008, finished the year as the best selling new Christian artist according to Nielsen SoundScan with nearly 60,000 in physical sales and the only new artist to break the 100,000 digital download mark since the May 20 release of its debut album, Over and Underneath. In addition, the band is the only new artist to have claimed two No. 1 radio singles with, "Love is Here" and "By Your Side" both topping radio charts in 2008. An early predictor of the band's success is noted in the pages of Billboard Magazine (May 31, 2008) as the review reads, "The hit single 'Love Is Here' is a perfect introduction to this extraordinary project. This potent combination of music and lyrics adds up to the year's best Christian debut." In addition to gatekeeper acclaim, the band has been honored by fans who voted it "Best New Artist" in the Christianitytoday.com 2008 Readers' Choice Christian Music Awards.
Provident Artists Launch into the New Year Claiming 5 of the Top 10 spots on this week's Nielsen Christian SoundScan Chart: Provident artists Michael W. Smith, Third Day, Casting Crowns and Brandon Heath maintained strong footing on the Nielsen Christian SoundScan Chart for the week ending Jan 4, 2009. Michael W. Smith's A New Hallelujah claimed the No. 3 position while Third Day's Revelation came in at No. 6. Casting Crowns took the No. 8 and 9 spots with Peace On Earth and The Altar And The Door, respectively . Finally, Brandon Heath rounded out the list at No. 10 with his sophomore album, What If We.
*Casting Crowns closed 2008 with the No. 1 album Peace On Earth, which sold nearly 300,000 over the holiday season, according to Nielsen SoundScan, week ending 12/28/08. Peace On Earth released 10/6/08.
Brandon Heath's "Give Me Your Eyes" Reaches 20th Week at No. 1 on iTunes with 200,000 downloads: Along with being one of the biggest songs of 2008 at Christian radio, "Give Me Your Eyes" reached its 20th week at No. 1 on iTunes with 200,0000 downloads of the song. This month Heath will be featured on Nashville's CBS affiliate NewsChannel 5+ "Issues of Faith" discussing Contemporary Christian Music with Christian radio personality WAY-FM's Wally. The show will air at the following times on NewsChannel 5+ (cable channel 50):
Saturday, January 10 at 5:30 am & 5:00 pm (CT)
Sunday, January 11 at 4:30 pm
Monday, January 12 at 9:30 am & 12:30 pm
Thursday, January 22 at 1:00 pm
Saturday, January 24 at 5:30 am & 5:00 pm
Sunday, January 25 at 4:30 pm
Monday, January 26 at 9:30 am & 12:30 pm
For more about the show, please visit:
www.newschannel5.com/Global/story.asp?S=5373419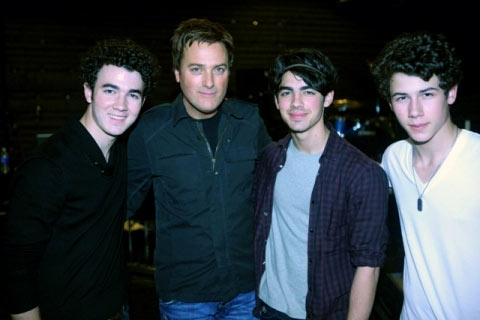 Photo Credits: Rob Hoffman/JBE
Michael W. Smith Performs with the Jonas Brothers at Ryman Auditorium: Last Sunday night, Michael W. Smith joined the Jonas Brothers in a sold-out show at the historic Ryman Auditorium in Nashville. Michael W. Smith and the Jonas Brothers performed Smitty's 1991 hit "Place in This World." Later that evening Michael performed another song with Steven Curtis Chapman, Phil Vassar, Vince Gill and the Jonas Brothers. "A lot of the people we'll bring up tonight are idols of ours," Nick Jonas told the crowd. Other performers included: Jordin Sparks, Martina McBride, Brad Paisley and Amy Grant with Tim McGraw and Faith Hill introducing the trio. "They're talented—this is more than just a boy band," said Michael W. Smith of the Jonas Brothers.
###

[2022]
Jan. | Feb. | March | April | May | June | July | Aug. | Sept. | Oct. | Nov. | Dec.
[2021]
Jan. | Feb. | March | April | May | June | July | Aug. | Sept. | Oct. | Nov. | Dec.
[2001 - 2022]
Visit our complete MUSIC NEWS ARCHIVE