'ROCK & WORSHIP ROAD SHOW' TO LAUNCH MARCH 2009
INCLUDES DIVERSE LINE UP OF MERCYME JEREMY CAMP, HAWK NELSON, TENTH AVENUE NORTH AND ADDISON ROAD
Tour to Benefit 'Imagine a Cure' and Medical Missions with Compassion International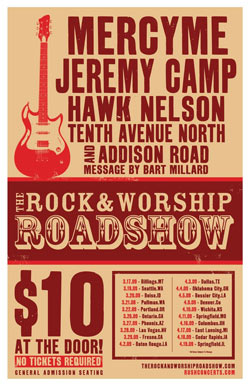 NEWS SOURCE: The M Collective
January 13, 2009
NASHVILLE, TN....January 13, 2008......In one of the most anticipated tours of the spring, the "Rock & Worship Road Show" will launch on March 17th in Billings, MT. The diverse line up boasts current GRAMMY® nominee and multi-platinum band MercyMe, Award-winning and multi-Gold selling male vocalist Jeremy Camp and Hawk Nelson, as well as new and burgeoning bands Tenth Avenue North and Addison Road. The tour will hit over 20 U.S. Markets (see tour routing below).
Promoting the tour across the country, Rush Concert's Cliff Reiser is excited about this tour, remarking, "Our goal is to fill arena's around the country so people have the opportunity to hear the best artist's in Christian music and a renewing message about Christ. The Rock and Worship Road Show features 5 amazing artists that share this same goal. Our dream has become a reality - providing the best entertainment and a meaningful message for a price that everyone can afford, just $10 at the door."
With a $10 admission price, the "Rock & Worship Road Show" aims to be an event for fans of all ages, especially families. In addition to bringing a night of exciting performances, the tour is also dedicated to a bigger purpose: helping kids with juvenile diabetes via "Imagine A Cure," a non profit organization to support research that will lead to a cure. and those with medical needs around the world through Compassion International. For more information on "Imagine A Cure," go to: http://www.imagineacureonline.com/. For more information on Compassion International go to http://www.compassion.com
"We are all living in a new world today, and an economy that is affecting everyone around us," comments Bart Millard, lead singer for MercyMe. "We all wanted to be able to bring some family-friendly and Christ-centered entertainment that will uplift people and not break the bank. We are really excited to get out on the road with all of these acts. It's going to be a blast!"
MercyMe:
Since their debut in 2001, Grammy-nominated, American Music Award and multiple GMA Dove Award winners MercyMe have sold over 5 million units in CD and DVD sales, including "Almost There", nearly triple platinum, "Spoken For," which is approaching platinum sales, and the RIAA Gold certification for "Undone," the MercyMe Live DVD, and "Coming Up to Breathe". Their latest, "All That Is Within Me," entered the Billboard Top 200 chart at No. 15 and sold an impressive 83,626 units, the most they've ever sold in a project's first week.
MercyMe is one of few Contemporary Christian music groups to have had all of their recordings certified Gold or Platinum, as well as garner 19 multi-format #1 Christian radio singles, and four consecutive mainstream radio hits with "I Can Only Imagine," (No. 4 AC/top 25 on Top 40/Hot AC), "Here With Me" (No. 4 AC), "Homesick" (top 10 AC), and "So Long Self." In 2008 the band was named R&R's Christian AC Artist of the Year, and as one of the industry's most notable talents, MercyMe has sold out venues including Radio City Music Hall and has been seen on The Tonight Show, CNN, Fox New Channel's Fox & Friends, ABC News, CBS' Early Show, and on the pages of Entertainment Weekly, The New York Times, USA Today, Billboard, and more. For all things MercyMe, please visit: www.mercyme.org
Jeremy Camp:
Since his debut BEC Recordings' project in 2002 (Stay), Jeremy Camp has made a definitive mark in the industry with his ability to compose hit songs and capture audiences of all ages selling more than three million records. Following his Gold-selling debut, Camp has released four additional studio projects (Carried Me: The Worship Project, Restored, Beyond Measure and Speaking Louder Than Before), which have garnered a total of three RIAA Gold-Selling albums.
With 17 career No. 1 radio hits under his belt, Jeremy Camp is clearly a powerhouse on the radio waves nationwide across all formats (CHR, AC, INSPO, and Rock). Jeremy is now the artist with the most consecutive No. 1 singles at AC Monitored since 2003 when R&R began their Christian chart. He also received the No. 2 Song of the Year in 2008 with "Let it Fade," which remained in that No. 1 position for more than 10 weeks. His most recent single "There Will Be A Day" has already hit the top on three formats on AC Indicator, CHR and AC Monitored. Camp has also been honored with multiple Dove-nominations and five awards, a 2007 American Music Award nomination, and three-time ASCAP Christian Music Awards "Songwriter of the Year" (2008, 2006, 2005) winner including "Song of the Year" (2006). In 2008, Jeremy Camp was voted for the fifth consecutive year in a row by readers on Christianity Today's music site as the "Best Male Artist." For more information on Camp, go to: www.jeremycamp.com/
Hawk Nelson:
Since debuting in 2004, Hawk Nelson has made it their mission to make a difference. With that goal in mind, this foursome has toured relentlessly, charted six Top 10 CHR hits, three No.1 singles (Rock and CHR) resulting in more than half-a-million albums sold. Their most recent release Hawk Nelson Is My Friend debuted at #34 on the Billboard Top 200 selling more than 18k units. Hawk Nelson is My Friend received a 2009 GRAMMY® nomination for "Best Recording Packaging." Hawk Nelson has also appeared on NBC's "American Dreams," had a cameo appearance in the hit Nickelodeon film "Yours, Mine, & Ours," where they played their original song "Bring Em Out." as well as being featured in POPSTAR!, TEEN, Seventeen.com and Cosmogirl.com. The band is currently touring with the 2009 Winter Jam Tour Spectacular and REVOLVE teen girl conferences, which they have been performing on for the 2008-09 season.
While working on their latest release, the guys saw an opportunity to reach out and help others. Inspired by their single "One Little Miracle," a campaign was birthed to reach out. Today, Hawk Nelson is partnering with TOMS shoes, Ronald McDonald Houses, and the Hands & Feet orphanage in Haiti encouraging all to be that "one little miracle" for someone else. Join Hawk Nelson www.hawknelson.com to see how you can help.
Tenth Avenue North:
With one listen to Tenth Avenue North's unique brand of intellectual, melodic pop-rock, it becomes obvious that songwriter Mike Donehey and his bandmates have a gift for expressing truth in a way that simultaneously educates, enlightens and entertains.
Tenth Avenue North, made up of members Mike Donehey (lead vocalist/acoustic guitar), Jason Jamison (drummer), Jeff Owen (electric guitar/background vocals) and Scott Sanders (bass guitar), broke ground on several fronts in 2008. The band became the best selling new Christian artist, according Nielsen SoundScan, with nearly 60,000 in physical sales, and the only new artist to break the 100,000 digital download mark since the May 20 release of its debut album, Over and Underneath. In addition, the band is the only new artist in 2008 to have claimed two No. 1 radio singles with, "Love is Here" and "By Your Side" both topping charts last year.
For up-to-date information on Tenth Avenue North please visit:
www.tenthavenuenorth, www.myspace.com/tenthavenuenorth or www.reunionrecords.com
Addison Road:
Together for six years before signing with INO Records, the female-fronted pop/rock band from Dallas, TX, Addison Road, is making waves with their self-titled debut album that released last spring. The first radio single "All That Matters," peaked at No. 1 on the Christian CHR chart and was featured as an ITUNES discovery download in which it received over 165,000 downloads in one week. Recently, Addison Road was named the No. 2 "Most Played Artist on Christian CHR in 2008," while their second single, "Sticking With You" peaked at No. 2 on CHR.
Produced by Chris Stevens (TobyMac, Sanctus Real, Mandisa), this self-titled release is the culmination of the band's mission to inspire people from all walks of life to find their hope and their identity in God, to be changed by His grace and to extend that grace to a world in need. Lead singer Jenny Simmons, husband and guitarist Ryan Simmons, Jeff Sutton, Ryan Gregg and Travis Lawrence all came together in 2001 when some of the members were attending Baylor University and since then have been accumulating fans in all genres. To find out more, go to: www.ADDISONROAD.com
"Rock & Worship Road Show" Schedule (all dates subject to change):

TUE 17-Mar BILLINGS, MT / METRA PARK
THU 19-Mar SEATTLE, WA / KEY ARENA
FRI 20-Mar BOISE, ID / IDAHO CENTER
SAT 21-Mar PULLMAN, WA / BEASELY PERFORMING ARTS COLISEUM
SUN 22-Mar PORTLAND, OR / MEMORIAL COLISEUM
THU 26-Mar LOS ANGELES, CA / CITIZENS ARENA
FRI 27-Mar PHOENIX, AZ / US AIRWAYS CENTER
SAT 28-Mar LAS VEGAS, NV / ORLEANS ARENA
SUN 29-Mar FRESNO, CA / SAVEMART CENTER
THU 2-Apr OKLAHOMA CITY, OK / FORD CENTER
FRI 3-Apr BOSSIER CITY, LA / CENTURY TEL CENTER
SAT 4-Apr BILOXI, MS / MISSISSIPPI COAST COLISEUM
SUN 5-Apr BATON ROUGE, LA / BATON ROUGE RIVER CENTER
TUES 7-Apr DALLAS, TX / AMERICAN AIRLINES ARENA
THU 9-Apr DENVER, CO / DENVER COLISEUM
FRI 10-Apr WITCHITA, KS / KANSAS COLISEUM
SAT 11-Apr SPRINGFIELD, MO / JQH ARENA
THU 16-Apr COLUMBUS, OH /SCHOTTENSTEIN CENTER
FRI 17-Apr EAST LANSING, MI / BRESLIN CENTER – MI STATE UNIVERSITY
SAT 18-Apr CEDAR RAPIDS, IA / US CELLULAR CENTER
SUN 19-Apr SPRINGFIELD, IL / PRAIRIE CAPITAL CONVENTION CENTER
###

[2022]
Jan. | Feb. | March | April | May | June | July | Aug. | Sept. | Oct. | Nov. | Dec.
[2021]
Jan. | Feb. | March | April | May | June | July | Aug. | Sept. | Oct. | Nov. | Dec.
[2001 - 2021]
Visit our complete MUSIC NEWS ARCHIVE