- PROVIDENT'S FRIDAY BUZZ -
FOR THE WEEK ENDING JANUARY 23, 2009
BILLBOARD MAGAZINE FEATURES REVIVE AS ONE OF ITS
"BEST BETS OF '09"

MATT MAHER PERFORMS AT PRO-LIFE RALLY IN WASHINGTON D.C. FOR MORE THAN 30,000 PEOPLE CONTINUES WEEKLY CONTRIBUTIONS TO ONFAITH.COM

FIREFLIGHT ROCKS AT "WINTER X GAMES 13"
SPONSORED BY ESPN AND ABC SPORTS

BOX OFFICE HIT FIREPROOF RELEASES ON DVD
TUESDAY, JANUARY 27TH

CASTING CROWNS' MEGAN GARRETT TO WALK 60 MILES TO RAISE MONEY AND AWARENESS FOR BREAST CANCER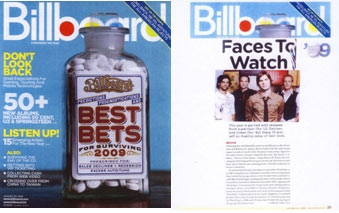 NEWS SOURCE: Provident Label Group
January 23, 2009
Billboard magazine Features Revive in its "Best Bets 2009" Cover Story this week: This week, Billboard magazine names Revive as one of 15 new "Faces To Watch" in 2009, as part of the Jan. 24 Best Bests cover story, on newsstands now. The high-energy, pop/rock band is the only Christian music artist selected, which highlights emerging talent in various genres of music. "Revive looks to be the next Aussie export to make its mark in the Christian music arena," Billboard states. Revive's debut album, Chorus of the Saints, releases March 10, just in time for a national tour with Third Day and Brandon Heath on the Revelation Tour. For tour dates, and more on Revive, please visit: www.reviveband.com.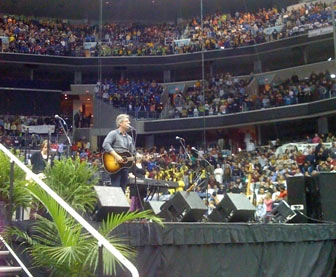 Matt Maher Performs at Pro-Life Rally in Washington D.C. for More Than 30,000 People and Continues Contributing to OnFaith.com: Matt Maher and band performed in front of over 30,000 people Thursday morning at the Verizon Center in Washington, D.C. for a Pro-Life Rally, which was a precursor to over 200,000 people joining in on the March for Life on the Mall in Washington, D.C. This march commemorated the 36th anniversary of the Supreme Court's Roe v. Wade ruling. This week Matt also continued his involvement with OnFaith.com by writing an article titled "Moving Pro-Life Forward". In this article he said, "I think for the next 4 years, the march for life will be a protest against death." To read this article, please visit: http://newsweek.washingtonpost.com/onfaith/matt_maher/ To learn more about Matt Maher, please visit: www.mattmahermusic.com.
Fireflight Rocks at "Winter X Games 13" Sponsored by ESPN and ABC Sports: Today, Orlando-based rock band Fireflight performs during the "ESPN Winter X Games 13" in Aspen, Colo., at 4:30 p.m. MT. The band will rock a 45-min set, packed with No.1 singles off its buzz-worthy, sophomore album Unbreakable, on the Taco Bell stage. Fireflight is the recent winner of Taco Bell's inaugural "Best of the Beat" fan-voted contest. Lead singer, Dawn Richardson says, "We are pumped for the opportunity to melt some frozen faces at the Winter X games this year!" She adds, "It's a huge honor to be around these amazing athletes, and to be a part of Taco Bell's Feed The Beat stage. We are so thankful to our fans for their continued support."
For more information about the Winter X Games 13, please visit: www.expn.com. For more information about Fireflight, please visit: www.fireflightrock.com, www.myspace.com/fireflight or www.flickerrecords.com.
Box Office Hit Fireproof Releases on DVD Tuesday, January 27th: The "No. 1 Inspirational Movie of 2008" as well as the "No. 1 Independent Film of 2008", releases on DVD this coming Tuesday, January 27th. The Fireproof DVD features: Fireproof in 60 seconds, Fireproof marriage study guide, Firegoofs (outtakes), deleted scenes, firehouse pranks and much more. The Exclusive Collectors Edition DVD also includes Casting Crowns music video, "Slow Fade". The film has already generated anticipation for the release of the DVD after earning $33 million at the box office last year. As an effect of the movie, 2,398 Fireproof fans have posted inspirational testimonies on www.fireproofthemovie.com/stories. "My wife and I have been in a crisis for a while. Then this movie came out and showed me I have to surrender to the Lord and do it for Him, and show my wife the way to the Lord through my eyes. This movie has created a miracle in my home."
For more information about Fireproof, or to Fireproof your marriage, please visit: www.fireproofthemovie.com, www.fireproofmymarriage.com.
Casting Crowns' Megan Garrett to Walk 60 miles for Breast Cancer Awareness: Casting Crowns' Megan Garrett, has announced her participation in a 60-mile walk in honor of her mother, who is a 7-year breast cancer survivor. Naming her group "Pink Peace," Garrett, along with her mother and two sisters, has set a goal to raise $2,300 for breast cancer research. On August 7-9, they will walk a total of 60 miles together, camping overnight, as part of the Breast Cancer 3-Day in Chicago. This event benefits Susan G. Komen for the Cure and the National Philanthropic Trust Breast Cancer Fund. "I am walking in honor of my mother and for future victims of breast cancer, which could be myself, my sisters, my friends, or my own daughter," said Megan. To read more of Megan's personal letter, or for more information about team "Pink Peace", please visit: www.castingcrowns.com.
###

[2022]
Jan. | Feb. | March | April | May | June | July | Aug. | Sept. | Oct. | Nov. | Dec.
[2021]
Jan. | Feb. | March | April | May | June | July | Aug. | Sept. | Oct. | Nov. | Dec.
[2001 - 2021]
Visit our complete MUSIC NEWS ARCHIVE