GRAMMY, DOVE AWARD WINNING MUSIC ARTISTS PEN
THE ART OF COMPASSION TO HELP END WORLD POVERTY
Features 12 Internationally Recognized Singer/Songwriters: Paul Baloche, Steven Curtis Chapman, Stu G, Israel Houghton, Tim Hughes, Graham Kendrick, Andy Park, Matt Redman, Martin Smith, Michael W. Smith, Chris Tomlin, Darlene Zschech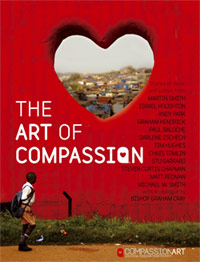 NEWS SOURCE: Hoganson Media
January 29, 2009
Nashville, TN (January 29, 2009) – CompassionArt, an award-winning charity based in Littlehampton, England dedicated to seeing works of art generate income for the poorest of the poor, releases The Art of Compassion (FaithWords/Hachette Book Group, January 2009 in the US and Hodder & Stoughton, November 2008 in the UK). Written by 12 world-acclaimed singer/songwriters, the book records the journey that engaged these artists personally in social justice and led to this groundbreaking new charity and book that encourages readers to use their own creativity and talents to help end world poverty.
Challenged by the poverty he saw all over the world, CompassionArt founder Martin Smith, front man for the Gold-selling band Delirious?, gathered together 11 of his friends to write and record an album of songs with the direct aim of the relief of global poverty.
Each singer/songwriter involved in the project has written a chapter for the book. Featured writers include Paul Baloche, Steven Curtis Chapman, Stu G, Israel Houghton, Tim Hughes, Graham Kendrick, Andy Park, Matt Redman, Martin Smith, Michael W. Smith, Chris Tomlin and Darlene Zschech. Together, the artists account for at least 42 million albums sold, 83 No. 1 songs, 10 GRAMMY Awards, 118 Dove Awards, two Stellar Awards, two American Music Awards, and 98 current CCLI Top 500 songs sung by millions in churches around the world.
The compellingly candid stories tell firsthand accounts of extreme poverty around our planet. The stories show how the songwriters move from ignorance and apathy through paralyzing awareness and end with a hopeful call to action, showing us the brutal cost of comfort in the Western world.
"These twelve people are not professional theologians, aid workers, campaigners or development specialists," says author Craig Borlase (The Naked Christian: Taking Off Religion To Find True Relationship), who writes the opening chapter in the book and serves as editor. "They're people who—like the rest of us—wonder how their lives can be more effective when it comes to fighting poverty and getting closer to God's agenda for us all."
"We are a global community, an underground adventure, a map being drawn as we speak that connects wealth with poverty, art with hope, compassion with despair," says Martin Smith. "We are starting with twelve of the best-known Christian recording artists, who have come together to create an album and a book, with all artist proceeds and royalties going to break the hold of poverty on people's lives around the world. But we're not stopping there; CompassionArt is evolving to connect, inspire and release compassion all over the world."
"Just take the [CompassionArt] model and run with it," encourages Michael W. Smith in the book. "…When we look out beyond the boundaries of our own lives – whether we start to focus on the people living around us, on the needs of our country or on the problems that trouble people throughout the world – we uncover one of the greatest secrets of eternity: that giving away is better than holding on, that connecting with others for their benefit far outweighs a life of greedy isolation."
Each songwriter/author has donated 100% of their proceeds from The Art of Compassion royalties, as well as all the proceeds from the songs on the recording releasing simultaneously with the book, CompassionArt: Creating Freedom from Poverty (EMI CMG, Jan. 27, 2009; Fierce!/Kingsway, Integrity and Crossroads, Nov. 24, 2008), to charity. This is not just a one-time donation, but will be a forever offering for the life of the book and the songs through CompassionArt. All of the royalties received by GloWorks Limited, in partnership with CompassionArt, from sales of the United States edition of The Art of Compassion will go to CompassionArt, a UK charity. (© 2008 GloWorks Limited for CompassionArt, registered with the UK Charity Commission number 1124708.)
CompassionArt is not associated or affiliated with, or otherwise sponsored or endorsed by, Compassion International, Inc. Compassion® is a registered trademark of Compassion International, Inc.
More information on CompassionArt can be found at http://CompassionArt.tv.

[2022]
Jan. | Feb. | March | April | May | June | July | Aug. | Sept. | Oct. | Nov. | Dec.
[2021]
Jan. | Feb. | March | April | May | June | July | Aug. | Sept. | Oct. | Nov. | Dec.
[2001 - 2022]
Visit our complete MUSIC NEWS ARCHIVE