PHIL STACEY SIGNS WITH REUNION RECORDS
American Idol Season 6 Finalist Finds New Label Home
Alongside Michael W. Smith, Brandon Heath, Tenth Avenue North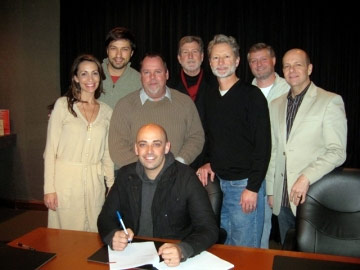 Photo Caption: Phil Stacey signs with Reunion Records
Pictured L-R are: Holly Zabka, Sr. Director Publishing, Essential Music; Jason McArthur, VP A&R, Provident Label Group; Chaz Corzine, Blanton Harrell Cooke & Corzine; Phil Stacey (seated); Dan Harrell, Blanton Harrell Cooke & Corzine; Terry A. Hemmings, President & CEO, Provident Music Group; Scott Knight, VP Business Affairs, Provident Music Group; Greg Oliver, GOA, Inc.
NEWS SOURCE: Provident Label Group
January 30, 2009
(Nashville, TN) January 30, 2009 – Phil Stacey, American Idol Season 6 finalist, announced his partnership with Reunion Records, a division of Provident Label Group, this week.
The relationship between Stacey and Reunion/Provident began last fall following his stellar performance at an event honoring Michael W. Smith at Nashville's Schermerhorn Symphony Center. Terry Hemmings, Provident's President and CEO, attended the event and having been moved by Stacey's performance, reached out to him to inquire more about his career plans.
"Phil is a great vocalist with a friendly and approachable style," shares Hemmings. "He owned the room when he performed and I thought he'd be a great fit with our label group."
"I am incredibly excited about joining the Reunion Records family," notes Stacey. "The artists and music they have released over the years have helped shape and mold me into the person I am today. This will be an amazing journey."
Stacey is currently working on his first project under the new deal, with producer Brown Bannister (Amy Grant, Mandisa, Steven Curtis Chapman) with an estimated release date set for later this summer.
About Phil Stacey:
During Phil's run on American Idol, he performed for an average of 30 million viewers for the 11 weeks he competed on the series. Following the show, he toured with his fellow contestants over the summer on the 55-city American Idol Tour. He then signed with Lyric Street Records and released his self-titled album (4/29/08). The project was produced by GRAMMY Award winner Wayne Kirkpatrick. Phil has been featured on Oprah, Live with Regis & Kelly, The Tonight Show, Ellen, The Today Show, Larry King Live and Nickelodeon's MeTV.
In 2003, Phil enlisted in the United States Navy where he served as a Musician Third Class at Navy Band Southeast in Jacksonville, Florida. He recently completed his 4-year commitment to the U.S. Navy and is still in the Navy Reserves. Phil's father and maternal and paternal grandfathers are pastors and he holds a degree in vocal performance from Lee University in Cleveland, Tennessee, where he was a member of the exclusive Lee Singers Choir, and its even more exclusive touring group, Second Edition. Born in Harlan, KY and raised in Ohio and Kansas, Phil currently lives in Nashville with his wife Kendra and two daughters, McKayla and Chloe.

[2022]
Jan. | Feb. | March | April | May | June | July | Aug. | Sept. | Oct. | Nov. | Dec.
[2021]
Jan. | Feb. | March | April | May | June | July | Aug. | Sept. | Oct. | Nov. | Dec.
[2001 - 2021]
Visit our complete MUSIC NEWS ARCHIVE