- PROVIDENT'S FRIDAY BUZZ -
FOR THE WEEK ENDING January 30, 2009
BRANDON HEATH AND LEELAND, HONORED AS NOMINEES AT RECENT NASHVILLE CHAPTER GRAMMY RECEPTION

FIREFLIGHT PERFORMANCE FEATURED IN ESPN VIDEO HIGHLIGHTING "WINTER X GAMES 13"

TENTH AVENUE NORTH TOPS THE CHARTS FOR THE THIRD TIME AS "BY YOUR SIDE" HITS NO. 1 ON R&R'S CHR CHART

MICHAEL W. SMITH RELEASES

A NEW HALLELUJAH-THE LIVE WORSHIP DVD MARCH 17

MATT MAHER PERFORMS AT KSBJ HOUSTON, TX BROWN BAG CONCERT IN BAYTOWN, TX
NEWS SOURCE: Provident Label Group
January 30, 2009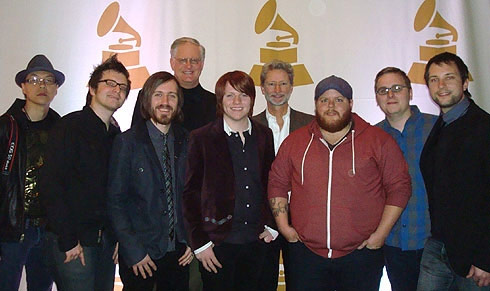 Photo ID (L-R): Back row: John Styll and Terry Hemmings, President & CEO, Provident Music Group.
Front row: Max Hsu and Matt Dally of Superchick; Jack Mooring, Leeland Mooring, Mike Smith, Jake Holtz of Leeland; and Brandon Heath.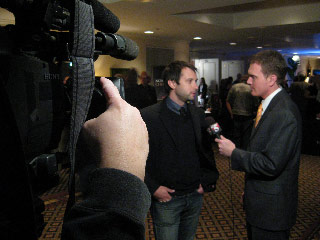 Channel 5 Nashville reporter Chris Cannon interviews Brandon Heath for a live shot before the GRAMMY party.
GRAMMY Nominees Brandon Heath and Leeland Attend Nashville GRAMMY Party: Monday evening Brandon Heath, nominated for two GRAMMY awards this year for "Give Me Your Eyes" in the Best Gospel Song category and What If We in the Best Pop/Contemporary Gospel Album category, and Leeland, GRAMMY-nominated for Best Pop/Contemporary Gospel Album (for Opposite Way), attended the 2009 Nashville GRAMMY Nominee party at Loews Vanderbilt Hotel. The celebration was a time for the nominees to congratulate each other and recognize the Recording Academy for their contribution to the music industry. Brandon Heath and Leeland were both featured in Channel 5-CBS Nashville's evening newscast. The GRAMMY awards will be airing Feb. 8 at 8pm et/pt on CBS. For more information about Brandon Heath, please visit: www.brandonheath.net. For more information about Leeland, please visit: www.leelandonline.com.
Fireflight Featured in ESPN Video of Winter X Games 13: This week, Fireflight's rock performance at the Winter X Games 13 in Aspen, Co., is featured in an action-packed video, sponsored by Taco Bell, which highlights the thrilling events from the Games 13, Day 3 events. Fireflight's smash hit song "Unbreakable" is the soundtrack of the piece, used on ESPN.com and during ESPN and ABC Sports TV broadcasts. To watch the video, please visit: http://espn.go.com/video/clip?id=3857611. To learn more about Fireflight, please visit: www.fireflightrock.com, www.myspace.com/fireflight or www.flickerrecords.com.
Tenth Avenue North Tops The Charts for the Third Time as "By Your Side" Hits No. 1 on R&R's CHR Chart: Tenth Avenue North, the Best Selling and Most Played New Artist of 2008 (according to R&R's Year End Chart) claims the No. 1 spot on the charts for the third time in its career, and first multi-format No.1, as "By Your Side" tops R&R's CHR chart this week. "By Your Side," previously No. 1 on R&R's AC Indicator chart (12/08), is also the band's second career No. 1 at CHR and its third career No. 1 since the May 20 release of its top-selling debut album, Over and Underneath. Tenth Avenue North has toured extensively over the last year in support of its debut album and will continue its impressive run of shows as it joins MercyMe on the "Rock & Worship Road Show." The 20-city tour begins March 17 in Billings, Mont. Please visit www.tenthavenuenorth.com/tour for specific tour venues and times.
Michael W. Smith Releases A New Hallelujah-The Live Worship DVD March 17: On the heels of an incredibly successful 2008, including having one of the top-selling and most acclaimed projects of the year and the announcement of his upcoming induction into the Gospel Music Hall of Fame (2/2/09), Michael W. Smith releases A New Hallelujah – The Live Worship DVD on March 17. This new DVD is the video companion to Smith's newest record, and third worship album, A New Hallelujah. Recorded live in Houston last summer before12,000 people, a 250-voice choir and several special guests including the African Children's Choir and 2008 GRAMMY Award-winner, Israel Houghton, this DVD captures the powerful experience of the evening's worship in high-definition. The 90-minute long project features all 13 songs from A New Hallelujah (10/28/08), plus four new tracks and exclusive behind-the-scenes footage. For more information about Michael W. Smith, please visit: www.michaelwsmith.com.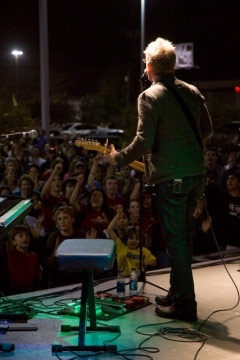 Photo Credit: Robby Holmes
Matt Maher Performs at KSBJ Houston, TX Brown Bag Concert in Baytown, TX:
Matt Maher
performed in a very successful concert event Tuesday night with over 1,800 people in attendance. Upon the completion of Maher's set, the crowd begged for an encore. KSBJ has continued to receive positive feedback from fans that were a part of the event. "Matt & his band were so incredible to handle the winter wind with us! Worship was amazing and I especially (as a mom) LOVE it when the kids are down front getting excited for God!" For more information about Matt Maher, please visit: www.mattmahermusic.com.
###

[2020]
Jan. | Feb. | March | April | May | June | July | Aug. | Sept. | Oct. | Nov. | Dec.
[2019]
Jan. | Feb. | March | April | May | June | July | Aug. | Sept. | Oct. | Nov. | Dec.
[2001 - 2018]
Visit our complete MUSIC NEWS ARCHIVE