REBECCA ST. JAMES' CAREER BALANCING ACT: HER FIRST LEADING MOVIE ROLE, TOP 10 BOOK SUCCESS, A RETURN TO VEGGIES, '09 CONCERT DATES –AND DID SOMEONE MENTION "NEW MUSIC?"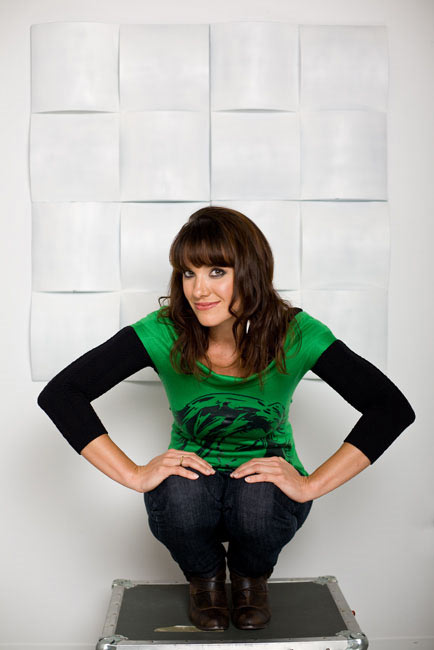 NEWS SOURCE: MorningStar PR
February 17, 2009
(Nashville, Tennessee) –February 17, 2009 – Often called the "hardest working artist in contemporary Christian music," over her past decade of stellar career successes, Rebecca St. James is today re-defining even her own definition of the term "busy!"
With music fans wondering over the past several months what '09 holds in the way of new music from the Australian born Grammy winner, Rebecca has been fully engrossed in Hollywood over the past six month, flourishing in yet another spectrum of her creativity –acting.
Her first leading role—starring in the full length production of the faith and values based film "Sarah's Choice," is about to wrap—awaiting only the filming on location of late winter outdoor scenes in the Midwest. Early details on the movie reveal that Rebecca's role is by every virtue—a bold 'departure' for her. She portrays a single, successful young career woman faced with the unexpected news that she is pregnant—and the dramatic, life altering decision of what follows.
The role is near to the heart of St. James, long an advocate of abstinence, and now making a bold creative statement through film on the pro life agenda. She noted recently: "We live in a very real world where scores of young women every day are being impacted by the heart wrenching issues and life changing choices that my character is suddenly forced to come face to face with. I feel it's an important film with a Godly message that I am praying will profoundly touch lives."
Full production details with release information is forthcoming.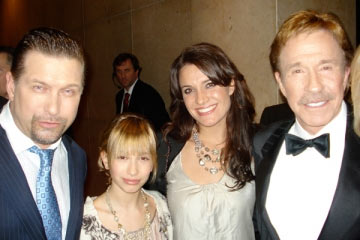 Photo ID: Rebecca at last week's annual "Movie Guide Awards" in Hollywood (left to right): Actor Stephen Baldwin, his daughter, Rebecca, actor Chuck Norris.
In Hollywood last week as a presenter on the film industry's annual faith and values based "Movie Guide Awards," Rebecca was greeted with the news from Nashville that her latest book, Pure, published this past fall by Hachette/Faithwords, has just broken the Top 10 nationally--appearing at #9 on the February CBA "Young Adult" book sales chart. Good news came too that her celebrated voice character work as "Hope the Music Box Angel" in the million plus selling VeggieTales DVD An Easter Carol is enjoying a new national promotional roll-out at retail as a major '09 re-release from the creative team at Big Idea --just in time for this year's egg hunting season.
In late March, Rebecca will reprise her successful "mother/daughter" SHE event/concerts—doing a short series of U.S. dates before leaving for international concerts that include a trip to the Australian homeland as a headlining artist at "EasterFest '09," expected to draw in excess of 10,000 concert-goers to the outdoor staging.
Where's the music? Expect news on new RSJ songs for several upcoming film soundtracks, and anticipate seeing Rebecca back in Nashville for April 'creative writing sessions' as well as her participation as an anchor artist on the telecast of the 40th Annual GMA Dove Awards, to be broadcast April 23rd on The Gospel Music Channel.
Resource Rebecca St. James online: www.myspace.com/rebeccastjames or http://www.rsjames.com
For more information on Rebecca St. James, visit the JFH Artists Database.
###

[2021]
Jan. | Feb. | March | April | May | June | July | Aug. | Sept. | Oct. | Nov. | Dec.
[2020]
Jan. | Feb. | March | April | May | June | July | Aug. | Sept. | Oct. | Nov. | Dec.
[2001 - 2020]
Visit our complete MUSIC NEWS ARCHIVE