Lanae' Hale Scheduled To Release One Of The Most Highly Anticipated Albums Of The Year
Back & Forth
On May 19th
Title Track Already Featured On MTV's Highly Popular Program "The Hills"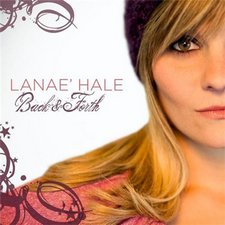 NEWS SOURCE: Bozeman Media
February 20, 2009
Nashville, TN (February 19, 2009) ----- After generating major attention from the Christian and mainstream music industries with her six-song self-titled EP, Centricity Music's, Lanae' Hale, is scheduled to release her eagerly awaited full-length album Back & Forth May 19, 2009. The title track will go for adds at radio March 6 and was recently featured on MTV's popular TV show "The Hills."
"Lanae's music is a pure reflection of her life and heart," says John Mays, Vice President, A&R, Centricity Music. "When someone is willing to be this honest and transparent with the music they're making, it can't help but connect. If you give this music a chance, we believe that you will be stirred to take a deeper look at your life and all that God may be doing with it."
Back & Forth was produced by Mark Hammond (Nichole Nordeman, Ashley Tisdale) and Allen Salmon (Seabird, This Beautiful Republic) and features eleven new songs written by Hale. The CD features such tunes as "If I'm Broken," which spotlights the difficult moments we all live through and in the end find hope and wholeness through Christ. "Let's Grow Old Together" is a happy, uplifting song about a great love that is destined for the long haul; "Here's To The Girls," is to those who are more than beautiful and that hard times don't have to define who you are; and "Here's My Heart," reflects on our daily dependence on God.
Hale's own road has been a difficult one but through God's grace her life has become a joyous one that has given her a platform with a powerful testimony. Even though she was raised in a Christian home, Hale suffered with depression and low self-esteem while growing up and never really had a personal relationship with Christ. In her last two years of high school she thought she had met the man she would marry but they eventually broke up, which led to her dealing with her old self-doubts. This progressed to the point that Hale became a cutter to help ease the pain. The self-mutilation continued through her early years at college until in despair and helplessness she asked God to heal her. Shortly afterwards, she happened to read Psalm 147:3; He heals the brokenhearted and binds up their wounds and she knew God had heard her prayer. At that point she began a personal relationship with Christ and began the path of healing. She started developing her music career, met her "true love" and became a newlywed in May 2008.
When Hale released her EP, iTunes immediately took notice and selected the song, "Spring Again," as their Discovery Download in January 2008 where it received over 100,000 downloads. The executives for the music website also invited Hale to perform at their company-wide meeting in San Francisco last summer and she shared the stage with such artists as Sammy Hagar, Eric Hutchinson, Lights, and the Spill Canvas.
Hale has already been the feature story of a 700 Club segment that aired in December 2008 and has appeared on Family Net's "Every Day with Marcus & Lisa, Atlanta Live and performed for the staff at Gospel Music Channel. She has an upcoming feature in Spring 2009 issue of Ignite Your Faith and the June 2009 issue of Collegiate magazine. ChristianMusicToday.com selected Hale as one of the Best New Artists of 2008 and says, There's a jazzy vibe to her pop sound which makes it distinctive and sophisticated, not to mention an ideal vehicle for her mature lyricism.
For updates on Hale please visit www.centrictymusic.com or www.myspace.com/lanaehale.
Centricity Music is an independent recording and publishing company based in Bellevue, Washington and Nashville, Tennessee. The company's mission is to nurture the gifts and expand the influence of Christian artists around the world. Centricity Music's artist roster includes Jaime Jamgochian, Downhere, Circleslide, Jason Gray, Daniel Kirkley, Lanae' Hale, Andrew Peterson and High Valley.
For more information on Lanae' Hale, visit the JFH Artists Database.
###

[2020]
Jan. | Feb. | March | April | May | June | July | Aug. | Sept. | Oct. | Nov. | Dec.
[2019]
Jan. | Feb. | March | April | May | June | July | Aug. | Sept. | Oct. | Nov. | Dec.
[2001 - 2018]
Visit our complete MUSIC NEWS ARCHIVE