BRANDON HEATH, JARS OF CLAY, MANDISA, BART MILLARD AND MATTHEW WEST ADDED TO GMA MUSIC WEEK 2009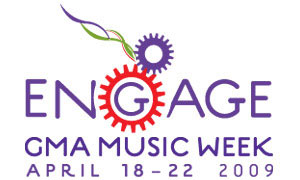 BarlowGirl, Francesca Battistelli, Group 1 Crew, Mark Schultz and dozens more scheduled to appear
NEWS SOURCE: Spinhouse PR
March 3, 2009
NASHVILLE, Tenn. – March 3, 2009 – Brandon Heath, Jars of Clay, Mandisa, Bart Millard and Matthew West have been added to an artist line-up that already includes Francesca Battistelli, Point of Grace, Diamond Rio and Group 1 Crew to be a part of GMA Music Week 2009, which will take place April 18-22 in Nashville, Tenn.
Jars of Clay will be the featured performer for the MAPS Field Trip on April 19, while Heath and West will be among the artists taking part in the "Heart of the Artist" session. Back by popular demand, the "Heart of the Artist" session offers registrants the opportunity to hear from artists as they share their passion for their calling and answer questions.
In addition, Mandisa and Bart Millard will serve as co-hosts and perform for registrants during the April 21 luncheon. This event also will feature performances by Stellar Award winner DeWayne Woods, along with new EMI CMG-distributed artists Stephen Petree and Press Play.
Last week, Word Entertainment announced that it will present the Big Hits Lunch on Monday. Artists scheduled to appear during the lunch include Meredith Andrews, BarlowGirl, Battistelli, Diamond Rio, Group 1 Crew, Point Of Grace, Remedy Drive, Mark Schultz and Big Daddy Weave's Mike Weaver. This year's lunches are open to all tracks.
These artists also join previously announced speakers who will be a part of GMA Music Week 2009, including Louie Giglio, authors Gabe Lyons (unChristian, Baker Books) and William P. Young (The Shack, Windblown Media), and financial experts Michael Q. Pink (see related item, left) and Bethany and Scott Palmer.
The GMA member rate for GMA Music Week 2009 has been reduced to $299, the lowest GMA Music Week registration rate offered by the GMA in 12 years. More details about the artists, speakers and tracks can be found at http://www.gospelmusic.org/events/generic.aspx?aid=9&pid=183.
The 40th Annual GMA Dove Awards will take place April 23, 2009 at the Grand Ole Opry House in Nashville, Tenn. Tickets to the 40th Annual GMA Dove Awards are on sale now at http://www.ticketmaster.com/ or by calling 615-242-0303.
About GMA:
Founded in 1964, the Gospel Music Association serves as the face and voice for the gospel/Christian music community and is dedicated to exposing, promoting and celebrating the gospel through music of all styles including pop, rock, praise & worship, black gospel, R&B, hip hop, southern gospel, country, and more. The GMA community consists of 4,000 members including agents, artists, church leaders, managers, promoters, radio personnel, record company executives, retailers, songwriters and other industry visionaries. The GMA produces the GMA Dove Awards, GMA Music Week and the GMA Academy. For more information, please visit www.gospelmusic.org.
###

[2021]
Jan. | Feb. | March | April | May | June | July | Aug. | Sept. | Oct. | Nov. | Dec.
[2020]
Jan. | Feb. | March | April | May | June | July | Aug. | Sept. | Oct. | Nov. | Dec.
[2001 - 2020]
Visit our complete MUSIC NEWS ARCHIVE