Slanted Records' Rock Band DECEMBERADIO to Release Video of New Single "Look for Me"
Thriving Rock Band Celebrates Three DOVE Nods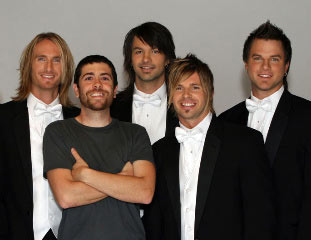 (Director Benjamin Eisner (front, left) pauses for a photo with DecembeRadio (L-R) Josh Reedy, Brian Bunn, Boone Daughdrill and Eric Miker during the video shoot for the band's new single "Look for Me.")
NEWS SOURCE: Nashville Publicity
March 6, 2009
(NASHVILLE, Tennessee) – Slanted Records' acclaimed rock band DecembeRadio will debut its first concept video "Look for Me" on Friday, March 13th, at 5:00 EDT with a world premiere on the Gospel Music Channel (times will vary based on network commitments in specific time zones). The Gospel Music Channel is the fastest-growing network in television and can be seen in more than 40 million homes on various cable systems around the country and on DIRECTV on channel 338.
The video, directed by Benjamin Eisner, of Knitted Heart Productions, coincides with the recent release of "Look for Me" to AC radio, where it is receiving early nods. The ringtune for "Look for Me" as well as the new video will be available online on March 31st.
"We cannot wait to unleash this video!" exclaimed lead singer and bass player Josh Reedy. "It was a very cool experience to do our first video, and we had a blast shooting it in the different locations. This song is actually written from God's perspective with Him saying, 'You've looked everywhere, tried everything and still have a void in your life. If you would just look for Me, you would realize that I'm all you need.'
"We decided to have a moment in the video where we could 'go up,' 'get close' to God and look for Him as we were singing the song. Then we said, 'Well, on top of that, let's just get all dressed up in our best duds and do it right!' It was a great experience."
"It was so fun for me to watch this video evolve from its origins to the finished product," stated Eisner. "We had our ideas going in as to what we were going for, but then we experienced non-stop rain which redirected us. I guess I shouldn't be so surprised to see that the shot we ended up going with was much better than what we had originally planned. This was just another reminder that many times the best ideas are not the ones we come up with, but the ones that just present themselves to us if we're willing to improvise."
DecembeRadio has been celebrating nominations for the 2009 Gospel Music Association (GMA) DOVE Awards in three categories surrounding their acclaimed sophomore release, Satisfied. The recording received a Rock Album of the Year nod, an award they took home in 2007 with their self-titled debut. Their radio hit "Find You Waiting" received a nomination for Rock/Contemporary Recorded Song of the Year; and their current rock single, "Better Man," was nominated for Rock Recorded Song of the Year.
"We are honored to be recognized by the members of the Gospel Music Association," stated guitarist Eric Miker. "To have our peers honor something we put our sweat and tears into is really an encouragement to us. When we first started this band, we could only dream of getting a DOVE nomination, so to gain three more this year really feels like a dream come true."
DecembeRadio is currently on the road with the Newsboys as part of the 31-city Join the Tribe tour, taking them throughout the United States and into Canada. Attendees can enjoy the live version of "Look for Me" which features lead guitar player Brian Bunn on violin for a change.
Satisfied is distributed by Word Entertainment/WEA with digital distribution by EMI CMG Distribution. For further information regarding the band and Satisfied, please visit www.slantedrecords.com/pr/decemberadio. For further information regarding the Join the Tribe tour, visit www.decemberadio.com.
GMA Dove Awards: Gospel music's biggest night of the year, featuring artists from every style of Gospel/Christian music coming together for a night of music and celebration, will be broadcast nationwide live on the Gospel Music Channel from 8 – 10 p.m. (ET/PT) on Thursday, April 23, 2009.
DECEMBERADIO:
Classic rock band DECEMBERADIO has been making headlines since its debut initially hit the shelves, garnering a GRAMMY® nomination, a DOVE Award win for Rock Album of the Year, three DOVE nominations and several hits including Song of the Year nominee "Drifter." Whether opening a NASCAR event with songs like "Dangerous" or filling the AC radio airwaves with hit ballads such as "Find You Waiting," the foursome has brought a defining sound and energy to the world of Christian music.
For more information on DecembeRadio, visit the JFH Artists Database.
###

[2021]
Jan. | Feb. | March | April | May | June | July | Aug. | Sept. | Oct. | Nov. | Dec.
[2020]
Jan. | Feb. | March | April | May | June | July | Aug. | Sept. | Oct. | Nov. | Dec.
[2001 - 2020]
Visit our complete MUSIC NEWS ARCHIVE