- PROVIDENT'S FRIDAY BUZZ -
FOR THE WEEK ENDING MARCH 6, 2009
MATT MAHER'S "YOUR GRACE IS ENOUGH" CLIMBS TO CCLI'S NO. 13

THIRD DAY, FIREFLIGHT AND CASTING CROWNS
UP FOR "ARTIST OF THE YEAR" FOR 4OTH ANNUAL DOVE AWARDS;
FAN VOTING LETS YOU DECIDE THE WINNER

RED'S INNOCENCE & INSTINCT ROCKS THE CHARTS
WITH ITS THIRD WEEK AT NO. 1

BRANDON HEATH'S "GIVE ME YOUR EYES" HIGHLIGHTED IN
USA TODAY'S-"THE PLAYLIST"

PROVIDENT LABEL GROUP HOSTS SPRING BREAK IN ATLANTA

BRANDON HEATH CALLS FOR "NO JOE MARCH" IN SUPPORT OF BLOOD:WATER MISSION

MATT MAHER COMPLETES SUCCESSFUL RUN OF DATES IN SOUTHERN CALIFORNIA WHILE ALSO GETTING "SIMPSONIZED"
BY ONE OF HIS FANS
NEWS SOURCE: Provident Label Group
March 6, 2009
Matt Maher's "Your Grace Is Enough" Climbs To CCLI's No. 13:  "Your Grace Is Enough," the modern worship classic, written by Essential Records recording artist MATT MAHER, saw strong gains in church exposure during the spring and summer of 2008, according to Christian Copyright Licensing International (CCLI), which tracks the popularity of music in churches across the U.S. According to CCLI's tracking system, "Your Grace Is Enough" was the 13th most popular song sung in churches in the United States for the April-September 2008 tracking period. That represents an 18-point jump for the song over the previous tracking period. Over the past 6 month period, "Your Grace Is Enough" has been sung in nearly 150,000 CCLI licensed churches in the U.S., which translates to more than 5 million people singing this song. 
Third Day, Fireflight, and Casting Crowns Up For "Artist of the Year" for 40th Annual Dove Awards; Fan Voting Lets You Decide the Winner: This year fans have an opportunity to vote for the Dove Awards winner of "Artist of the Year." Three Provident bands, Fireflight, Casting Crowns and Third Day, were honored with nominations in this high-profile category. Fan voting is being conducted through the Gospel Music Channel website (www.gospelmusicchannel.com) and at www.doveawards.com, and opened Feb. 26. Fans are being given the opportunity to place 1 e-mail vote and 1 text vote. The cumulative fan vote, which will continue through the live Dove Awards broadcast, will account for one-third of the total vote. The 40th Annual Dove Awards show is Thursday, April 23, at the Grand Ole Opry House in Nashville, TN, broadcasting live nationwide on Gospel Music Channel. To vote for your favorite Artist of the Year nominee please visit:
Online Voting
www.gospelmusicchannel.com/dovesvoting
SMS Text Voting
http://www.gospelmusicchannel.com/doves/sms


RED's Innocence & Instinct Rocks The Charts With Its Third Week at No. 1: After RED's Feb. 10 release of Innocence & Instinct, the album still dominates the Christian music charts. The rock band remains at No. 1 on the Current Contemporary Christian Albums chart and No. 4 on the Record Label Independent Current Albums. RED's sales continue to climb as it ends its third week with 64,349 in unit sales. The sophomore album sits at No. 12 on the Top Current Alternative Albums chart, No. 20 on the Top Current Rock Albums Chart and Billboard's Top 200 at No. 62. For more information about RED and its tour dates, please visit: www.myspace.com/dropofred.

Brandon Heath's "Give Me Your Eyes" highlighted in USA TODAY's "The Playlist": USA TODAY's music critic chart, "The Playlist," named Brandon Heath's "Give Me Your Eyes" one of the top 10 intriguing songs for this week. USA TODAY said, "GRAMMY and Dove Award nominations are attracting a second look for Heath's song about seeing life's big picture." Brandon Heath's GRAMMY-nominated, megahit song has nods for Song of the Year and Pop/Contemporary Recorded Song of the Year at this year's Dove Awards. The singer/songwriter has additional nods for Male Vocalist of the Year and Special Event Album. "Give Me Your Eyes" spent 14 weeks at No.1 on Billboard's Hot Christian AC radio chart and 27 weeks as the No. 1 download on iTunes Christian Song Chart, since its debut in July 2008. To view this week's USA TODAY "The Playlist", please visit: www.usatoday.com/life/music/reviews/2009-03-02-pick-of-the-week-kearney_N.htm.
For more on Brandon Heath, please visit: www.brandonheath.net.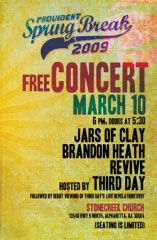 Provident Label Group Hosts Spring Break in Atlanta: Provident Label Group is going on Spring Break and you're invited to come along! Join Brandon Heath, Jars of Clay, Revive and hosts Third Day, on Tuesday, March 10 at 6 p.m. Eastern, for a FREE concert at Stonecreek Church in Alpharetta, GA. The concert will be followed by the debut viewing of Third Day's new Live Revelations DVD. Seating is limited and on a first come, first serve basis. Doors open at 5:30 p.m.(ET)
"No Joe March" - Brandon Heath Gives Up Coffee To Support Blood:Water Mission: In support of Blood:Water Mission's "40 Days of Water," Brandon Heath is committing himself to his own version of the campaign called "No Joe March." For 40 days (March 1-April 9), Brandon will be giving up all other drinks besides water, especially his favorite vice of coffee. Alongside his keyboard player, Joe Moralez, they will hold each other accountable to take the money they would have spent on coffee and donate it to Blood: Water Mission and its efforts to provide clean water for communities in Africa. Brandon would love to invite and encourage others to do this with him. You can follow his progress on Twitter & through BrandonHeath.net. To participate, simply or with great effort, make the choice to set aside the money you would have spent each day and at the end of 40 days, donate your savings to Blood:Water Mission. For more information, visit BloodWaterMission.org.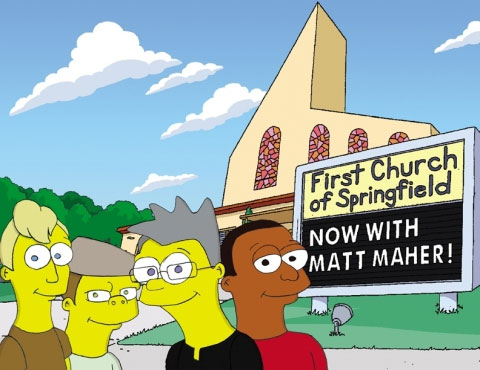 Matt Maher and his band got "Simpsonized" by Erika Vega


Matt Maher Completes Successful Run of Dates in Southern California While Also Getting "Simpsonized" By One of His Fans: Matt Maher just finished a run in the southern California area during which he played in front of 20,000 people over the span of 5 days – first, the guys performed at the Los Angeles Religious Education Congress, followed up by shows in Bakersfield, Baldwin Park and San Fernando, CA. At the Baldwin Park, CA show, crowds were lined up outside the door all the way around the venue to get in, and the venue ended up opening up their choir loft to fit in all of the people trying to get in to see Matt perform! Matt and the band went outside of the venue and got the very last 2 people in line and brought them up to the front of the line, telling them "...the last shall be first..." a reality for those dedicated fans. Also at the Baldwin Park show, thanks to a kind fan who works on The Simpsons crew in the Los Angeles area, Matt was given her personal rendition of Matt and the band as if they were a part of The Simpson's community! Thanks to Erika Vega for "Simpsonizing" Matt, Kenny, Kemi and Dan! For more information about Matt Maher, please visit:www.mattmahermusic.com.
###

[2021]
Jan. | Feb. | March | April | May | June | July | Aug. | Sept. | Oct. | Nov. | Dec.
[2020]
Jan. | Feb. | March | April | May | June | July | Aug. | Sept. | Oct. | Nov. | Dec.
[2001 - 2020]
Visit our complete MUSIC NEWS ARCHIVE