TOBYMAC "ROCK AND ROLLS" INTO CAMP ELECTRIC!
Toby Puts His Momentum Into Co-Ownership of Camp Electric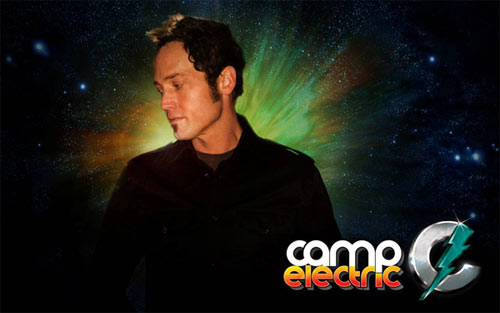 NEWS SOURCE: MorningStar PR
March 17, 2009
(Nashville, Tennessee) –March 17, 2009 – Move over Jack Black! Take a seat School of Rock junkies! Summer '09 in Nashville will roll-out the real life 'reality' second edition of the ultimate rock 'n roll fantasy camp for students aged 13-18--Camp Electric!
In a thumbnail: It's a unique experience "all access" music pass for young musicians, ages 13-18 to 'come rock' with top Christian artists & musicians, and it's happening June and July in Nashville.
On the smokin' heels of a sold-out debut last summer, Camp Electric is back center stage this June-July with an expanded two session registration plan. Back too this summer is one of Christian music's most consistently relevant multi-Grammy winning, multiple-platinum artists—tobyMac—fresh from his most recent solo Grammy win in February (Best Rock or Rap Album of the year—for Alive and Transported) and the genre crossing diversity of having his music featured at this year's Superbowl '09— toby is stepping up his involvement in the camp to take a lead role in promoting the creative virtues of the all-star event.
Performing on the Camp Electric concert stage last year, the man described as a "creative force, artistic maverick, and prophetic voice for radical social justice," quite simply fell in love with the event's creative concept of reaching youth with a message that matters.
toby noted in a recent interview: "For me, my entire career has been focused on youth culture and encouraging young people to impact the world through music and beyond.
That's why I started dcTalk and Gotee Records—that's why I continue touring. And that's also why I'm totally blown away with Camp Electric. They're passionately focused on youth and awakening teens to God's love through music and their excellence in musicianship."
In response to registration demands with last year's sell-out single 5 day session, Camp Electric will this year offer two five day camp sessions—June 28th-July 2nd and July 5th-9th—both staging as a full "onsite experience" at the campus of Trevecca University in Nashville . Each session will bring a unique mix of nightly concerts by the top names in Christian music—a roll-out this year that includes such names as tobyMac, Kutless, BarlowGirl, Red, and Pillar as highlights.
Additionally, a "Mystery Artist" concert will again be a major event highlight—following on the '08 surprise unveiling of mystery artist, Jeremy Camp. Daily sessions with top Christian musicians will offer 'hands-on' instructional sessions, personalized tips and tune-ups, opportunities to perform for industry professionals, and overall encouragement towards spiritual and performance excellence. Vocals, keyboards, drums, bass, and guitar will all have individualized instructors ranging from session and major league road players with bands such as Kutless, Sanctus Real, MercyMe, Chris Tomlin, and tobyMac's Diverse City.
Camp Electric is being promoted by the nation's leading promoter of Christian themed concerts and events, The Premier Group, Major sponsors again this year include K-LOVE and Air 1 Radio, leading voice of Christian radio under the EMF Broadcasting banner. Also onboard as sponsors for Camp Electric's '09 staging are Hearitfirst.com and famecast.com, the latter a major promotional support site for national contest facilitations for major entities such as John Mayer and Guitar Center.
John Sanders, President of the Camp Electric experience notes: "With American Idol and all the music reality series so hot, our event provides a real-life 'reality opportunity' within a totally positive atmosphere. Kids can interact and hang with their friends, jam with their music, have a front row at major concerts each night, and have a full 'all access' to top Christian musicians and instructors through an event with one ultimate goal at its' center: To spiritually enrich the lives of teens through the medium of music."
Sanders noted that an expanded future of national contest promotions, 'making of the band' reality productions, and retail tie-ins are in development for add-on value to the Camp Electric experience.
tobyMac himself is top of the list on those promoting kids to attend this year's event. He sends a personal shout-out to those coming:
"To all my CE people packin' bags for '09—I say 'Welcome,' and get ready to bring the noise!' Bring your instrument of choice and plan to rock! This will be a week to learn about life, music, the road, and everything positive in between. Come away with a fire to play where God has you—whether it's in front of 10 or 10,000--do it with passion!"
Registration is limited—and those wishing to attend can receive bonus camp savings through May 1st. For sign-up information and a complete resource of Camp Electric's summer '09 concert and curriculum, resource online: http://www.campelectric.com/
Camp Electric's office is also open for questions on the event: 1-800-755-0242.
For more information on TobyMac, visit the JFH Artists Database.
###

[2021]
Jan. | Feb. | March | April | May | June | July | Aug. | Sept. | Oct. | Nov. | Dec.
[2020]
Jan. | Feb. | March | April | May | June | July | Aug. | Sept. | Oct. | Nov. | Dec.
[2001 - 2020]
Visit our complete MUSIC NEWS ARCHIVE