SUPERCHICK RALLIES FANS FOR "HEY! HEY! (THAT'S FREEDOM YOU HEAR)" TOUR
Ticket To Include New Essential Records Act Tal & Acacia And "Revolve" Tour Speaker Rachel Hockett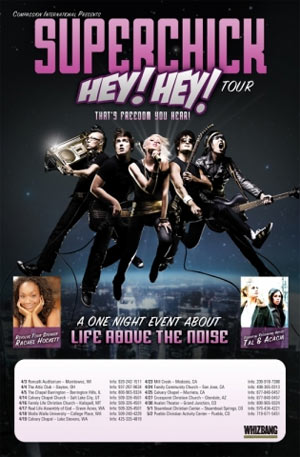 NEWS SOURCE: Savvy Media
March 30, 2009
(NASHVILLE, Tenn.) March 30, 2009—Superchick heads out early next month on its spring 2009 "Hey! Hey! (That's Freedom You Hear)" tour, visiting nine states through early May. Accompanying the group will be celebrated "Revolve" tour speaker Rachel Hockett and Essential Records sister duo, Tal & Acacia.
Kicking off Friday, April 3, at Roncalli Auditorium in Manitowoc, Wis., the tour, whose tagline is "a one night event about life above the noise," is packaged as a conference-style event with the message that there is one voice that leads to freedom. Through sharing, audience interaction, and Superchick's high-energy live performance, the tour captures the dynamic of a large out-of-town conference in a hometown event.
"It's not going to be just another concert. Our vision is to remind those who attend of the ways we let the world around us get so noisy that we cannot hear God's voice," says Superchick's Tricia Baumhardt. "We are so excited to tour with another great sister group, Tal & Acacia, and wonderful speaker Rachel Hockett. Come be encouraged to go home and turn it all down so that you may hear again the one voice that really matters."
Chicago-based Superchick comprises sisters Tricia Brock (vocals) and Melissa Brock (vocals, guitar), Matt Dally (bass, vocals), Dave Ghazarian (lead guitar, vocals), and Max Hsu (keyboards/DJ). With five projects to date, Superchick has sold upwards of 700,000 albums, and the group's songs have been heard in more than 70 film, television and video games. The band's latest release, Rock What You Got, provides no exception, turning out Superchick's highest ever first week sales numbers and receiving significant licensing placements on MTV's "The Hills," ABC television spots for "True Beauty," and the Style Network's new reality series "Running In Heels." The disc additionally received a 2009 GRAMMY nomination for Best Rock Or Rap Gospel Album and produced the Top 5 radio hit, "Hold." The album's second single, "Cross The Line" is currently being played at the CHR and Christian Rock radio formats. For more information, visit http://www.superchickonline.com/.
Rachel Hockett has spent the past three years as a praise and worship singer as well as featured speaker on the Women of Faith "Revolve" tour, reaching more than nine thousand girls at each event. Currently, Rachel's mind is consumed with ways to share her message of hope, freedom, and honesty. She believes she is a communicator of the truth to all people, which is why she constantly, and passionately, pursues ways to participate in films, projects, and any opportunities that allow her to promote the beauty of the truth.
The duo—sisters Tal & Acacia—grew up in Portland, Maine, and first began songwriting and playing guitar in their teen years, while the family spent an insightful year in Russia aiding a humanitarian orphan ministry. Now, in their early twenties, Tal & Acacia aim to create songs that wake listeners and refresh the soul "like a cold splash of water for those who hear it." Especially in desert times, the songwriting duo's music ministers and inspires. Musically, Tal & Acacia bear resemblance to such acts as Feist, Norah Jones, Imogen Heap and Sixpence None The Richer, and credit songwriting inspiration from artists like Keith Green and Stevie Wonder. Releasing July 14, the quirky pop sound of Tal & Acacia's debut album, titled Wake Me, is a breath of fresh air—defined by catchy choruses—and girded in joy. Produced by Monroe Jones (Ginny Owens, Chris Rice, Third Day, Caedmon's Call), Tal & Acacia's Wake Me is distinctly rich and infectious, and intuitively embraces the clash between the principled, spiritual inner self and a confusing, glittery outer culture.
For ticket information, visit http://www.itickets.com. The most up-to-date tour itinerary can be found at: www.myspace.com/superchick.
###
"Hey, Hey (That's Freedom You Hear)" Tour
DATE CITY
4-3 Manitowoc, WI
4-4 Dayton, OH
4-5 Barrington Hills, IL
4-14 Salt Lake City, UT
4-16 Kalispell, MT
4-17 Green Acres, WA
4-18 College Place, WA
4-19 Lake Stevens, WA
4-23 Modesto, CA
4-24 San Jose, CA
4-25 Murrieta, CA
4-26 Mesa, AZ
4-27 Glendale, AZ
4-30 Grand Junction, CO
5-1 Steamboat Springs, CO
5-2 Pueblo, CO
5-3 Lee's Summit, MO
*Dates subject to change
For more info on Superchick, visit the JFH Artists Database.