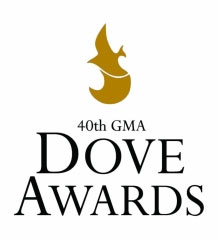 DOVE AWARD NOMINEES ANNOUNCED FOR SONGWRITER OF THE YEAR
NEWS SOURCE: Spinhouse PR
March 31, 2009
NASHVILLE, Tenn. – March 31, 2009 -- The Gospel Music Association (GMA) today announced the final nominees for the Dove Award for Songwriter of the Year, to be presented at the 39th Annual GMA Dove Awards. The nominees are Steven Curtis Chapman, Natalie Grant, Brandon Heath, Jason Ingram and Tony Wood. The recipient of the Dove Award for Songwriter of the Year will be named during the awards show on April 23rd at the Grand Ole Opry House in Nashville. The show is scheduled for live broadcast on the Gospel Music Channel, and tickets are now on sale to the public at http://www.ticketmaster.com/ or at http://www.doveawards.com.
"Perhaps no other genre relies on the message in the lyrics more than gospel music, so songwriters deserve special honor at the Dove Awards. We congratulate each of these deserving writers for crafting music that has inspired and moved us in the past year," said John W. Styll, president and CEO of the GMA.
In addition to other songs they have written, each songwriter is nominated in the Song of the Year category. Chapman penned "Cinderella," while Grant wrote "I Will Not Be Moved." Heath and Ingram co-wrote "Give Me Your Eyes" and Wood co-wrote two Song of the Year nominees – "Empty Me" (with Chris Sligh and Clint Lagerberg) and "I'm Not Letting Go" (with Francesca Battistelli).
The GMA Dove Awards, gospel music's biggest night of the year, featuring artists from every style of gospel/Christian music coming together for a night of music and celebration, will be broadcast nationwide live on the Gospel Music Channel from 8 – 10 p.m. (ET/PT) on Thursday, April 23, 2009.
About GMA:
Founded in 1964, the Gospel Music Association serves as the face and voice for the gospel/Christian music community and is dedicated to exposing, promoting and celebrating the gospel through music of all styles including pop, rock, praise & worship, black gospel, R&B, hip hop, southern gospel, country, and more. The GMA community consists of more than 3,000 members including agents, artists, church leaders, managers, promoters, radio personnel, record company executives, retailers, songwriters and other industry visionaries. The GMA produces the GMA Dove Awards, GMA Music Week and the GMA Academy. For more information, please visit http://www.gospelmusic.org/.