EMERY TO RELEASE "IN SHALLOW SEAS WE SAIL" JUNE 2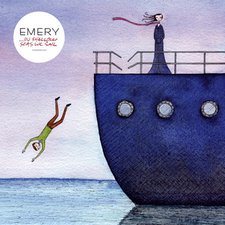 NEWS SOURCE: Big Machine Media
April 2, 2009
Emery, the ever-evolving rock quintet originally from South Carolina that has been making its mark since 2000, is set to release its fourth full-length album, …In Shallow Seas We Sail, on June 2, 2009, via longtime home Tooth & Nail Records. …In Shallow Seas We Sail picks up right where Emery's last release, the EP "While Broken Hearts Prevail" (2008) left off, both thematically and stylistically.
This fourth album continues the tradition of Emery's dual front-man format, with Toby Morell and Devin Shelton once again sharing lead vocal and bass guitar duties. Emery's fourth album combines the band's trademark screams and breakdowns, and balances these heavy sounds with catchy hooks and melodies.
The album's single, "Cutthroat Collapse," is about being in a relationship and making it your whole life, said Morrell. "These kinds of relationships usually end up in doom. The protagonist ends up calling his/her significant other and threatening to commit suicide. Such a great thing ends up in tragedy."
"…In Shallow Seas We Sail," was recorded on and off between September 2008 and February 2009, and was co-produced by guitarist Matt Carter and Aaron Sprinkle, who also helmed the boards for Emery's 2005 album "The Question."
"I think this record is the best representation of Emery," said Morrell. "If you like Emery, this will be the record you love the most. This is our most complete album. You can listen to each individually and not get burnt out. At the same time, you will love the overall story of the record and the journey it takes you on."
The current world views, experiences and personal relationships of each individual band member contributed to the distinct sound on Emery's fourth album. "Emery's previous albums were written at completely different times in our lives. '…In Shallow Seas We Sail' is Emery, as we are now," said Morell.
Since forming in 2000, Emery has embarked upon at least three national tours per year, sharing the stage with such artists as Chiodos, The Red Jumpsuit Apparatus, Silverstein, Alexisonfire and Hawthorne Heights. Originally formed near Greenville, S.C., Emery is now spread throughout the U.S., with members in South Carolina, Illinois, Indiana, and Washington.
"…In Shallow Seas We Sail" is Emery's fifth release for Tooth & Nail Records. "The Weak's End" was released in 2004, followed by "The Question" in 2005 and "I'm Only A Man" in 2007. "While Broken Hearts Prevail…" was released in October of 2008. In addition to Toby Morrell, Devin Shelton, and Matt Carter, Emery includes Josh Head (keys, vocals) and Dave Powell (drums).
For more info on Emery, visit the JFH Artists Database.


[2020]
Jan. | Feb. | March | April | May | June | July | Aug. | Sept. | Oct. | Nov. | Dec.
[2019]
Jan. | Feb. | March | April | May | June | July | Aug. | Sept. | Oct. | Nov. | Dec.
[2001 - 2018]
Visit our complete MUSIC NEWS ARCHIVE