MORE ARTISTS AND SPEAKERS ADDED TO GMA MUSIC WEEK 2009
Christian and Gospel Music Community Will Gather in April for Top-Notch Programming and Music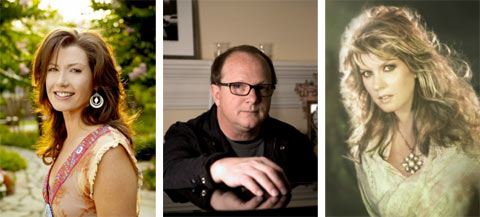 NEWS SOURCE: Spinhouse PR
April 3, 2009
NASHVILLE, Tenn. – April 3, 2009 – Charlie Peacock, Amy Grant, Natalie Grant, Dan Haseltine, Barbara Mandrell and Rush of Fools are among the additional artists lining up to be a part of GMA Music Week April 18 to 22 in Nashville. They join a growing list of artists, speakers and industry leaders that are scheduled to participate in the five-day convention.
In addition, GMA previously announced that Brandon Heath, Jars of Clay, Mandisa, Bart Millard, Francesca Battistelli, Point of Grace, Diamond Rio, Group 1 Crew, Meredith Andrews, BarlowGirl, Remedy Drive, Mark Schultz and more will be a part of GMA Music Week 2009. And, previously announced speakers taking part in GMA Music Week 2009 include Louie Giglio, authors Gabe Lyons (unChristian, Baker Books) and William P. Young (The Shack, Windblown Media), and financial experts Michael Q. Pink and Bethany and Scott Palmer.
The Christian and gospel music community gathers every April in Music City for GMA Music Week. Artists, radio, retail, managers, agents, promoters, record companies, publishers, media, marketing and public relations professionals and others join together for artist performances, educational seminars, spiritual enrichment, and unparalleled networking opportunities. With all music genres represented including pop, rock, praise & worship, black gospel, R&B, hip hop, southern gospel, country, and more, GMA Music Week is the must-attend convention of the year for anyone doing business in or with the Gospel music community.
All the confirmed details are available at www.gospelmusic.org. A discounted registration rate of $299 for GMA Members is still available until April 10. Registration for GMA Music Week 2009 is now available online at http://www.gospelmusic.org/events/summaryDetail.aspx?aid=9&pid=33.
Here are some of the new highlights for GMA Music Week:
* Saturday night Indie Artist Showcase with hands on and practical instruction from live music producer Tom Jackson and guest teaching artist Rush Of Fools.
* Sunday Songwriter Showcase and Worship. The annual celebration of the year's best songs is performed in an acoustic setting by the songwriters who wrote the hits. Hosted by Natalie Grant and Matthew West, the songwriter event will feature Chris Sligh, Sam Mizell, Tony Wood, Ian Eskelin, Francesca Battistelli, Ernie Haase, Wayne Haun, Joel Lindsey, Jason Ingram, Don Chaffer, Mike Weaver, Ben Fielding, Rueben Morgan and Ronny Hinson. The evening will end with a time of worship led by Brenton Brown and Laura Story. The Sunday night event is sponsored by BMI and ministry partner Compassion International.
* Monday "Fish Bowl" Forum with Steve Moore, Sr. V.P. of AEG Live! The forum is one of the many opportunities during GMA Music Week for participants to listen to a candid and informative discussion on a variety of subjects. This Monday morning forum will be a discussion of live touring and will include a number of industry leaders from TicketMaster, CAA, WAY-FM and others.
* Tuesday Worship Breakfast will feature Selah, Pocket Full of Rocks, and Sonicflood providing worship music with speaker and Glory Revealed author David Nasser.
* Wednesday GMA Community Gathering & Artist Symposium will first featuring a session moderated by freelance music writer Deborah Evans Price and including Amy Grant, Dan Haseltine, Stephen Petree (formerly of Shiny Toy Guns), Cedric Dent (Take 6) and Marty Roe (Diamond Rio) discussing how artists of faith can make a connection in several music genres and the challenges of rewards of living out their faith in mainstream entertainment environments, and using their platforms to impact culture for Christ. Beloved and respected artist/songwriter/producer/author Charlie Peacock will be the final keynote of GMA Music Week.
The 40th Annual GMA Dove Awards (www.doveawards.com) will take place April 23, 2009 at the Grand Ole Opry House in Nashville, Tenn. Tickets to the 40th Annual GMA Dove Awards are on sale now at www.ticketmaster.com or by calling 615-242-0303.
About GMA:
Founded in 1964, the Gospel Music Association serves as the face and voice for the gospel/Christian music community and is dedicated to exposing, promoting and celebrating the gospel through music of all styles including pop, rock, praise & worship, black gospel, R&B, hip hop, southern gospel, country, and more. The GMA community consists of 3,000 members including agents, artists, church leaders, managers, promoters, radio personnel, record company executives, retailers, songwriters and other industry visionaries. The GMA produces the GMA Dove Awards, GMA Music Week and the GMA Academy. For more information, please visit www.gospelmusic.org.
# # #