MERCYME RELEASES CAREER MILESTONE "10" RECORDING TODAY AMID MASSIVE ATTENDANCE ON THE ROCK&WORSHIP ROADSHOW
18,000 FANS FILL HOMETOWN AMERICAN AIRLINES CENTER IN DALLAS TO CAPACITY

"FINALLY HOME" #1 AT RADIO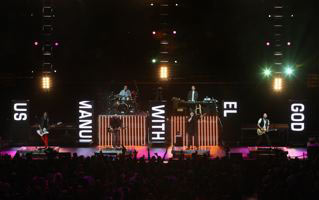 MercyMe rocking the stage in Dallas (credit: Louis Deluca)
NEWS SOURCE: The M Collective
April 7, 2009
April 7, 2009…Nashville, TN…Today MercyMe releases their latest project "10," celebrating the 10th anniversary of the band's career hit, "I Can Only Imagine," penned by frontman Bart Millard in memory of his father. The single sold nearly 3 million units, and became a multi format smash at Top 40, AC, Country and Christian charts alike.
The new album features 12 of MercyMe's number one radio hits that span their five studio releases, from 2001's Almost There to their 2007 release All That Is Within Me. The disc also features three bonus tracks including a new recording of "I Can Only Imagine" with the famed London Session Orchestra, "10" also includes a companion DVD, featuring a diverse mix of concept videos and live performances showcasing the bands unique brand of music. In addition, fans can view an inside glimpse of the story behind "I Can Only Imagine" and get up close and personal with the band through their appearance on Gospel Music Channel's "Faith & Fame" feature.
"10" releases amid yet another successful tour for MercyMe. The Rock & Worship Roadshow, sponsored by Compassion International in partnership with Imagine A Cure, is averaging crowds of 10,000 per date, playing major markets across the U.S., including Portland, OR, Dallas, TX, Denver, CO, and Baton Rouge, LA. In their hometown of Dallas, TX, the band filled American Airlines Center's 18,000 seats, while thousands of other concert-goers were not able to enter, because the venue had reached maximum capacity.
Joining headliner MercyMe on the Roadshow are Gold-selling artist and reigning GMA Male Vocalist of the Year Jeremy Camp, Hawk Nelson, as well as burgeoning bands Tenth Avenue North and Addison Road.
"The response to the Rock and Worship Roadshow has been incredible," said Cliff Reiser, concert promoter at Rush Concerts. "Over 120,000 people have come to shows in 13 cities so far, including 18,000 in Dallas on April 3. This a great testament to MercyMe's continued ability to impact our culture in a positive way."
Watch MercyMe's frontman Bart Millard's response after their sold out show of more than13,000 people in Fresno, CA here: http://www.youtube.com/watch?v=1ZwI9wys_oA.
In addition, MercyMe's current single, "Finally Home" is No. 1 at Christian AC and Soft AC radio and is climbing the mainstream AC chart presently at No. 24. "Finally Home" has entered the iTunes ® top 10 Christian singles chart at No. 8 today.
For more information on MercyMe and the tour please visit www.mercyme.org or www.rockandworshiproadshow.com.
###
MercyMe:
Since their debut in 2001, Grammy-nominated, American Music Award and multiple GMA Dove Award winners MercyMe have sold over 5 million units in CD and DVD sales, including "Almost There", nearly triple platinum, "Spoken For," which is approaching platinum sales, and the RIAA Gold certification for "Undone," the MercyMe Live DVD, and "Coming Up to Breathe." Their latest, "All That Is Within Me," entered the Billboard Top 200 chart at No. 15 and sold an impressive 83,626 units, the most they've ever sold in a project's first week.
MercyMe is one of few Contemporary Christian music groups to have had all of their recordings certified Gold or Platinum, as well as garner 21 No.1 multi-format Christian radio singles, and four consecutive mainstream radio hits with "I Can Only Imagine," (No. 4 AC/top 25 on Top 40/Hot AC), "Here With Me" (No. 4 AC), "Homesick" (top 10 AC), and "So Long Self." In 2008 the band was named R&R's Christian AC Artist of the Year, and as one of the industry's most notable talents, MercyMe has sold out venues including Radio City Music Hall and has been seen on The Tonight Show, CNN, Fox New Channel's Fox & Friends, ABC News, CBS' Early Show, and on the pages of Entertainment Weekly, The New York Times, USA Today, Billboard, and more. For all things MercyMe, please visit: www.mercyme.org.
Compassion International:
Compassion International exists as a Christian child advocacy ministry that releases children from spiritual, economic, social and physical poverty and enables them to become responsible, fulfilled Christian adults. Founded by the Rev. Everett Swanson in 1952, Compassion began providing Korean War orphans with food, shelter, education and health care, as well as Christian training. Today, Compassion helps more than 1 million children in 25 countries.
Imagine A Cure:
MercyMe's Bart Millard, created Imagine A Cure, a non-profit organization that will help raise money to support research that will lead to a cure for Type 1 Diabetes, a disease that his eldest son, Sam was diagnosed with at the young age of two. Because of groups like Juvenile Diabetes Research Foundation (JDRF) and research scientists around the world, kids have the chance to live a full healthy life. All funds that are donated to Imagine A Cure are going directly to JDRF.
For more info on MercyMe, visit the JFH Artists Database.


[2020]
Jan. | Feb. | March | April | May | June | July | Aug. | Sept. | Oct. | Nov. | Dec.
[2019]
Jan. | Feb. | March | April | May | June | July | Aug. | Sept. | Oct. | Nov. | Dec.
[2001 - 2018]
Visit our complete MUSIC NEWS ARCHIVE