SARA GROVES JOINS INTERNATIONAL JUSTICE MISSION ON CAPITOL HILL TO ADVOCATE FOR VICTIMS OF HUMAN TRAFFICING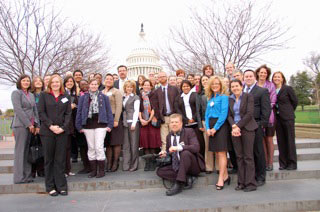 Groves and the rest of the Day of Advocacy participants on Capitol Hill.
NEWS SOURCE: The M Collective
April 17, 2009
Nashville, Tenn. Apr. 17, 2009… INO Records' Sara Groves recently returned from Washington, D.C. after meeting with the offices of Minnesota Congress and Senate Aides on behalf of International Justice Mission as a part of the Day of Advocacy.
Groves was among 100 individuals from 25 states who took part in a day of advocacy organized by the human rights agency International Justice Mission (IJM). Participants met with more than 100 Congressional offices to build support for new legislation being introduced in the House by Rep. Chris Smith (R-NJ). The Child Protection Compact Act of 2009 aims to eradicate the trafficking of minors into forced prostitution and forced labor in a few target countries that have shown a demonstrated commitment to dealing with the problem but lack adequate resources.
"I'm appreciative that IJM is not only at the forefront of confronting this issue, but that they give us the tools and empowerment to take our advocacy to the next level," says Groves. "Speaking directly to our leaders from Minnesota about the importance of ending the trafficking of minors gave me renewed hope in our ability to influence real change."
The trafficking of persons is the third largest criminal industry after drugs and weapons, and the fastest growing criminal activity in the world. According to UNICEF, there are nearly two million children in the commercial sex trade worldwide and, according to the U.S. Department of State, 80% of human trafficking victims are women and girls, as many as 50% are minors.
"When it comes to fighting human trafficking a relatively small amount of money goes extremely far because authorities can leverage the impact of the law," said Holly Burkhalter, Vice President for Government Relations at IJM. "This can change the entire calculation of crime in that community and trafficking numbers go down." Groups like IJM are seeing big improvements over short periods of time. In just under two years of collaboration with local authorities in Cebu, Philippines, IJM has seen the number of child prostitutes reduced by 70 percent
"IJM is a team of lawyers and law enforcement officials who work around the globe to represent people who wouldn't normally have access to that kind of intervention," says Groves. "In Southeast Asia they work mostly freeing young girls from brothels. Over a million women and children are trafficked every year, but IJM is leading the way in setting new precedents in the fight against human trafficking. In Africa, they represent the oppressed, and work to restore land to widows who have been robbed of their land. In South Asia they work to free families and groups of people from bonded slavery. Basically, they are public defenders for the least of these."
Amidst Groves' trip to Washington D.C., her single "Love Is Still A Worthy Cause" from her latest studio recording Tell Me What You Know is currently at radio. To view a viral video of the song, please visit http://wmedia.buzzplant.com/content/ino/SaraGroves-Love-Cause_Viral.wmv. Additional information about efforts to secure justice for victims of sexual exploitation, slavery and other forms of violent oppression can be found at www.ijm.org.
Since her debut release in 2001, Conversations, Sara Groves has become one of the most critically-acclaimed artists in the Christian music industry, receiving rave reviews across the board for each recording by the likes of Billboard, and consistently topping year-end reader's polls and album of the year nods from the likes of CCM magazine, Christianity Today online and more. On her new album, Tell Me What You Know, Groves explores what she has learned over the past two years, lessons on the value of long defeats, and the defiance of hope in the face of insurmountable odds. Since the 2005 release of Add to the Beauty, Groves has been questioning just how, exactly, she is called to do that. Her answers came in a series of global conversations and experiences, from the flood-ravaged gulf of Louisiana, to the genocide memorials of Rwanda, to the testimonies of Southeast Asia sex trade survivors. These experiences showed the disparity between some of the American pursuits of comfort and wealth and the joy of joining the difficult work of social justice and engaging in the suffering of the afflicted.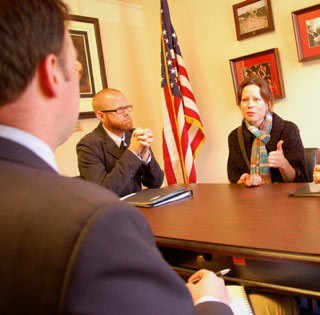 Groves and husband, Troy, meeting with Minnesota Legislative Assistant Casey
on behalf of International Justice Mission.
And for more info on Sara Groves, visit the JFH Artists Database.


[2020]
Jan. | Feb. | March | April | May | June | July | Aug. | Sept. | Oct. | Nov. | Dec.
[2019]
Jan. | Feb. | March | April | May | June | July | Aug. | Sept. | Oct. | Nov. | Dec.
[2001 - 2018]
Visit our complete MUSIC NEWS ARCHIVE