AMERICA'S TOP-RATED CABLE TV SHOW WWE FEATURES
DECYFER DOWN'S HIT SINGLE "CRASH"
ON HARDY'S HISTORY MONTAGE
CURRENT SINGLE "FADING" CLIMBS TO NO. 5 AT CHRISTIAN ROCK RADIO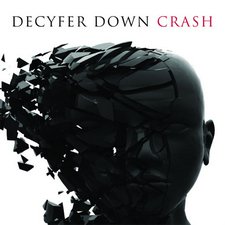 NEWS SOURCE: The M Collective
April 17, 2009
April, 17, 2009…Nashville, TN….Cable television's top-rated, World Wrestling Entertainment (WWE), recently featured Decyfer Down's hit single "Crash" on Hardy's History Montage, a Brother vs. Brother WrestleMania preview. "Crash," the title-track to Decyfer Down's upcoming sophomore recording, received over 1.5 minutes of airtime inside of the montage and was seen by millions as it aired for two weeks: March 16-April 5.
To view the placement of the rock track, visit: http://video.inorecords.com/video/Hardys_History_Package.mov
WWE programming reaches nearly 16 million people per week in the U.S., and www.WWE.com currently averages 14 million unique visitors worldwide monthly, providing more than 22 million video streams, and recently garnered over 100 million page views in the day following WrestleMania 25.
Decyfer Down continues to gain radio airplay and build success prior to the release of "Crash" online and in stores on May 5. The "Crash" single peaked at No.1 at Christian rock and the band's current single "Fading" is No.5 at Christian rock, spinning in large markets and networks such as Radio U in Columbus, OH, The Call in Miami, Power FM in Dallas, The Effect Radio Network, M88, Yes FM, The Z. CHR stations include Air 1, Way FM, KXWA in Denver, WAYG in Grand Rapids, and more.
For more information on Decyfer Down please visit www.decyferdown.com.
###
And for more info on Decyfer Down, visit the JFH Artists Database.