SHOW HOPE™

Orphan Ministry Unveils New Name, New Logo, Launches New Website
Show Hope™ Named Sponsor Of United Tour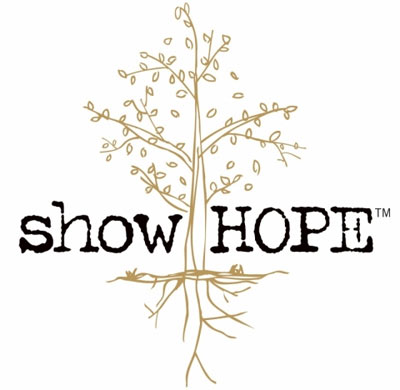 NEWS SOURCE: Vining Media
April 22, 2009
Nashville, TN - April 21, 2009 - The orphan ministry of Steven Curtis Chapman and his wife, Mary Beth, a movement caring for the millions of orphans around the world, has officially changed its name to Show Hope™. Beginning in 2001 as Shaohannah's Hope, the ministry was originally named after the Chapman's now 9-year old daughter Shaohannah Hope, whom they adopted from China in 2000.
Explaining the name change, the Executive Director of Show Hope™, Scott Hasenbalg, shares, "Show Hope™ is not just a name, but rather it represents a philosophy of ministry that truly challenges all of us to respond by demonstrating our belief in what God mandates of us in Scripture in caring for the orphan." The ministry continues its lifelong mission to show hope by caring for orphans around the world through engaging the church, raising awareness about the worldwide plight of orphans, and helping Christian families reduce the financial barrier to adoption.
SHOWHOPE.ORG
The newly designed website showcases the ministry's new logo (seen above) as well as offering a plethora of information on how to help make a difference in the life of an orphan. Visitors to the site can learn how to make monetary donations to the ministry, how to get involved to help in the life of an orphan, how to apply for an adoption grant, as well as view the resources page offering inspirational tools for individuals and church communities alike.
SHOW HOPE SPONSOR
A new program facilitated through the ministry is becoming a Show Hope™ sponsor. Committing to a monthly $35 donation addresses an orphan's need for food, care, shelter and spiritual nourishment, as well as helping to address the root issue for an orphan: the lack of a forever family. The monthly donation provides adoption assistance grants to help lead orphans into loving families, and provides love, care, and hope to special needs orphans, specifically at Maria's Big House of Hope in Luoyang, China. Since its inception, the Show Hope™ ministry has helped over 2,000 orphans from 40 countries, including the U.S., into forever homes, resulting in a truly worldwide impact. Yet, still so much assistance is needed.
TOUR SPONSOR
Show Hope™ was named the tour sponsor for the United Tour's 2009 spring leg, a nationwide tour co-headlined by Chapman and Michael W. Smith, which runs through April 30th. Concert attendees are offered information about Show Hope™ through a presentation from special guest, recording artist and close personal friend to the Chapman family, Geoff Moore. Moore, an adoption advocate and adoptive father himself, educates the audience how they can each make a difference in the life of an orphan, specifically by becoming a Show Hope™ sponsor.
"Show Hope™ fits so well in the context of the tour being called 'The United Tour' because both Steven and Michael have lived a life of demonstrating their faith by being doers of the Word," exclaims Hasenbalg. "Not only is it an incredible evening of inspiration through music, but one of partnership as well as everyone working together as one body to show hope to our world's most vulnerable children."
SHOW HOPE'S MISSION AND BEYOND
Show Hope's mission is to come alongside the church in the body of Christ to share the message of the importance of caring for roughly 100 million of orphans around the world who have yet to be adopted or may not be eligible for adoption. As a result, Show Hope continues to engage in orphan care projects in addition to the work promoting adoption. The ministry uses the acronym P.R.A.Y. as a guide to ensure that the child comes first in their ministry:
P- Preservation of the birth family
R- Reunification with birth parents or kin
A- Adoption
Y- Youth services for all orphans who have not been adopted
Please visit www.ShowHope.org to find out more about this ministry and what you can do.


[2020]
Jan. | Feb. | March | April | May | June | July | Aug. | Sept. | Oct. | Nov. | Dec.
[2019]
Jan. | Feb. | March | April | May | June | July | Aug. | Sept. | Oct. | Nov. | Dec.
[2001 - 2018]
Visit our complete MUSIC NEWS ARCHIVE